How to use the Dyson Airwrap properly—a beauty editor's comprehensive guide
All of your burning questions, answered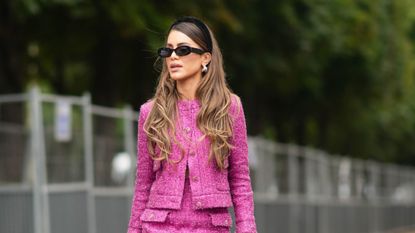 (Image credit: Getty Images)
As a beauty editor, I naturally get asked a bunch of beauty questions, but without a doubt the most frequently asked question I get is how to use the Dyson Airwrap.
Dyson is at the forefront of hair technology and the tools are always impressive - I use my Supersonic hairdryer and Corrale straighteners all the time - and worth the investment if that's where you like to spend your money.
However, because the technology is so new, it does they work a little differently to other hair tools you've probably tried. Basically, it takes a little more thought and practice to get to grips with them at home. Trust us though, it's worth the practice. The Airwrap is one the best curling wands I've ever used.
If you're either considering getting the Airwrap or want some extra tips on using your own, then we've got you covered. Read on for everything you need to know about how to use the Dyson Airwrap for good hair days, everyday.
How to use the Dyson Airwrap
I like to start by shampoo and conditioning my hair and then leaving in a microfibre towel for 10 minutes. Next, I apply a bonding treatment, like K18 Leave-in Molecular Repair Hair Mask on the ends and then liberally apply a heat protector spray all over. Recently, I've had great results using the Moroccanoil Frizz Shield Spray, which I also apply generously all over as I'm sectioning the hair to dry it.
I rough dry my hair using a hairdryer (obviously, I use my favourite Dyson Supersonic, but you can also use the Airwrap's drying attachment), focusing on the roots and the very back of my head as that's an easily missed spot. Next comes the fun part: styling. Since each of the attachments are so different, I've broken down each one into sections.
The smoothing attachment
This is probably the attachment I use the most, especially on the days where I'm feeling a little lazy. It's essentially a paddle brush that works to smooth out the hair as it dries. It's incredibly easy to use, as all you need to do is slowly brush it through the hair in sections. Ideal if you want to keep the natural texture of your hair but take away a little bit of frizz whilst drying. It works best when using smaller sections but I do find I can be a little less precise with this and just brush it through my hair as I would a regular hairbrush.
The blow-dry attachment
The blow-dry attachment is a little trickier to use, but it's still a lot easier than trying to use a dryer and a round brush to blow dry. For that traditional, bouncy look, you'll need to section your hair for this one and work through each part fairly slowly.
I take a section and run it all the way through my hair, then focus on just the end, curling it up to create that flick and voluminous effect. The finish of this is impressively frizz-free, especially if I've used a prepping spray beforehand.
The Airwrap barrel
Now for the trickiest of them all, the Airwrap. Stick with me, it's worth it. I like to think of it like a curling tong and blow dryer attachment in one. You'll need to section your hair into smaller pieces than you normally would for a curling tong for this to work. Take a piece of hair and loosely touch the end of your piece of hair onto the middle of the attachment in the direction of airflow (there are clockwise and anticlockwise attachments). The air will be sucked into the attachment and you can gently lift it towards your roots to get all of the hair onto the attachment. Think of this as guiding the hair vs forcing it to wrap around the attachment.
I like to guide the hair up and down the mid-lengths and ends for about 10 seconds and then do a cool shot of air to let the curl set. Make sure you turn the attachment off before dropping the hair out, otherwise it can get a little tangled.
Larry King - Dyson's Global Hair Ambassador - says his top tip for working with the Airwrap is all about sectioning your hair. "Work with small, manageable sections of the hair. You will get a polished result with more smoothness, definition and waves using the various attachments in sections," he says.
How to make curls last?
One of the biggest questions when it comes to the Airwrap for those with long hair is making waves and curls last. The main way is pinning curls. "Take the weight off your hair and pin your curls [using either rollers or clips] for a few hours if you're planning a big night out," says Larry. "Section the hair off bit by bit, add hairspray and you will get curls to stay put. Finish off with hairspray [throughout the hair] and they shouldn't drop."
You should also style your hair when it's still slightly wet to make sure the heat dries the hair as it's shaping it. It can help doing a cold shot of air after blasting it with hot air to rapidly cool the curl and set it in place. I'd also recommend using a thermal spray like KMS ThermaShape Hot Flex Spray to help the hair keep its curled shape. I always make sure to do much tighter curls than I aim to wear them, allowing for them to drop a little.
How to clean Dyson Airwrap filter
It's really important that you clean your Dyson Airwrap to keep it in tip top condition (and we don't mean clean every once in a while when you remember), you'll need to schedule this in regularly. Larry emphasises the importance of this and cleans his tool every two weeks. "It's quite easy to do. Take off the filter and wash under cold water; it comes with a cleaning brush anyway so it's a quick process, then let the filter air dry, which doesn't take long."
Dyson Airwrap results
Celebrity news, beauty, fashion advice, and fascinating features, delivered straight to your inbox!
Tori is a freelance beauty journalist and contributor for Marie Claire. She has written for various titles, including Allure, Glamour, Elle, Refinery29, Brides, and more. Currently training to be a nail tech, Tori is a total nail enthusiast and always has time to talk all things nail art. When she's not writing about beauty and testing products, Tori can be found walking her rescue dog Pip, drinking great coffee, and eating as many croissants as humanly possible.