If, like me, you're a fan of warming scents, you'll want to know about these new-gen pistachio perfumes
It's the fragrance trend of the moment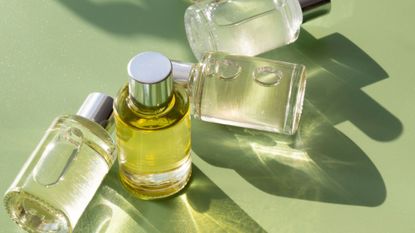 (Image credit: Getty Images 1385684824)
Move over vanilla, there's a new scent in town and it's just as delicious. Say hello to pistachio perfumes. Before I continue, I know what you're thinking: do I really want to smell like pistachios every day? As a fragrance lover, I too was sceptical when I first heard that this perfume trend was on the rise. But after trying some of the fragrances out for myself, I can confirm they are almost good enough to eat.
When it comes to the best perfume for women, gourmand fragrances have always appealed to me—think notes of caramel, chocolate, coffee and honey. However, recently we've seen a huge increase in demand. Mona Kattan, co-founder of Huda Beauty and founder of fragrance brand Kayali, agrees. "I think people are realising that gourmand fragrances can evoke memories about the things that make you happy. Those simple moments of having food with a loved one. People are realising that the smell of something you love to eat can take you to a beautiful place."
If, like me, you love nothing more than smelling like your favourite sweet treat, then there are lots of options out there. Take Kattan's newest fragrance, Pistachio Gelato 33, as an example. "I wanted to create fragrances around desserts, specifically Arab or Middle Eastern desserts because the ingredients are so different. That's how this perfume started, we thought about my favourite dessert, which is pistachio gelato."
After smelling it myself for the first time, it took me back to a trip to New York I went on with my dad almost ten years ago. After dragging him around the shops all day, we found a little Italian restaurant where we sat and enjoyed some of the best pistachio cake I've ever tasted. It's one of my favourite memories to this day.
If you don't like these sorts of scents, not to fear, as brands are incorporating pistachio into their perfumes in lots of different ways. Take Boy Smells, for example. The brand's scent, Italian Kush, combines pistachio notes with pomelo, basil, oregano, patchouli and black pepper to create a fresh, bright fragrance that's not at all sweet. Instead, it will transport you to a field filled with citrus trees on a hot summer's day.
Perhaps it really is the memories that these fragrances evoke that make them so popular. After all, when it comes to perfume, it's not so much about how it smells, but more about how it makes you feel. Either way, these pistachio perfumes will have you feeling (and smelling) good all spring and summer, so keep on scrolling to shop my top picks. For more inspiration, don't forget to check out our guides to the best fresh perfumes and the best long-lasting perfumes, too.
The 3 best pistachio perfumes right now:
Sol de Janeiro Brazilian Crush Cheirosa 62 Perfume Mist
Key notes: Pistachio, almond, heliotrope, jasmine, vanilla, salted caramel and sandalwood
If you like sweet perfumes, then this is the one for you, thanks to the combination of pistachio, salted caramel and vanilla. It's the perfect scent for summer and reminds me of long, hot days at the beach. Plus, for a perfume mist, the lasting power is seriously impressive.
Kayali Yum Pistachio Gelato 33 Eau De Parfum Intense
Key notes: Pistachio, hazelnut, sweet rum, whipped cream, marshmallow and cotton candy
This smells like a sophisticated dessert that you'd never get sick of eating. Mixed with creamy sandalwood and white peony, the sweetness is balanced out with a fresh finish.
Boy Smells Italian Kush Eau de Parfum
Key notes: Pomelo, limoncello, peppercorns, basil, mimosa, cannabis, pistachio, cypress, patchouli, sandalwood, agar wood and labdanum
As mentioned above, for those of you who want to try out a pistachio perfume but don't want something overly sweet, say hello to Italian Kush by Boy Smells. It's totally unique, with fresh, tangy notes that will have you coming back for more.
Celebrity news, beauty, fashion advice, and fascinating features, delivered straight to your inbox!
Grace Lindsay is currently Junior Beauty Editor at Who What Wear UK and previously was Marie Claire UK's E-Commerce Writer. With over three years of experience in the fashion and beauty industry, she covers everything from the best make-up and skincare deals to how to shop the stand out trends of the season. When she's not typing away at her laptop, Grace can be found shopping her favourite vintage markets IRL, or catching up on her never-ending list of books to read.