Marie Claire remembers Dr. Uchenna Okoye
Beyond her esteemed reputation as a pioneering dentist, Marie Claire contributor Dr Uchenna was much loved for her strength, encouragement, and compassion.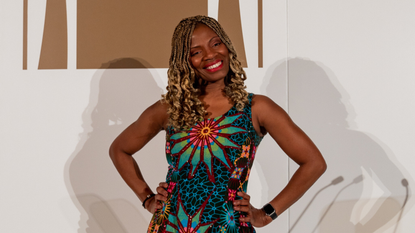 (Image credit: Dr Uchenna Okoye)

Dr. Uchenna unquestionably reshaped the landscape of UK dentistry. Esteemed as a visionary, she was a leading cosmetic dentist, tirelessly advocating the significance of oral health and the transformative power of a confident smile. Her work was precise, delicate, and inspired, and those who Uchenna treated all talked about her ability to make teeth look natural, in harmony with the face.
It's little wonder that she found herself with a stellar career, which included sharing her expertise (and, inevitably, charisma) on the "10 Years Younger" makeup show.
She acted as a judge for Marie Claire's Hair and Skin Awards many times over the years, as event organiser Kate Thompson remembers: "We loved having her on the judging panel for so many of our Awards. She was always so kind and great to work with. She took her work as a judge so seriously and was so generous with her time. We will miss her so much."

Beyond her impressive accolades, it was Dr. Okoye's innate human touch, her ability to transcend the professional boundaries and be a friend, a guiding voice, a pillar of support, that made her so special. Along with her professional brilliance, she will also be remembered for this innate capacity to forge deep, personal connections, with tributes painting a portrait of a woman who embraced life wholeheartedly, ever-encouraging dance, radiating love.

Dr. Uchenna was not only an inspiration professionally but on a personal level, too. Her kindness, generosity, and zest for life inspired everyone around her.
Her impact is immortalised in the smiles she sculpted, and in the memories we hold of her life which was steeped in purpose, passion, and unparalleled dedication. I smile freely as a result of her work, and was so pleased with the results of the dental work I had under her care that I shed tears of joy when she showed me my teeth.
The upcoming Dr Uchenna Smile Foundation, inspired by her dream to set up a charity, promises to uphold her values and aspirations, ensuring her vision continues to inspire and change lives. And while we've sadly had to bid goodbye to Uchenna, her legacy at The London Smiling Dental Group remains, ensuring her dream flourishes for generations to come.
In 2020, she embarked on a new journey, launching "Dr Uchenna's MYSMILE", an oral care product line that encapsulated her vision. The continuation of the range ensures her legacy lives on, with more innovations on the horizon. To support her business, here are our top recommendations...
Celebrity news, beauty, fashion advice, and fascinating features, delivered straight to your inbox!
An award-winning health and beauty writer, stylist and creative director, Lisa Oxenham is one of the UK's top beauty editors and the Beauty and Style Director at Marie Claire UK. With 20 years of editorial experience Lisa is a brand partnership expert, and a popular speaker, panelist and interviewer on a range of topics from sustainability to the future of beauty in the digital world. She recently spoke at Cognition X and Beauty Tech Live and is on the Advisory Board for the British Beauty Council's Sustainable Beauty Coalition.
A well-respected creative director she works on celebrity, model and influencer shoots with the highest calibre of photographers, filmmakers, make-up artists and hairstylists to create timeless images, attention-grabbing videos, digital events and masterclasses. Most recently Lisa has directed covers such as Lily Cole and Jameela Jamil, films such as Save The Arts featuring Francesca Hayward and sustainable fashion shoots such as Be The Change. Supporting the beauty industry over the pandemic has been a top focus, directing the British Beauty Council's six inspirational short biographical films for their Bring Back Beauty campaign.
Lisa is a wellbeing and beauty influencer with a focus on mental health and a large and engaged audience on Instagram, Facebook and Twitter.