The Queen has authorised a Royal memoir which will cover Harry's shock exit and Prince Philip's death
The book will chart the last turbulent three years of the monarchy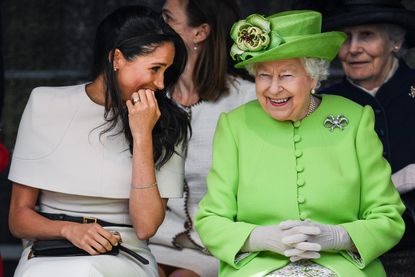 (Image credit: Getty Images)
The book will chart the last turbulent three years of the monarchy
In an unprecedented break away from tradition the Queen has authorised a memoir charting the last three turbulent years of the monarchy.
The publishing house HarperCollins confirmed they would be releasing the book to coincide with Queen's Platinum Jubilee next month. The tell-all memoir will be written by the Royal aide Angela Kelly, who has documented the past three year's of ups and downs charting Harry and Meghan's break from the Royal family to the Queen's grief at the loss of Prince Phillip.
HarperCollins announced that "The Queen personally gave her blessing to share their unparalleled bond with the world and Angela is the first serving member of the Royal Household to be given this extraordinary permission."
Kelly, who has worked for the Queen for over 30 years, will focus on the "HMS Bubble" the official term for the queen's pandemic support bubble, while she was locked down in Windsor Castle.
The Buckingham Palace authorised book release is perhaps conveniently due to coincide with Prince Harry's tell-all book out later this year. According to inside sources The Duke of Sussex is set to comment on his relationship with his father Prince Charles and Prince William, who he has had a public falling out with since him and Meghan moved to California.
Ex-Vanity Fair editor Tina Brown, who has written her own novel about the Royal Family, speculated to The Sun newspaper that: "Harry's not going to go after The Queen, she's sacrosanct. And he probably won't go after Kate, who he's very fond of. But he will go after Charles and Camilla and maybe William."
Brown's comments come after it was revealed that the Queen was said to have been saddened by Prince Harry's absence at Prince Philip's memorial service earlier this month and had been unable to change his mind.
The Royal-authorised book will be published as a new edition of The Other Side of the Coin, Kelly's first novel about her experience as the Queen's official dresser, first released in 2019.
Celebrity news, beauty, fashion advice, and fascinating features, delivered straight to your inbox!
Juliana Piskorz is a freelance journalist and broadcaster. Over the course of her career she has written for a smorgasbord of magazines and national newspapers including The Sunday Times, Dazed and Confused, the Independent, the Guardian, Refinery29 and The Face among others.
Before going freelance, Juliana was the Digital Editor at the Evening Standard Magazine and a Staff Writer at the Observer Magazine.
Juliana has a partcular interest in art, fashion, travel and the pop culture.