The important reason The Queen took a short break in Balmoral ahead of her Platinum Jubilee celebrations
She has a busy weekend ahead.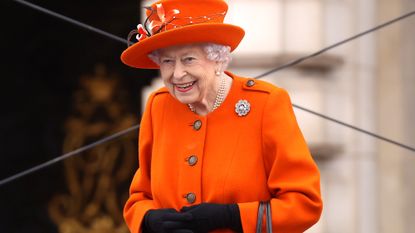 (Image credit: Getty Images)
She has a busy weekend ahead.
The four-day weekend is fast approaching and with it comes a jam-packed schedule for the royal family, who along with the nation, will be celebrating the Queen's Platinum Jubilee.
Marking 70-years on the throne - the longest of any serving British monarch - Queen Elizabeth II is set to be the centre of attention at a whole host of events, starting with Trooping the Colour on Thursday.
It's not a surprise then that HRH has opted for some peace and calm beforehand. According to Hello! Magazine, the Queen took the opportunity to spend five nights at Balmoral to rest before the Platinum Jubilee celebrations.
After recharging her batteries at her Scottish country estate - and getting a helpful dose of soothing nature - the 96-year-old monarch is back at Windsor Castle, Buckingham Palace has confirmed.
Balmoral, which has been the home of the royal family in Scotland since 1852, has long been considered the Queen's favourite residence.
Not only is it where she spends her summer holidays, but her granddaughter Princess Eugenie has perviously spoken about the happiness it brings the monarch.
Speaking in the TV documentary, Our Queen At Ninety, Princess Eugenie said: "I think granny is the most happy there. I think she really, really loves the Highlands."
It's also regarded as a place where the Queen can truly relax, given the remoteness - and privacy that affords - of the 50,000-acre estate in the Scottish Highlands.
Photographs previously released by the royal family, show her late husband, the Duke of Edinburgh, barbecuing along with a young Princess Anne, while there are many more stories of the royals as youngsters enjoying picnics and playing in the grounds.
With the Queen's ongoing mobility issues Buckingham Palace stated earlier this month that her attendance at the Platinum Jubilee celebrations would likely be confirmed nearer the time or on the day itself.
So, while it's not clear yet which of the events Her Majesty will be at, royal fans can be sure that there will still be a significant royal presence over the line-up of events this weekend.
Let's hope the Queen is feeling rested and rejuvenated after her Scottish break.
Celebrity news, beauty, fashion advice, and fascinating features, delivered straight to your inbox!
Amy Sedghi is a freelance journalist, specialising in health and fitness, travel, beauty, sustainability and cycling.
Having started her career in The Guardian newsroom working with an award-winning team, Amy's proud to have reported on a variety of topics, speaking to a range of voices and travelling far and wide to do so. From interviews on ski lifts to writing up breaking stories outside courtrooms, Amy is used to reporting from a range of locations (she's even been known to type up a story in a tent).
She also loves being active, spending time outdoors and travelling - with some of her favourite features she's worked on combining all three. Cycling and eating her way round the Isle of Man, learning to sail on the Côte d'Azur and traversing the Caminito del Rey path in Spain are just some of her highlights.
Covering a diverse range of subjects appeals to Amy. One minute she may be writing about her online styling session with Katie Holmes' stylist and the next she's transporting readers to the basketball courts of Haringey where she joined a group trying to lower knife crime in the capital.
While at university, Amy was awarded The Media Society bursary. Following her stint at the Guardian, Amy worked at Google and as well as writing for Marie Claire, she regularly contributes interviews, features and articles to National Geographic Traveller, The Guardian, The Independent, The Telegraph, Stylist, Refinery29, Glorious Sport, Cycling Weekly and Rouleur.
When she's not writing, Amy can be found trying to get through her towering stack of books-to-read, cycling down at Herne Hill Velodrome or looking for the next place to eat and drink with friends.