JK Rowling launches Light a Birthday Candle
Birthdays should be times of celebration (and cake) but for the million children living in state care in Central and Eastern Europe, they aren't even recognised. JK Rowling's charity Lumos, wants to change this with the largest ever fundraising initiative, Light a Birthday Candle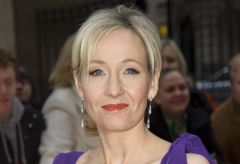 (Image credit: Rex Features)
Birthdays should be times of celebration (and cake) but for the million children living in state care in Central and Eastern Europe, they aren't even recognised. JK Rowling's charity Lumos, wants to change this with the largest ever fundraising initiative, Light a Birthday Candle
A birthday should be a time of celebration (and cake, obvs) but for the million children living in state care in Central and Eastern Europe, birthdays aren't even recognised.
JK Rowling's charity Lumos, wants to change this. She's asking everyone to join the largest ever fundraising initiative: Light a Birthday Candle on 1st June.
The charity was set up by Rowling in 2005 after she read an article on state care in The Sunday Times. 'When I read about children in institutions in caged beds I was outraged,' she says.
The event will help raise the vital funds for Lumos to move children who have been separated from their families, out of residential institutions and into family-based care.
'Some of them are so desperate for ordinary affection they will crawl into the lap of any visiting stranger,' says Rowling. 'They become very damaged very quickly, something shuts down permanently.'
You can give online and light your own virtual candle or you can organise a cake fundraising event of your own.
Your donations will change the lives of thousands of vulnerable children who have been left in state care.
'All donations, no matter how small, are vital to fund our programmes of work,' says Rowling.
Be inspired by celebrity chefs Jane Asher, Ainsley Harriot and Kiwi restaurateur Peter Gordon, who have donated a selection of tasty recipes. Visit lightabirthdaycandle.org.uk for more information.
Celebrity news, beauty, fashion advice, and fascinating features, delivered straight to your inbox!
Natalia is a health journalist with 14 years experience in the publishing industry. She has worked for a number of well known magazines and websites including Marie Claire, Woman&Home, Top Sante, Boots and The Telegraph. She likes to think she practices what she preaches when it comes to health and fitness. Her athletic prowess began early. A keen fencer for 13 years, she wielded an epée for Olympic Team GB during her teenage years. She likes to think she made sword-fighting cool before Game of Thrones came along! While working on her sporting performance with the team, she also participated in a lot of nutrition and psychology training, When it comes to time off, you'll most likely find her up a mountain somewhere. It seems holidays have become a time for climbing several thousand feet, rather than chilling out. She's now hiked eight of the major mountain ranges across four continents – including the Appalachians, the Smokies, the Sierra Nevadas (she spent her honeymoon hiking to the top of Half Dome), as well as hitting the summits of Snowdon, Pen-Y-Fan (Brecon Beacons), Table Mountain in South Africa, the Blue Mountains in Australia and the Atlas Mountains in Morocco. She's also passionate about all things health, particularly vaccinations, and will happily jump on her soap box at any given opportunity to talk about their benefits to anyone who will listen!