15 of the most annoying (& cryptic) estate agent phrases, decoded
Stunning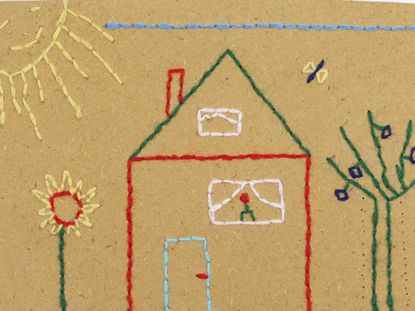 (Image credit: Rex)
Stunning
'Dear Miss Rains, we have just been instructed on a STUNNING one-bedroom garden flat, which needs to be seen, to be believed…'
This is the beginning of a very true rental story, which as of yet, has not had a happy ending. The property in question, which was 'just a short stroll' from the bustling cultural hub of central London (Leyton), was in fact a dank basement flat that would have been stunning if I was a mutant turtle called Michelangelo and frequented the sewers, but to be fair to them, it did have some outside slabs leading up to the front door. So yeah, it was a garden flat.
Estate agents like to spew out hyperbolic lingo like nobody's business, so to help you navigate the minefield that is the property market, we've decoded the most 'popular' verbal tricks of the trade to give you a head start. God knows, in the current state of the rental market, we need all the help we can get
Bijou
Bloody tiny. But they've said it in French, so it's trés chic, non?
Cosy
Usually applied to a studio flat. You can shower, whilst sat on the toilet, whilst watching TV… So cosy, right?
Compact
Same as above, but throw in an extra tenant.
Light and airy
You're actually bidding for a car parking space.
Convenient for transport links
As in, there are actually transport options available. If you have a car.
Perfect for a first time buyer
First time buyer = you're lucky you're even in this position so you get what you're given.
Easily-maintained garden
Concrete slabs.
Sought-after area
You won't be able to afford it.
No photo available
Lol.
Period property
This is haunted. And/or has dreadful carpet.
Within walking distance
Never trust this vague description. Anywhere is within walking distance if you can walk.
Put your own stamp on it
It's a wreck. Get Kevin McCloud on the blower.
Viewing recommended
Because the pictures all look crap.
Three-bedroom property
Bedroom two is a bathroom, bedroom three is the airing cupboard.
Full of history
Someone died here.
Celebrity news, beauty, fashion advice, and fascinating features, delivered straight to your inbox!
Holly Rains is the digital editor of Marie Claire UK. She has over 10 years journalism experience, working as an editor and writer, specialising in digital media, content strategy and dog breeds. Prior to Marie Claire, she has held senior staff positions at ELLE UK, Grazia and Company magazine.
Holly is a frequent speaker, panelist and interviewer on a range of subjects including media trends, careers and entertainment. From working with Reuters to provide global red carpet coverage for events like the BAFTAs, to discussing fashion and beauty trends on network TV, she was also the host of the Marie Claire series 'Holly's First Dates', where she regularly interviewed a mix of inspiring woman and A-list celebrities (including Jack Black, Dakota Fanning and Renée Zellweger) - a series which garnered half a million views in its first two months. And was approved by The Rock.
Her love of office-based meetings means that the days of discovering the melting point of Cadbury's Flakes are long gone, but when she isn't dreaming of scheduling in meetings, she likes to think about social media, and how best to avoid it whilst still retaining the title of 'digital' editor. She also likes learning about emerging technology, Influencers and how to become a Financially Responsible Adult.
Contact Holly: holly.rains@futurenet.com