Wendi Murdoch: The rise of the alpha female
Wendi Murdoch became an unlikely heroine after launching an astounding defence of husband at the phone-hacking hearing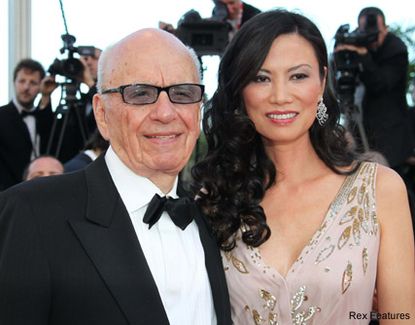 (Image credit: Rex Features)
Wendi Murdoch became an unlikely heroine after launching an astounding defence of husband at the phone-hacking hearing
Wendi Murdoch became an unlikely heroine after launching an astounding defence of husband at the phone-hacking hearing.
She leapt to her husband's defence after a protestor flung a foam pie in his face and attempted to punch the 80-year-old.
But Jonnie Marbles couldn't quite land his blow before Murdoch's 43-year-old wife raised her arm and launched herself at the activist.
Marie Claire asked body language expert Judi James what was behind the strike.
'There were several signs of suppressed aggressive arousal in the build up to the event,'says Judi, 'with Wendi digging her fingertips into her knee.'
'She was showing concern, anxiety and even what looked like anger at the killer questions, by either leaning forward protectively or sitting back with her arms folded. When her husband was then physically attacked the anger that had built up was suddenly unleashed. Her response was spontaneous but amazingly focused and sustained.'
Many were surprised at the former volleyball champion's actions, but as she struck Marbles down she certainly sent out a clear message to Murdoch's critics - that she and her husband were going to put up a fight.
More though than just her husband's defender though, Murdoch's third wife has been very successful in her own right.
She has an MBA from Ivy League university, Yale, where she studied business and has frequently played an important role in Murdoch's business in China. She is now a film producer.
The couple met in Hong Kong in 1997 and bonded over a shared passion for business.
After this week's events, however, it looks like Wendi might be taking charge and showing herself as a true alpha female.
'Dominance signals started to emerge, particularly where she touched her husband on the arm to remind him to stop gesticulating,' added Judi James. 'Rupert, however, seemed quite happy with the directive.'
Find out more about the secrets of body language from Judi James' The Body Language Bible.
Celebrity news, beauty, fashion advice, and fascinating features, delivered straight to your inbox!
Natalia is a health journalist with 14 years experience in the publishing industry. She has worked for a number of well known magazines and websites including Marie Claire, Woman&Home, Top Sante, Boots and The Telegraph. She likes to think she practices what she preaches when it comes to health and fitness. Her athletic prowess began early. A keen fencer for 13 years, she wielded an epée for Olympic Team GB during her teenage years. She likes to think she made sword-fighting cool before Game of Thrones came along! While working on her sporting performance with the team, she also participated in a lot of nutrition and psychology training, When it comes to time off, you'll most likely find her up a mountain somewhere. It seems holidays have become a time for climbing several thousand feet, rather than chilling out. She's now hiked eight of the major mountain ranges across four continents – including the Appalachians, the Smokies, the Sierra Nevadas (she spent her honeymoon hiking to the top of Half Dome), as well as hitting the summits of Snowdon, Pen-Y-Fan (Brecon Beacons), Table Mountain in South Africa, the Blue Mountains in Australia and the Atlas Mountains in Morocco. She's also passionate about all things health, particularly vaccinations, and will happily jump on her soap box at any given opportunity to talk about their benefits to anyone who will listen!