Scotland Yard brought in to find Madeleine McCann
Scotland Yard has been drafted in to help find Madeleine McCann fours years after she disappeared during a holiday with her family in Praia da Luz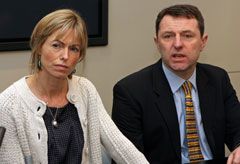 (Image credit: Rex Features)
Scotland Yard has been drafted in to help find Madeleine McCann fours years after she disappeared during a holiday with her family in Praia da Luz
Officials in Portugal have granted permission for the Metropolitan Police to review their files on the disappearance of Madeleine McCann after her parents renewed interest in their case with the publication of Mrs McCann's book.
Yesterday, Kate and Gerry McCann accused the Prime Minister of lacking sufficient commitment to children, but last night a statement was issued saying Scotland Yard would bring their expertise to the search following discussions between David Cameron, the Home Secretary Theresa May and the head of the Met, Sir Paul Stephenson.
Mr Cameron personally wrote to the McCann's to confirm the reopening of the investigation, describing their ordeal as every parent's worst nightmare.
He wrote: 'I simply cannot imagine the pain you must have experienced over these four agonising years and the strength and determination you have both shown throughout is remarkable.
'I am acutely aware of the frustration you must feel as more time goes by and yet no news is forthcoming. That you have been so courageous over all this time and have not given up speaks volumes.'
This will be the first official involvement of the Met, although senior officers are thought to have advised Leicestershire Police.
The McCann's welcomed the announcement and thanked Mr Cameron and Ms May for committing such a significant resource to begin the review process.
A spokesman for the couple says: 'The expertise of the Metropolitan police service is renowned and we are reassured by the Government's commitment to the search for Madeleine.'
Celebrity news, beauty, fashion advice, and fascinating features, delivered straight to your inbox!