Marie Claire's April issue is here! Here are a few highlights from inside…
The April issue of Marie Claire has LANDED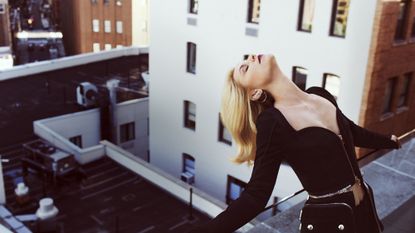 The April issue of Marie Claire has LANDED
Want to know what you can look forward to when you pick up a new issue of Marie Claire? Here's just a flavour of what's inside...
Cover star Claire Danes talks about career bumps and falling in love
Marie Claire's April issue cover star Claire Danes knows how it feels to hit a career dry spell. Before Homeland, she tells writer Kimberly Cutter, she spent two years out of work. 'It was a nightmare,' she says, 'I had been so stimulated and energised; I couldn't go back to ingenue or limited secretary-type roles. I wanted to play someone who would move the story forward.' She also talks about falling in love with her now-husband Hugh Dancy. '[We met] in Rhode Island in the fall. And there was one day when we were cycling by the water - it was sparkly and idyllic - and I just had this dumb epiphany thinking, "I'm really happy".'
Weddings get a much-needed update
Getting hitched but not up for a fussy, traditional affair? In 'The New Ways To Wed' we've got tonnes of ideas if you want to cut away the frills and do things your way (flash mob reception, anyone?). We've also got the heart-warming story of Marie Claire's very first wedding, between contributing editor Martha Hayes and her new husband Chris, who we set up on a blind date for a feature in the magazine back in 2012! Just call us Cilla...
Shirts (literally loads of them) and brights
We're (finally) approaching the time of year when we don't have to bundle ourselves up like the Mich Man every time we venture outside. Celebrate by checking out our new shirts shoot, with cool airy shapes and styles to see you into spring, plus the new ways to wear bold, graphic designs.
Sharon Horgan tells us why she doesn't run Catastrophe scenes past her husband
'I do show him early cuts of things and sometimes if there isn't much of a response, I'll know it's because he feels it's a little close to home' Sharon Horgan told us in our inside interview with the comedian. She also pays tribute to the late Carrie Fisher, who will appear for the final time as Rob's mother in the series. 'She was the best' she says, 'in series one and two it was more of a fly-in-fly-out deal, so we found it harder to pin her down, but for this series she was around a lot more. She was an incredible wit and had a beautiful way with words, but she wasn't overly flowery with her compliments, so it's only really in her passing that people have sent me lovely messages saying how much she enjoyed playing Mia. Sadly I dropped my phone down the toilet in December and lost a lot of her texts, which were so funny, raw and brilliant. Mostly they were knock-backs for my invites [laughs], but I'm going to see if I can get them back.'
Your new spring beauty guide
Emerge from your winter hibernation and into the sunlight with our new season beauty guide. We've got everything from dry post-winter skin busters to your new season nail shade (that's coffee, FYI) covered.
The April issue of Marie Claire is on sale now
Celebrity news, beauty, fashion advice, and fascinating features, delivered straight to your inbox!