Hillary Clinton has officially made her comeback
She came out on St Patrick's Day in her late father's hometown in Pennsylvania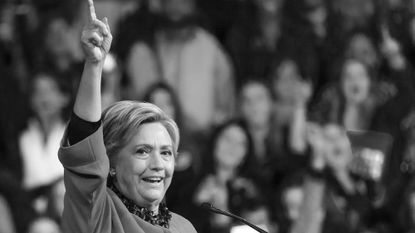 (Image credit: Joe Sohm/REX/Shutterstock)
She came out on St Patrick's Day in her late father's hometown in Pennsylvania
When Hillary Clinton, the woman who could have been President, lost out to Donald Trump, the world was outraged. Especially in light of some of the more outlandish Donald Trump quotes...
And, just when we were turning to classic Hillary Clinton quotes to help us feel empowered in the absence of actual Hillary Clinton since losing the election, she comes out again.
This St Patrick's Day, Hillary made a speech in her father's hometown of Scranton in Pennsylvania after putting this out on Twitter...
Retweeting this Tweet:
Seen as a commentary on Trump's first few months in office, including his relationship with Russia, his unnerving take on health care ('nobody knew that health care could be so complicated') and issues with other world leaders including Angela Merkel, Hillary announced that she is coming back to help 'Americans find common ground.'
The Democrat highlighted the fact that she had been meeting with female leaders who want to see Northern Ireland at peace: 'What can we do to try to bring people together and to try to find that common ground, even higher ground, sister, so that we listen to each other again and we know that we can make a difference?'
'I'm not sure it will come out of Washington yet, but I think it can come out of Scranton. Let's find ways to do that,' she declared in front of the Society of Irish Women.
'I am ready to come out of the woods and to help shine a light on what is already happening around kitchen tables, at dinners like this, to help draw strength that will enable everybody to keep going,' she continued.
This comes just after Hillary Clinton and her vice chair Huma Abedin were seen together for the first time since the election results.
The public are now wondering if Hillary will try to become mayor of New York City but nothing has been announced yet...
Celebrity news, beauty, fashion advice, and fascinating features, delivered straight to your inbox!