'Take up your space no matter how different you are, because we are our biggest impact'
We find out why story-telling is the key to enhancing body positivity...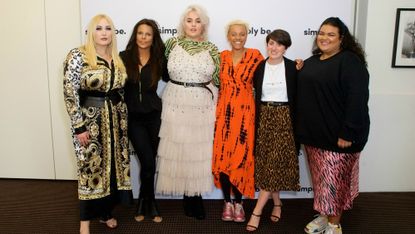 (Image credit: Simply Be)
We find out why story-telling is the key to enhancing body positivity...
In an age of body-shaming media scrutiny, social media influencers and DIY retouching, we are under an inescapable pressure to look a certain way, and there's no doubt that it's taking a toll on our body confidence.
In a fresh report carried out by Simply Be, in fact, it was recorded that as many as 89 percent of women from the ages of 18-40 have felt low confidence, with 74 percent blaming airbrushing for creating unrealistic expectations for women.
The study also found that as many as 31 percent of women confessed to using airbrushing apps on Instagram, such as Facetune, with over half admitting that they have done something to physically change the way they look in response to the unattainable beauty standards imposed by the media.
Women are, however, well and truly taking a stand.
Last week, we were lucky enough to be invited along to Simply Be's 'Ahead of the Curve' event, which brought together a fiery group of female panellists to discuss the issues raised in the report.
Hosted by BBC Radio presenter Gemma Cairney, the panel welcomed five vibrant activists in the form of plus size models Hayley Hasselhoff and Felicity Hayward, broadcaster Annie Price, news editor Billie Bhatia and Lauren Mahon, co-presenter of the podcast, 'You, Me and the Big C'.
The panel re-opened the conversation on the lack of diversity within the fashion industry and pushed for change, in the form of the introduction of a code of conduct for airbrushing on photoshoots, as well as a diversity clause wherever a certain number of models feature in a fashion campaign.
The five savvy panellists also shared the intimate details of their personal journeys to self-acceptance, and called on ladies nation-wide to embrace their individuality.
Chatting about everything from their most confidence-boosting lingerie, to tips on how to prevent insecurities getting in the way of us living our best lives, these ladies emphasised that by staying true to ourselves and sharing our stories with other women, we can help eradicate the pressure put on us by the media to be perfect.
Speaking of her own experience struggling with insecurities as a young girl, Hayley Hasselhoff shared: 'I look back and think it's so sad that young girl got all dressed up to go and see her friends and couldn't make that step outside that door. That's why it's so empowering to be able to speak about it and say to that little girl, 'go out and experience life, your body has nothing to do with it.'
So let's help turn the tide by accepting who we are and sharing our own stories. In the wonderfully wise words of Gemma Cairney, 'The best activist to be is to be completely yourself.'
Celebrity news, beauty, fashion advice, and fascinating features, delivered straight to your inbox!
Niamh McCollum is Features Assistant at Marie Claire UK, and specialises in entertainment, female empowerment, mental health, social development and careers. Tackling both news and features, she's covered everything from the rise of feminist audio porn platforms to the latest campaigns protecting human rights.
Niamh has also contributed to our Women Who Win series by interviewing ridiculously inspiring females, including forensic scientist Ruth Morgan, Labour MP Stella Creasy and ITV's former Home Affairs Editor Jennifer Nadel.
Niamh studied Law in Trinity College Dublin. It was after enrolling in a Law & Literature class on her year abroad in Toronto that her love of writing was reignited. In no particular order, her big likes are Caleb Followill, hoops, red wine, sea swimming, shakshuka and long train journeys.