Behind the scenes on the film every fashion lover should watch this Christmas
We meet Suzy Benzinger, the sartorial genius behind the Café Society wardrobe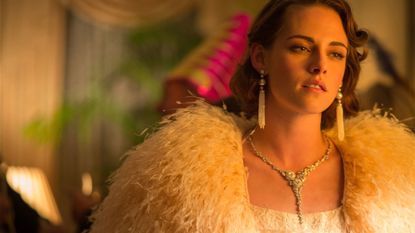 We meet Suzy Benzinger, the sartorial genius behind the Café Society wardrobe
Costume designer Suzy Benzinger is renowned for her collaborative work with Woody Allen, in particular the brilliant Blue Jasmine. No fashion fans could ever forget Cate Blanchett as a Chanel-clad socialite who's fallen on hard times in Allen's 2013 comedy drama.
His latest rom com Café Society, which premiered at Cannes on May 1, is also sartorial feast. Suzy was back for her 6th Allen movie, this time working exclusively with Chanel to create bespoke looks for Kristen Stewart to portray a 1930s secretary, and deck Blake Lively out in diamonds to play a Manhattan socialite.
The at times poignant and sidesplittingly funny film conjures up a visually astounding interpretation of life in the 1930s, and Suzy's wardrobe is perfectly befitting the beautiful backdrop.
Tell us about working with Chanel to build Kirsten Stewarts's custom wardrobe in Café Society?
Chanel was so incredibly generous for the film. We went into the Chanel archives to find the right pieces - it is an amazing place that looks like a small village. They have everything perfectly laid out, and it's all gorgeous. Karl [Lagerfeld] said that we could do whatever we wanted for the film, but we were filming over fashion month so that made things tricky. Luckily, they had a mannequin of Kirsten as she's a brand ambassador so they could make everything without needing to do too many fittings.
How quickly are the pieces made?
Chanel can turn something around in like a week. The thing is, they have to close for August so they had to work fast, but everything they do is so perfect – they're like surgeons. The workroom is spectacular, and when they send something there is no adjustment needed. It is completely perfect.
The Chanel fine jewellery was beautiful too - was there a key piece that really made a particular scene?
It was a combination of pieces really. In one scene, Kristen wore a really beautiful feather headband that was platinum and set in diamonds [the Chanel Plume de Chanel headband] it was just so perfect for her character. . What about Blake, what was it like to work with her on the film?
She's a really lovely girl. Blake is tall, she has a terrific, terrific figure and, better than all that, she has amazing posture. She has a great awareness of the angles of her body so she was really terrific to work with. She looks terrific in everything, it's hard to make her look bad, I'll tell you that. She wore a lot of Carolina Herrera.
What other designers did you work with?
We always work with Ralph Lauren. Always, always, always. Because Ralph gets Woody, and Woody gets Ralph, and his colours are gorgeous on screen. We also used Schiaparelli. Schiaparelli is sort of like the playful woman of that period who is artsy and fun. Parker Posey wears a lot of Schiaparelli in the film, and it suited her character. I think she really wanted to be playful and unique and artsy so Schiaparelli suited her. It was perfect. When we can match designers to characters it's great,
You used Angels in London to source some of the costumes, is that right?
Yes, Angels were great, we went in there, they opened their doors and we loaded up. It's perfect because, of course, Downton Abbey use Angels too so they have really amazing stuff.
Did you have a favourite piece?
I do, and usually its something that you'd say 'Why is that a favourite piece?' because sometimes you might like some horrible sweater, because what [costume designers] do really is convey the story through the clothes and sometimes it's that piece that helps the actor really be the character. I mean, I love all the Chanel stuff and it's gorgeous but sometimes when you find the piece that works perfectly for the wardrobe, perfectly for the actor and it doesn't take away from their performance that can be the most memorable piece. I'm not trying to do a fashion show; we're trying to tell stories as best we can. Of course, sometimes having something fashionable tells a certain story too.
Can you speak about what you're working on now?
I can't divulge too much, but it's a new Woody Allen film with four terrific people in the lead: Kate Winslet, James Belushi, Juno Temple and Justin Timberlake. It's a really, really terrific story set in the fifties - I can tell you that much. We're always so lucky because everybody wants to be in the Woody films, it's a lovely cast.
So, at this very moment you're combing New York for some great fifties pieces?
Yep, I'm on my way to the best vintage store in Brooklyn!
Café Society available to own on DVD, Blu-ray and digital download on Boxing Day.
Celebrity news, beauty, fashion advice, and fascinating features, delivered straight to your inbox!