Courteney Cox reveals she doesn't remember filming most of Friends
The actress says she has a mind blank about a lot of the iconic 90s sitcom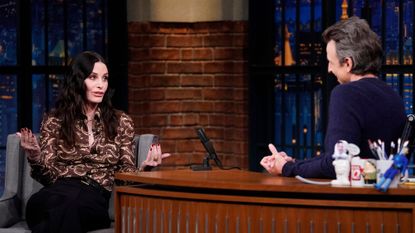 The actress says she has a mind blank about a lot of the iconic 90s sitcom
Appearing on the Today Show, the iconic Friends actress revealed that she couldn't remember large swathes of the show.
Chatting with the host Willie Geist, Cox said:
"I should've watched all 10 seasons because when I did the reunion and was asked questions, I was like, 'I don't remember being there,'" she admitted. "I don't remember filming so many episodes.
"I'm kinda bummed that we didn't spend more time taking pictures. Because I don't have a lot to look back at," she continued. "I see it on TV sometimes and I stop and go, 'Oh my God, I don't remember this at all'. But it's so funny."
Cox, who appeared on the much loved reunion episode with her fellow cast members; Jennifer Aniston, Lisa Kudrow, Matt LeBlanc, Matthew Perry and David Schwimmer last year, explained how she had a notoriously "bad memory" and doesn't rememeber much from her youth.
"It's really basic," she said. "I don't remember any trauma in my childhood, but I have, like, three memories. I don't know. I don't know why."
One thing she did recall, however, was the show's director Jim Burrows taking the entire cast on a trip to Las Vegas just before the show aired in 1994.
"He gave us all $500 and he said, 'I want you to take care, like, really take notice of this moment because it will be the last time that all six of you together can walk through a casino,'" she said. "And we were like, 'Really?' And it was true. We could never do that [again]."
Cox, who played the notoriously fastiduous Monica Geller on the show, is not the only cast member to have memory loss regarding making the series. Lisa Kudrow, better known as her Friends' alter ego Phoebe Buffay said in an interview with The Mirror in 2020: "I should [watch it] because it's funny. The times I watch the show, I really enjoy it. But to be honest, there are episodes I have never seen.
"I am not the only one in the cast for which that is true. You got busy, so you didn't watch everybody else's scene because you didn't have time. It's really crazy, but one day I can't wait to watch Friends."
Well one thing's for sure, they're in for a treat.
Celebrity news, beauty, fashion advice, and fascinating features, delivered straight to your inbox!
Juliana Piskorz is a freelance journalist and broadcaster. Over the course of her career she has written for a smorgasbord of magazines and national newspapers including The Sunday Times, Dazed and Confused, the Independent, the Guardian, Refinery29 and The Face among others.
Before going freelance, Juliana was the Digital Editor at the Evening Standard Magazine and a Staff Writer at the Observer Magazine.
Juliana has a partcular interest in art, fashion, travel and the pop culture.