Coronavirus crisis could result in up to 40,000 homeless dogs
The financial fallout of COVID-19 may force people to give up their pets, a charity has warned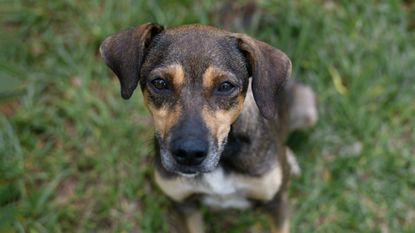 The financial fallout of COVID-19 may force people to give up their pets, a charity has warned
Up to 40,000 dogs could become homeless due to the pandemic, a charity has stated.
Dogs Trust has stated that the economic impact of Covid-19 may force people to give up their pets, or in some truly tragic cases, put them to sleep if they can't afford to keep them.
The charity highlighted the financial crash of 2008 - which lead to a 25% rise in the number of abandoned dogs across the UK, with euthanasia figures also rising by 25%.
This means as many as 1,800 dogs in local shelters risk being put to sleep unnecessarily as a result of the coronavirus crisis.
Dog Trust has also predicted that behavioural problems developed during lockdown, such as separation anxiety, could worsen animals' welfare as owners prepare to head back to work and resume their busy lives.
Demand for puppies spiked significantly during lockdown, with Google searches for 'buy a puppy' increasing by 166% since late March.
Owen Sharp, chief executive of Dogs Trust, said: 'In these extraordinary times we know that circumstances can change in a heartbeat.'
'The sad reality is that in times of financial hardship many people struggle to cope with looking after their pets, and the number of abandoned dogs has gone up.'
'We saw this in 2008, and we're extremely concerned that history could repeat itself in the coming months.'
Sharp added that the charity has already taken in a number of dogs from owners who have died from or been hospitalised with coronavirus.
'We're doing everything we can to minimise the impact of this crisis on dog welfare, and would urge anyone needing to give up their dog to please turn to us first, and we'll do everything we possibly can to help you and your dog', he said.
Dogs Trust has launched an urgent appeal to help ensure it can provide ongoing help for dogs in need.
The charity can be contacted on 0300 303 2188 by any dog owners struggling to look after their pets in this climate. To make a donation, click here.
Celebrity news, beauty, fashion advice, and fascinating features, delivered straight to your inbox!
Niamh McCollum is Features Assistant at Marie Claire UK, and specialises in entertainment, female empowerment, mental health, social development and careers. Tackling both news and features, she's covered everything from the rise of feminist audio porn platforms to the latest campaigns protecting human rights.
Niamh has also contributed to our Women Who Win series by interviewing ridiculously inspiring females, including forensic scientist Ruth Morgan, Labour MP Stella Creasy and ITV's former Home Affairs Editor Jennifer Nadel.
Niamh studied Law in Trinity College Dublin. It was after enrolling in a Law & Literature class on her year abroad in Toronto that her love of writing was reignited. In no particular order, her big likes are Caleb Followill, hoops, red wine, sea swimming, shakshuka and long train journeys.