WIN tickets to the star-studded StreetDance DVD launch
It's Twitter comp time! You could get your hands on tickets flick's exclusive London launch party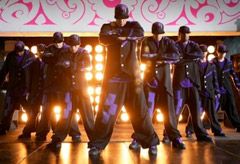 It's Twitter comp time! You could get your hands on tickets flick's exclusive London launch party
StreetDance 3D is set to be the action-packed hit of the year, and now we're giving you the chance to get your hands on tickets to the DVD's London launch, with an exclusive Twitter competition.
CLICK HERE TO FOLLOW US ON TWITTER
The famous flick features Britain's Got Talent favourites Flawless, Diversity and George Sampson, and tells the tale of a street dance crew, forced to team up with ballet students to get to the Street Dance Championships.
Packed with action (and some seriously cool dance moves!) sparks fly as they compete for the coveted title.
And now you could be mixing with the stars at the exclusive music and dance event, which will feature performances from some of the film's glittering acts.
To celebrate the release of StreetDance on DVD, we'll be giving away tickets to the star-studded launch party in London on September 27, in an exclusive comp on Twitter at 3pm today.
Follow us for all the latest fashion, celebrity and health news... and of course your chance to WIN!
Stay tuned to twitter.com/marieclaireuk for all the latest news on today's hot comp.
Buy StreetDance 3D on DVD from Monday September 27.
Celebrity news, beauty, fashion advice, and fascinating features, delivered straight to your inbox!