Mariah Carey confirms pregnancy
It has been the worst kept secret in showbiz history, but Mimi has finally revealed she is expecting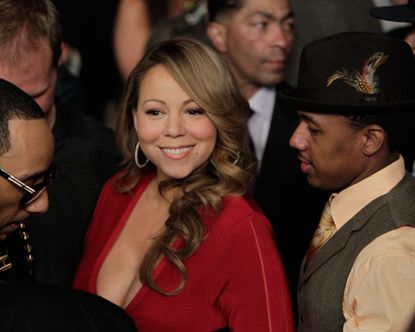 (Image credit: Rex Features)
It has been the worst kept secret in showbiz history, but Mimi has finally revealed she is expecting
Rumours Mariah Carey is expecting her first baby with hubby Nick Cannon have been rife for months, after the singer abruptly pulled out of a film role, and has since been sporting a little more weight than usual.
Yet the worst kept secret in history was still to be confirmed. Until today, when Mariah confirmed the news herself, in an interview Access Hollywood's Billy Bush.
BEST-DRESSED CELEBRITY BABY BUMPS
Mariah first set pregnancy rumours alight back in June, by pulling the plug on her latest role, a part in Tyler Perry's flick 'For Coloured Girls', just five days before filming was due to begin.
At the time an official told reporters: 'she is not doing the movie because her doctor advised her not to. More than that I cannot comment further.' Mysterious.
Now, after months of speculation, Mimi has finally told the world she is expecting. 'Yes, we are pregnant. This is true,' she told the US show host.
'It's been a long journey. It's been tough because I've been trying to hold on to a shred of privacy.'
She was joined by hubby Nick Cannon, who gushed about the 'absolutely emotional' news, revealing 'The greatest gift on earth is a child. We've had names picked out from the first day we met and we want to stay true to that.'
Mariah also explained the reason for her caution, revealing that she suffered a tragic miscarriage during the first few months of her marriage to Nick.
'It kind of shook us both and took us into a place that was really dark and difficult,' she revealed. 'When that happened… I wasn't able to even talk to anybody about it. That was not easy.'
But Nick added that the sad incident did bring them closer. 'It definitely brought us closer together. It strengthened our relationship so much… She handled it so well.'
Just yesterday, Brit actress Thandie Newton accidentally revealed Mariah's baby news news during an appearance on US chat show, The View.
'I think she is pregnant,' she told View hosts on Mariah's reason for pulling out of the film role, which Thandie then took over.
Quickly realising her slip-up, she backtracked: 'Or something major is going on in her life, so I carried the baton for her. I only had two days to make a decision to play it.'
Oops!
Congratulations to the happy couple!
Are you pleased to hear Mariah's baby news? Let us know your thoughts in the comments box below.
BEST-DRESSED CELEBRITY BABY BUMPS
Celebrity news, beauty, fashion advice, and fascinating features, delivered straight to your inbox!