Women are finally being allowed to drive in Saudi Arabia
One convertible black and yellow Mustang, coming right up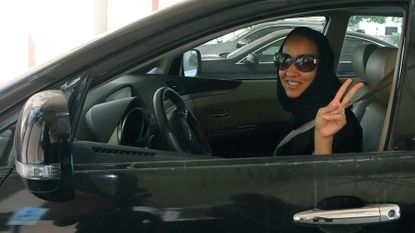 (Image credit: AFP/Getty Images)
One convertible black and yellow Mustang, coming right up
Saudi Arabia has just taken a big step towards gender equality with their latest landmark decision, which will allow women to drive without the permission of a male guardian. It's been a long time coming for the conservative region and while it's been hinted at over the past few months, their progressive new leadership has finally made it a reality.
Prior to the new decree, only men were allowed licences and women faced prosecution if they were caught behind the wheel of a car. The move is part of Vision 2030, King Salman's plan for a modern Saudi Arabia and a larger effort to encourage women to enter the workforce.
King Salman ordered the reform on Tuesday night and the new law will be implemented by June 24, 2018. A committee is currently being appointed and will have thirty days to come up with recommendations as to how to effectively implement the law across the country. The law is groundbreaking for Saudi Arabia, which follows a strict conservative legal system based off Islamic law and infamously restricts women's right to education, travel, social activities and more.
Prince Khalid bin Abdulaziz said of the decision, 'I think our leadership understands our society is ready.'
US Ambassador bin Salman went one step further at a press conference in Washington DC, speaking of his hopes for the role of women in Saudi Arabia's future: 'In order to change women's participation in the workforce, we need them to be able to drive to work. We need them to move forward, we need them to improve our economy.'
The topic has long been a controversial one for the Middle Eastern region and recently, Saudi cleric Saad al-Hijri spoke out against allowing women to drive because their brains were 'a quarter the size' of men's.
He said, 'Would [the traffic department] give [a man with half a brain] a licence or not? It would not. So how can it give it to a woman when she has only half? If she goes to the market she loses another half. What is left? A quarter...We demand the traffic department check because she is not suitable to drive and she only has a quarter.'
However, women in Saudi Arabia have been fighting for the right to drive for years now. Their efforts most notably culminated in a wider protest in 2013, when women drove and defied the law to protest the law in a campaign called Women2Drive. Many of the women were arrested, including Manal al-Sharif who tweeted of the new decree, 'Today the last country on earth to allow women to drive...we did it.'
Women around the region were ecstatic about the decision and campaigner Sahar Nassif told the BBC, 'I'm going to buy my dream car, a convertible Mustang, and it's going to be black and yellow!'
Sultana al-Saud from Riyadh told The Guardian, 'We were waiting for something larger to back us up, a backbone, with is the government. This is a huge step for women, it's nice to see women behind the wheel - metaphorically I believe it's like her leading her life now.
'The patriarchy is slowly but surely turning to land of equality. This is amazing. It's the first few days of freedom...We are part of this big vision. We women are now taken into consideration.'
Celebrity news, beauty, fashion advice, and fascinating features, delivered straight to your inbox!
Megan is a freelance journalist who covers entertainment and all things lifestyle, with a particular passion for fashion, beauty, travel and Keanu Reeves stories. She has previously worked on staff for titles including Marie Claire UK, CNN Style and The Evening Standard and has written for titles such as Bustle UK, Wallpaper*, Forbes and Hong Kong Tatler. She splits her time between London and her hometown Hong Kong, where she currently lives with the love of her life - an elderly dog named Poppy - and her husband.