Life stories: Iman
From refugee student to world-famous model, multimillionaire businesswoman and rock-star wife, Iman's quiet determination to succeed has always set her apart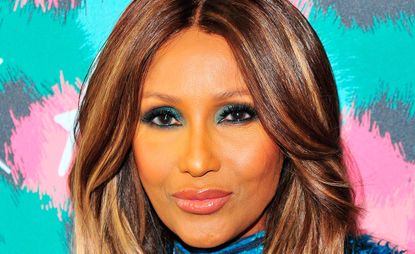 (Image credit: Rex Features (Shutterstock))
From refugee student to world-famous model, multimillionaire businesswoman and rock-star wife, Iman's quiet determination to succeed has always set her apart
Words by Michelle Davies
Walking to university in Nairobi, 18-year-old Iman Abdulmajid was preoccupied by thoughts of money, or rather her lack of it. Her middle-class family had become refugees after fleeing to Kenya from war-torn Somalia with just the clothes on their backs. She had a scholarship to fund the first year of her political-science degree, but no plan for afterwards.
Suddenly a man tapped her on the shoulder and asked to take her photograph. She walked away, but he was insistent. 'I thought he was trying to pick me up,' she said. 'After much back and forth, I agreed to let him take my picture in exchange for the cost of my tuition, around $8,000 (£6,500).'
It was a negotiation that could have backfired, but the man was world-renowned photographer Peter Beard and he accepted Iman's offer. Soon she would become the most famous model in the world, earning up to $20,000 (£16,300) a day. Yet to younger generations, she is best known for her marriage to the late David Bowie. A year after his death, they are still recognised as a rare example of commitment in an industry where relationships regularly crash and burn.
Iman was born Zara Mohamed Abdulmajid in Mogadishu, Somalia, on 25 July 1955. Her father Mohamed was a diplomat, her mother Maryan a gynaecologist. The first girl in three generations, her name was changed to Iman at the behest of her grandfather, who felt she'd prosper with a masculine name. Her parents also instilled a belief she was equal to any man. 'I was taught that I could do what the boys in my family could do, that the sky – and beyond – was the limit,' she said.
When her father became ambassador to Saudi Arabia, Iman was sent to a boarding school in Egypt, because Saudi girls were banned from being educated. She learned four languages – Arabic, Italian, French and English – but her schooling was cut short in October 1969, aged 14, when the military staged a coup in Somalia and her father was ordered to return. Fearful for their safety, they fled across the border into Kenya. 'We were terrified,' Iman said. 'Refugees are 99 per cent of the time people who have left their countries in fear of their lives. I am the face of the refugee.'
The experience of being forced to leave her beloved Somalia was character forming. 'I get my stubborn character from my country's shape,' she has stated. 'Somalia is situated in the Horn of Africa at the easternmost projection of the continent. I relate to the world in much the same way as Somalia relates to the rest of Africa – I am African, but I also stick out a bit.'
Iman's fortunes changed dramatically when Beard sent his photographs to Wilhelmina Cooper, founder of New York-based agency Wilhelmina Models, who asked her to move to the US. Iman was happy to go, but it meant leaving behind the husband she'd recently married. Little is known of him – Iman's never revealed his name – but her family was relieved. 'My parents were totally against [the marriage],' she admitted.
Her divorce was finalised once she arrived in New York, aged 20, in October 1975. To create a buzz, Beard told the media he'd discovered Iman herding cattle in the Kenyan bush; she colluded in the scam, even playing dumb at a press conference. 'Everybody looked at that story like a fairytale,' she said. 'Even when I said it wasn't true they still loved it.'
Iman appeared in US Vogue within months and walked for Halston, Yves Saint Laurent and Calvin Klein. 'On the runway, she exuded style. She was a natural,' said Klein. 'She knew how to sell the clothes better than anybody.' But adapting to life in America wasn't easy for Iman. 'I will never forget the first time I tried to get a taxi at night, only to be ignored because I was black,' she recalled. She confronted one magazine editor who wrote her success was due to the fact she 'looked like a white woman dipped in chocolate'. Iman stormed into her office and demanded an apology. 'She didn't even realise it was insulting,' she said. Iman also grew irritated when people tried to create a rivalry between her and Beverly Johnson, the leading black model at the time. 'People acted like I had to dethrone Beverly and take her spot, as if we couldn't [model] at the same time,' she said.
However, in her memoir The Face That Changed It All, Beverly did claim that Iman once blanked her, saying at one event she 'looked [at] me and turned away as though she hadn't seen me' and only thawed when Beverly pointed out, 'Don't you understand how crazy that makes us both look?'
Iman later conceded she had begun to believe her own hype: 'I was at the height of my career… and that had gone to my head.' It was a turning point. Following this, Iman made the decision to nurture younger models, with Naomi Campbell describing her as a 'mother figure'.
Given Iman's fame, it was inevitable she'd attract a high-profile partner. She dated Warren Beatty, then married New York Knicks basketball star Spencer Haywood in 1977. Their daughter, Zulekha, was born a year later. But then came an incident that changed Iman's life.
In 1983, at the height of her career, a drunk driver ploughed into the taxi she was in, fracturing her cheekbone, eye socket, collarbone and several ribs. 'My doctor told me not to worry, that [I'd] heal without major scarring. But I wasn't worried. When I thought about the fact I wasn't dead or paralysed, giving up modelling seemed a small price to pay,' she said. The five months she spent recovering gave her time to reconsider her priorities. She ended her unhappy marriage to Haywood in 1987 and, two years later, she announced her retirement from modelling. The fashion world was stunned.
By then she was in the early stages of developing her own cosmetics line. IMAN Cosmetics launched in 1994 and she signed a deal with Proctor & Gamble to take it mass market. Today, her products are sold across the world and the company has an estimated turnover of $25m (£20m) a year. Iman's shift into business coincided with her falling in love with the man who was to be her devoted husband for 24 years.
She first met David Bowie at a party in 1991. 'My attraction to her was immediate and all-encompassing,' said Bowie in an interview in 2000. 'That she would be my wife, in my head, was a done deal… I knew she was The One.'
They married in Switzerland in April 1992 and set up home in New York with Zulekha. Bowie also had a son, Duncan, from his first marriage. After a failed IVF attempt, they had begun the process for adoption when Iman discovered she was pregnant naturally – their daughter, Alexandria (known as Lexi), was born in August 2000.
With her business and family thriving, Iman spent the next decade focusing on philanthropic causes, including the Raise Hope for Congo Campaign, an initiative aimed at protecting and empowering Congolese women and girls. She briefly presented Project Runway Canada in 2008, but mostly she was content to live a quiet life with Bowie away from the spotlight. But their idyll was shattered last January when Bowie died after an 18-month battle with cancer. The only hint Iman gave that anything was amiss was in a tweet she posted the day before, saying, 'Sometimes you will never know the true value of a moment until it becomes a memory.'
In September, nine months after Bowie's death, Iman made her first public appearance at the Tom Ford show at New York Fashion Week, wearing a 'David' necklace made for her by Hedi Slimane. With all eyes on her, Iman showed her resilience. 'It's been a tough year,' she told reporters, referring also to the death of her mother two months after her husband's. 'But I'm holding up.' A year on, she's as strong and resolute as ever.
Celebrity news, beauty, fashion advice, and fascinating features, delivered straight to your inbox!
The leading destination for fashion, beauty, shopping and finger-on-the-pulse views on the latest issues. Marie Claire's travel content helps you delight in discovering new destinations around the globe, offering a unique – and sometimes unchartered – travel experience. From new hotel openings to the destinations tipped to take over our travel calendars, this iconic name has it covered.