Lea Michele Spills the beans on Gwyneth Paltrow's Glee return
After Gwynnie's hilarious cameo as substitute singer Holly Holiday, the cast just can't wait to have her back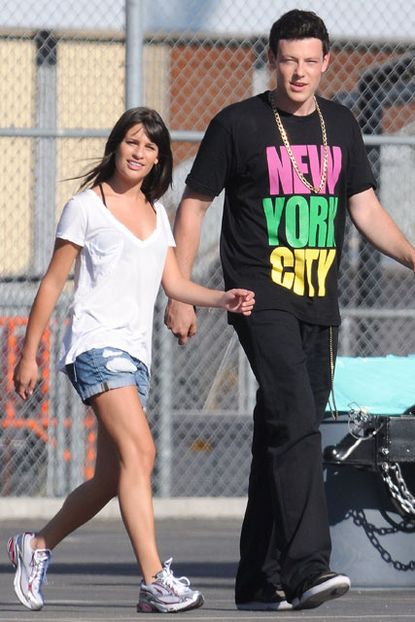 (Image credit: Rex Features)
After Gwynnie's hilarious cameo as substitute singer Holly Holiday, the cast just can't wait to have her back
Gwyneth Paltrow had audiences around the US in stitches when she stepped into the Glee spotlight, to play as substitute teacher Hollie Holiday, in an exciting two-episode-long episode. Now it's been confirmed the star is set to return, and the show's famous cast just can't wait to have her back.
SEE ALL THE LATEST GLEE PICS HERE!
Lovely Lea Michele – who plays Rachel Berry in the hit show – is particularly looking forward to having Gwynnie back, gushing about her in a recent interview.
'Oh my God, that was so unbelievable. Half the time I was like... all that was processing in my head over and over again [was], "That's Gwyneth Paltrow. That's Gwyneth Paltrow". It's so unbelievable,' she said of the star's cameo in the show.
'She came in and just blew the roof off this place. I'm telling you, no one has come in and has done what Gwyneth did.
'She came in, totally not intimidated by anything and she went from doing Cee Lo to Chicago and just totally did it with ease and grace like she'd been here every day before that.
'She's just so sweet and I can't wait to have her back.'
And it seems thoughts all around the set are the same. 'Gwyneth Paltrow is a genius. Who knew that she was such a triple threat?' said Matthew Morrison of his duet with the star.
'Great dancer, great singer, obviously a great actress – I just had the best time.'
And after describing Glee as 'the best job ever,' Ms Paltrow is delighted to be returning to the musical show.
'I'm going to do one more, said the 38-year-old. 'I signed up for two, so I'm excited.' Gwyneth recently revealed.
Are you looking forward to seeing Gwynnnie's Holly Holiday Glee cameo? Would you like to see her back on the show? Let us know in the box below.
SEE ALL THE LATEST GLEE PICS HERE!MORE CELEBRITY NEWS
Celebrity news, beauty, fashion advice, and fascinating features, delivered straight to your inbox!