THIS Is How Much Work Went Into Creating Kirsten Dunst's 60s Look In The Two Faces Of January
Costume designer Steven Noble explains how he created gorgeous pieces for the 1960s-set film that would work just as well today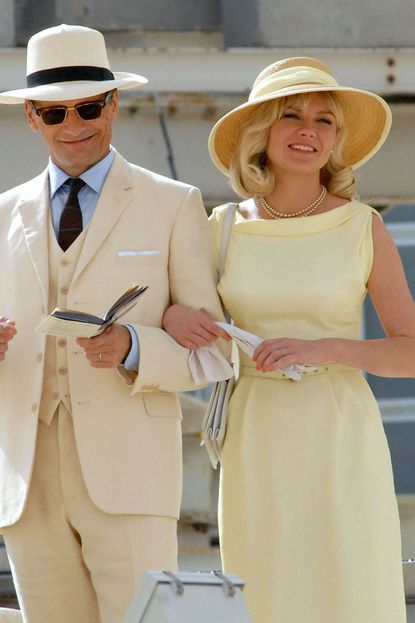 (Image credit: Rex)
Costume designer Steven Noble explains how he created gorgeous pieces for the 1960s-set film that would work just as well today
If you start noticing Kirsten Dunst wearing a pattern of 1960s-inspired dresses on the red carpet, you'll know why.
In her upcoming film The Two Faces Of January (set in 1962), Kirsten plays a rich young wife who finds herself in the middle of a dangerous love triangle. The script called for Kirsten and her onscreen husband, Viggo Mortensen, to look like the ultimate golden couple.
And that's where costume designer Steven Noble stepped in.
Noble described his aesthetic at a London screening of the film. 'The costumes were timeless and contemporary but with elements of the 60s,' he said. 'I wanted to keep it minimal, contemporary, chic, classic and basic.'
All the amazing pieces that Kirsten wore in the film were custom-made for her character. They consisted mostly of sophisticated sheath dresses, chic sunglasses and ultra-feminine hats.
'She did love them,' Noble said.
Kirsten's wardrobe is a significant part of the film, and much care was paid to her costumes. For scenes where any stunts were involved, Noble created three or four versions of that dress to allow for damages. But, as luck would have it, it was the lovely lemon dress from the opening scene - one that didn't have its own stunt double - that got nearly got destroyed.
Noble described how Kirsten innocently leaned into a brown fence that had just been painted, while wearing the dress on set. 'We had to find a very good dry cleaner in Greece,' he said.
Because Noble kept modern fashion in mind while designing the looks, they could easily be taken out of the 1960s era and worn today. In fact, Kirsten probably would have taken them home in her case if she could have.
'I tried to make all the pieces seem timeless,' Noble said. 'She said she'd wear all of them.' (So would we!)
Judging by the refined, satin LBD that Kirsten wore to the film's London premiere this week, she's happy to incorporate a bit of 60s style into her modern red-carpet wardrobe. As Noble pointed out, lovely dresses with classic silhouettes don't have to belong to one particular decade.
'There's a lot of retro fashion out there now, and there always will be,' he said. 'Really, it's just down to the individual.'
The Two Faces of January is in cinemas now. Watch the trailer below.
Got a tablet? Take the new look Marie Claire wherever you go, download straight to your iPad & iPhone, Kindle (just search the store for 'marie claire magazine'), Nook or Google Nexus for only £2.99.
Celebrity news, beauty, fashion advice, and fascinating features, delivered straight to your inbox!
Ali Gray is an award-winning content director and digital strategist. Most recently she was the Director of Branded Content at Hearst, and helped to bridge the gap between the editorial and commercial worlds working across all Hearst brands, including ELLE, Cosmopolitan, Esquire and Harper's Bazaar. Prior to that she worked as an editor contributing to several brands such as The Telegraph, iVillage UK.