Kaia Gerber has opened up about 'comparison culture' on Instagram and how harmful it can be
"Everyone's just showing their highlight reel which can make you feel really bad."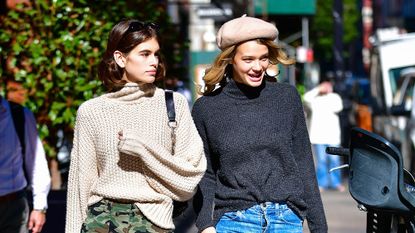 (Image credit: 2017 James Devaney)
"Everyone's just showing their highlight reel which can make you feel really bad."
Social media can be brilliant, but then again it can also be...not so great. US model Kaia Gerber has opened up about her relationship with Instagram and has wisely highlighted the lesson of knowing "what your own threshold for it is."
Speaking to Elle magazine, the 20-year old discussed the pros and cons of the social media platform. She said:
"Having access to tutorials means you can learn so much and you can find people who are similar to you. I think there's a lot more creativity happening because we're connecting people from all over the world and all their different ideas and that's a really amazing thing.
But there's also the negative side, like comparison culture."
She added: "It's definitely important to be aware of how much time you spend on social media and what you're using it for - if it's to compare yourself to other people that can be really tough on your self-esteem."
Kaia, who is the daughter of supermodel Cindy Crawford and businessman Rande Gerber, pointed to the fact that you often only see one side of someone's life on Instagram: "Everyone's just showing their highlight reel which can make you feel really bad. I think you have to learn what your own threshold for it is - mine's quite low!"
The American model, who is currently dating Elvis star Austin Butler, makes a great point. Social media can be used in both positive and harmful ways, and as Kaia says, it's beneficial to understand how it makes you feel and where to draw your boundaries with it.
Numerous studies have shown the damaging effects social media can have on self-esteem and body image - especially among young girls and women.
In September 2021, a leak revealed that Facebook had kept internal research secret that suggested its Instagram app makes body image issues worse for teenage girls.
Also, in 2017, research by two health organisations named Instagram as having the most negative impact on young people's mental wellbeing, according to The Guardian. Snapchat, Twitter and Facebook were also concluded to be harmful (n.b.: it's worth noting this research took place before the existence of TikTok, which has also faced criticism).
Celebrity news, beauty, fashion advice, and fascinating features, delivered straight to your inbox!
Amy Sedghi is a freelance journalist, specialising in health and fitness, travel, beauty, sustainability and cycling.
Having started her career in The Guardian newsroom working with an award-winning team, Amy's proud to have reported on a variety of topics, speaking to a range of voices and travelling far and wide to do so. From interviews on ski lifts to writing up breaking stories outside courtrooms, Amy is used to reporting from a range of locations (she's even been known to type up a story in a tent).
She also loves being active, spending time outdoors and travelling - with some of her favourite features she's worked on combining all three. Cycling and eating her way round the Isle of Man, learning to sail on the Côte d'Azur and traversing the Caminito del Rey path in Spain are just some of her highlights.
Covering a diverse range of subjects appeals to Amy. One minute she may be writing about her online styling session with Katie Holmes' stylist and the next she's transporting readers to the basketball courts of Haringey where she joined a group trying to lower knife crime in the capital.
While at university, Amy was awarded The Media Society bursary. Following her stint at the Guardian, Amy worked at Google and as well as writing for Marie Claire, she regularly contributes interviews, features and articles to National Geographic Traveller, The Guardian, The Independent, The Telegraph, Stylist, Refinery29, Glorious Sport, Cycling Weekly and Rouleur.
When she's not writing, Amy can be found trying to get through her towering stack of books-to-read, cycling down at Herne Hill Velodrome or looking for the next place to eat and drink with friends.