J.K. Rowling has an otterly adorable way of dealing with the depressing state of world affairs
What the world needs now...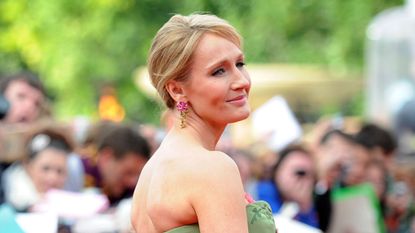 (Image credit: Joanne Davidson/Silverhub/REX/Shutterstock)
What the world needs now...
If you're a politically minded person, then it's a given that the world's current state of affairs are probably getting you down. While J.K. Rowling may not be able to magic you away to Hogwarts (or you know, any alternate universe), she does have a temporary cure for your Trump or Brexit-related depression. And it's adorable.
The outspoken author is renowned for her politically charged quotes and tweets, particularly her Twitter feuds with the likes of Donald Trump, Pewdiepie and sexist authors. However this time she used her powers for her own good, tweeting, 'Incompetent clowns in power and the opposition turning into a solipsistic personality cult. I'm so ****ing depressed. Send otter pictures.'
If ye ask the Twittersphere, ye shall receive and it wasn't long before cute otter pictures (and a few other animals) began flooding in.
However, even that smiley face couldn't keep J.K. happy as she sullenly tweeted back, 'Nice pic, but having had a week of abuse from people who think using 'incomer' instead of 'immigrant' makes them 'civic' nationalists…'
Another Twitter user tried their best, making do with what they had around them. One user sent a picture of their sleeping cat, but JK still wasn't impressed. The woman is in a crisis, send her what she wants.
Some hit the nail in the head, with other users taking to drastic measures to put a smile on the Harry Potter author's face.
As time passed, J.K. Rowling began retweeting as many otter pictures as she could - if you scroll down, her feed's basically an otter appreciation society. She gradually opened up to other animals, with one user's fluffy puppy swaying her away from otter territory.
After hours of otter-related madness, eventually J.K. Rowling called an end to the spree and thanked her fans for brightening her day. She snuck in a pun and tweeted gratefully, 'Thank you, kind and lovely people, for your otter gorgeousness xxxxx'.
We wish we had a few hundred thousand Twitter followers, ready to spam us with cute animal photos when we have a rough day. In the mean time, we'll have to settle for living vicariously through J.K. Rowling and saving otter pictures to our phones...
Celebrity news, beauty, fashion advice, and fascinating features, delivered straight to your inbox!
Megan is a freelance journalist who covers entertainment and all things lifestyle, with a particular passion for fashion, beauty, travel and Keanu Reeves stories. She has previously worked on staff for titles including Marie Claire UK, CNN Style and The Evening Standard and has written for titles such as Bustle UK, Wallpaper*, Forbes and Hong Kong Tatler. She splits her time between London and her hometown Hong Kong, where she currently lives with the love of her life - an elderly dog named Poppy - and her husband.