So, Jennifer Lawrence very nearly killed a man
And her bum is to blame.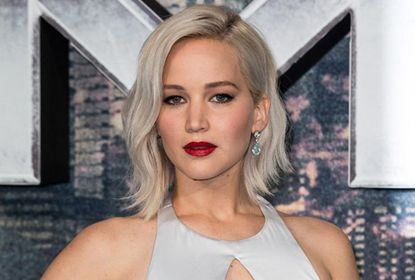 And her bum is to blame.
We all know JLaw is one of the funniest women in Hollywood, and if you don't believe us then these Jennifer Lawrence quotes will prove it. So it was no surprise that when Jen graced the couch of Graham Norton hilarity ensued.
Whilst appearing on the popular BBC One talk show, things went slightly off topic when the Oscar winning actress started recalling a time she very almost killed a man whilst scratching her backside. Seriously.
To give you some context, Jen was in Hawaii filming The Hunger Games: Catching Fire when she decided to take a break and sit on some rocks nearby. Now these weren't just any rocks, these were sacred rocks. And tourists were asked not to sit on these as, in Jennifer's own words, 'you're not supposed to expose your genitalia to them'. However, as Jen was in a wetsuit (and because she's Jennifer Lawrence) she was an exception to that rule.
It also just so happened that these rocks were ideal for a bit of butt scratching, and, well you can probably see where this is going. Nonetheless, this is the story of how the Jennifer Lawrence nearly killed a man whilst scratching her bum.
'I was in a wetsuit for this whole shoot and oh my God they were so good for butt itching,' Jen explained. 'One rock that I was butt scratching on eded up coming loose. It was a giant boulder and it rolled down this mountain and almost killed our sound guy.'
'This whole station just got destroyed, like it was this huge and dramatic deal. All the Hawaiians were like oh my God it's the curse! And I'm over in the corner like I'm your curse, I wedged it loose with my arse.'
Moral of the story? Don't stand anywhere near Jennifer Lawrence if she's in a wetsuit.
You can watch JLaw hilariously telling the story to Graham Norton, Chris Pratt and Jamie Oliver below.
Celebrity news, beauty, fashion advice, and fascinating features, delivered straight to your inbox!