How Hugh Hefner built an entire empire without Marilyn Monroe's consent
'I will be spending the rest of my eternity with Marilyn.'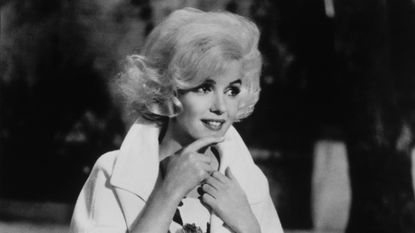 (Image credit: Glasshouse Images/REX/Shutterstock)
'I will be spending the rest of my eternity with Marilyn.'
With news of Hugh Hefner's passing circulating the internet, the media has pored over his Playboy legacy and found that people really should have read the erotic magazine for the articles. Besides the nudes that catapulted it to fame, it made significant contributions to the world of creative writing and its surprisingly feminist articles (with the likes of Germaine Greer writing for the mag) - however the latest news about his burial plans have raised difficult questions about consent.
Hefner, who passed away on Wednesday aged 91, will be buried next to Hollywood's most iconic starlet Marilyn Monroe. It isn't coincidence however, as he famously bought the crypt beside hers in 1992 for over £55,000. Given that Hugh never actually met Marilyn and she may not have been a huge fan of his (more on that later), it's raised a lot of eyebrows.
He told CBS Los Angeles, 'I'm a sucker for blondes, and she is the ultimate blonde. It has a completion notion to it. I will be spending the rest of my eternity with Marilyn.'
Chances are, Marilyn might not have been thrilled about being laid to rest with someone who leaked her nudes to kickstart his empire. While later on in life she would become 'the ultimate blonde' and a quintessential Hollywood icon, Marilyn was first Norma Jeane Baker - a struggling actress who posed nude for photographer Tom Kelley out of 'desperation'.
Marilyn apparently was so embarrassed by the photographs that she signed as 'Mona Monroe' on release forms, hoping that they wouldn't come back to haunt her. She reportedly told the photographer at the time, 'You must promise to never tell anyone about my posing for you in the nude. I want you to promise me that you will take the pictures so that I wouldn't be recognisable in them.'
Marilyn made $50 from that photoshoot. Years later, Hugh Hefner bought those photographs from a calendar company and republished them without her permission in 1953 in the first ever issue of Playboy. He paid $500.
Playboy became an overnight success, selling nearly 50,000 copies.
In Marilyn: Her Life In Her Own Words, she revealed, 'I never even received a thank-you from all those who made millions off a nude Marilyn photograph. I even had to buy a copy of the magazine to see myself in it.'
While it all worked out alright for Monroe in the end, it doesn't change the fact that for a horrible moment in time, she had absolutely no control over her own naked images. Yes, she may have consented to a photoshoot with a photographer but she didn't consent to have her images circulated to hundreds of thousands of people. It's a nightmare that many women continue to be subjected to today, with reports of leaks and revenge porn (which has officially been listed a crime in the UK) on the rise.
If it's a story that sounds familiar, you only have to look back to 2014's iCloud photo hack in which hundreds of female celebrities had their private nude photos leaked to the internet. Coined by the internet as #TheFappening, it finally sparked a discussion and forced a global conversation about the way we view victims who have had their personal photographs shared without their permission.
Most notably, Jennifer Lawrence's words following the leak ring particularly true. She told Vanity Fair at the time, 'It is not a scandal. It is a sex crime. It is a sexual violation. It's disgusting...Just the fact that somebody can be sexually exploited and violated, and the first thought that crosses somebody's mind is to make a profit from it. It's so beyond me. I just can't imagine being that detached from humanity. I can't imagine being that thoughtless and careless and so empty inside.'
For women like Marilyn Monroe, Jennifer Lawrence and hundreds of thousands more today, the actions of men like #TheFappening orchestrator Edward Majerczyk and Hugh Hefner have cast a dark shadow over their lives. For Monroe, Hefner's actions nearly spelled the end of her career which she revealed in her biography.
She said, 'I admitted it was me who posed for that nude calendar even when the Fox executives became nervous and believed this would cause the ruination of any films I would appear in and also the end of my movie career.'
Decades later, Jennifer Lawrence would go on to tell Vogue, 'It's scary when you feel the whole world judges you...Having your privacy violated constantly isn't a problem if you're perfect. But if you're human, it's terrifying. When my publicist calls me, I'm like, "Oh my god, what is it?" Even when it's nothing. I'm always waiting to be blindsided.'
Edward Majerczyk was sentenced to prison in January of this year and forced to pay a fine of $5,700. Hugh Hefner would go on to sell over seven million copies a month at the height of its fame, throw parties at Los Angeles' iconic Playboy mansion and build a multimillion dollar empire off the back of a desperate woman's photoshoot.
There's no denying that Hugh Hefner has made tremendous contributions to the discussion around women's issues, but it's important to shine a light on his complex legacy. Just as Marilyn Monroe was more than the 'ultimate blonde' he raised on a pedestal, he was more than the champion of civil rights, women's issues and journalistic excellence that he and others are celebrating.
He told LA Times, 'I'm a believer in things symbolic. Spending eternity next to Marilyn is too sweet to pass up.'
We'll never know what she thinks about that.
Celebrity news, beauty, fashion advice, and fascinating features, delivered straight to your inbox!
Megan is a freelance journalist who covers entertainment and all things lifestyle, with a particular passion for fashion, beauty, travel and Keanu Reeves stories. She has previously worked on staff for titles including Marie Claire UK, CNN Style and The Evening Standard and has written for titles such as Bustle UK, Wallpaper*, Forbes and Hong Kong Tatler. She splits her time between London and her hometown Hong Kong, where she currently lives with the love of her life - an elderly dog named Poppy - and her husband.