6 Gross Things We Discovered About The Playboy Mansion In Former Playmate Holly Madison's New Book
Former Playboy Bunny Holly Madison is about to release a tell-all book about her time in the Playboy Mansion...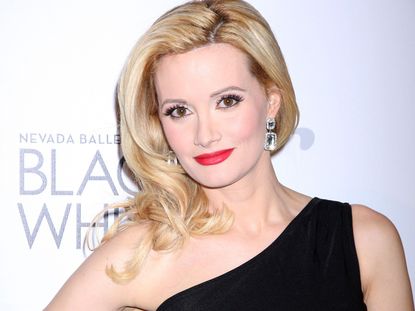 (Image credit: KCR/REX Shutterstock)
Former Playboy Bunny Holly Madison is about to release a tell-all book about her time in the Playboy Mansion...
Former Playboy Bunny Holly Madison is about to release a tell-all book about her time in the Playboy Mansion – and the preview content has already got us talking.
Down the Rabbit Hole: Curious Adventures And Cautionary Tales Of A Former Playboy Bunny is released on 23rd June and is Holly's personal, uncensored account of what actually goes on behind those pink glittery gates.
The reality is, unfortunately, gross. Holly, 35, never signed a nondisclosure form when she became one of Hugh Hefner's girlfriends in 2001 and is subsequently telling her side of the story, from the prison-like living conditions and the controlling behaviour of Hugh, to the bullying from women around her all vying to be the 89 year-old's '#1 Girl'.
1. On Hugh Hefner offering her horse tranquillisers before sex, Holly writes: ''Would you like a Quaalude?' Hef asked, leaning toward me with a bunch of large horse pills in his hand.' And when she refused, Hefner said, "Usually, I don't approve of drugs, but you know, in the '70s they used to call these pills thigh openers."
2. On the rivalry between Holly and Hugh's six other girlfriends: 'After being identified by the other girlfriends as persona non grata, I had become the victim of their ruthless 'mean girl-ing.' During dinners or movie screenings, it wasn't out of the ordinary for me to overhear their loud whispers criticising my appearance (my hair, my face, my clothes. According to their ruthless taunting, I was the 'thick girl' from Nowheresville, USA. They found my optimistic attitude corny and my confidence threatening, so they did whatever they could to tear me down. Sadly I have to say it worked.'
3. On feeling imprisoned: 'Everyone thinks that the infamous metal gate was meant to keep people out. But I grew to feel it was meant to lock me in.'
4. On contemplating suicide while having a bath one night: 'Maybe it was the pot and the alcohol, but drowning myself seemed like the logical way to escape the ridiculous life I was leading.'
5. On how her confidence was shattered in the mansion: 'Prior to moving into the mansion I'd been a fairly confident person, but it didn't take long for my self-worth to start to crumble.'
6. On why she's decided to share her story: 'I learned Hef was the manipulator and that he pitted us against one another. I realised I wasn't treated well. I'm done being afraid of people. I don't have any loyalty to Hef. I haven't talked to him in four years, so there's no reason to reach out now. Besides, it's the truth.'
This is, of course, one woman's account, but Holly isn't the only former 'Playmate' to speak out about her time in the house...
'Every Friday morning we had to go to Hef's room and then ask for our allowance: a thousand dollars counted out in crisp hundred-dollar bills from a safe in one of his bookcases,' Izabella St. James revealed in her book, Bunny Tales, of the control Hugh had. 'We all hated this process. Hef would always use the occasion to bring up anything he wasn't happy about in the relationship. He used it as a weapon.'
'At about the minute mark, I pulled away and it was done. It was like a job. Clock in, clock out. It's not like I enjoyed having sex with him.' Kendra Wilkinson once told US Weekly.
As one of the most high profile, yet seemingly unregulated sex 'businesses', it's a wonder that the Playboy mansion is still open for business in 2015. Let's hope Holly's book sparks investigations into what's really going on behind the gates there and makes other women think twice about pursuing this 'glamorous' lifestyle.
Tell us what you think on Twitter @MarieClaireUK
Celebrity news, beauty, fashion advice, and fascinating features, delivered straight to your inbox!