Marie Claire is supported by its audience. When you purchase through links on our site, we may earn commission on some of the items you choose to buy.
The actress called the period after the birth of her son 'one of darkest chapters of my life'
Gwyneth Paltrow has opened up on her struggle with post-natal depression following the birth of her son, a period which she calls 'one of darkest and most painfully debilitating chapters of my life.'
Writing for her weekly GOOP newsletter, the Iron Man actress gives a harrowing account of the period, describing: 'When my son, Moses, came into the world in 2006, I expected to have another period of euphoria following his birth, much the way I had when my daughter was born two years earlier.
'Instead I was confronted with one of the darkest and most painfully debilitating chapters of my life. For about five months I had, what I can see in hindsight as postnatal depression, and since that time, I have wanted to know more about it,' she added.
The newsletter also includes an account from Twilight actress Bryce Dallas Howard, who suffered crippling depression after the birth of her son, Theo. She described how she referred to the baby as 'it', as was plagued by feelings of inadequacy.
She wrote, 'I felt I was failing at breast-feeding. My house was a mess. I believed I was a terrible dog owner. I was certain I was an awful actress.
'And worst of all, I definitely felt I was a rotten mother–not a bad one, a rotten one. Because the truth was, every time I looked at my son, I wanted to disappear.'
Bryce continued: 'It is strange for me to recall what I was like at that time. I seemed to be suffering emotional amnesia. I couldn't genuinely cry, or laugh, or be moved by anything. For the sake of those around me, including my son, I pretended, but when I began showering again in the second week, I let loose in the privacy of the bathroom, water flowing over me as I heaved uncontrollable sobs.'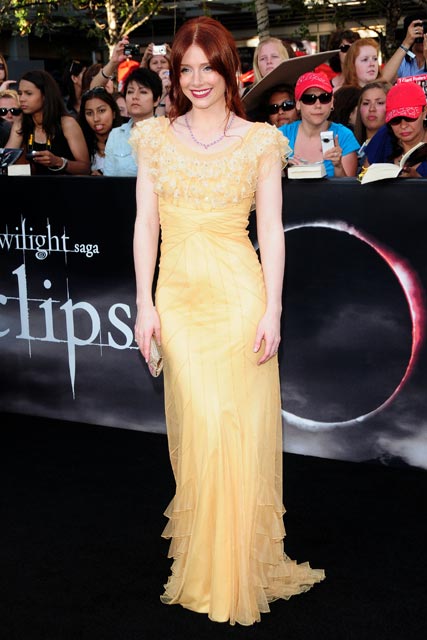 She goes on to tell how she eventually experienced a 'critical shift ', as she recognised what she was going through and with the help of talking to other mothers, started to get better a little at a time. 
It's estimated that up to one in ten new mothers in the UK suffer from post-natal (or post-partum as it's also referred to) depression. For more information or advice on coping with post-natal depression, visit the NHS website here.