Gossip Girl's identity revealed in 100th episode
Spoiler alert! Find out the true identity of Gossip Girl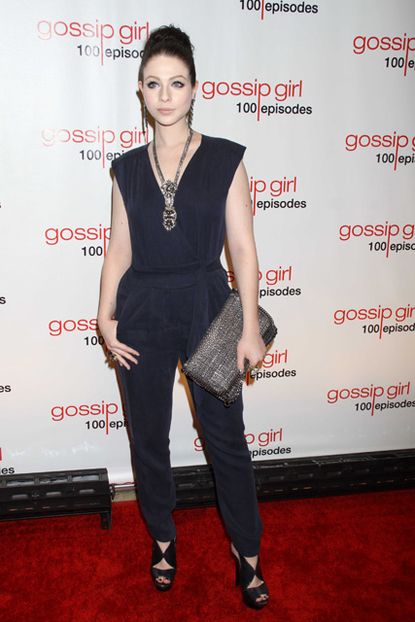 (Image credit: Rex)
Spoiler alert! Find out the true identity of Gossip Girl
Watch out, Gossip Girl fans! We have a massive spoiler alert ahead!
If you don't want to find out who has been revealed as the actual 'gossip girl' look away now!
GOSSIP GIRL CAST DAZZLE AT 100TH EPISODE PARTY
For all those that haven't watched GG's 100th episode extravaganza, which aired in the US last night, you'll probably be surprised to hear that not only did Georgina Sparks return, but she returned with a bang!
Yep, that's right, Georgina Sparks, played by Michelle Trachtenberg, has been revealed as Gossip Girl herself - the conniving and whispering blogger, who has caused chaos on the Upper East Side for the last four years.
It took the show's producers Joshua Safran and Stephanie Savage four years to unmask the person behind all the troublesome texts and, in the last twenty seconds of last night's episode, we saw Georgina Sparks typing away merrily at the Gossip Girl blog after sabotaging Blair's wedding to Louis.
Some fans seem to be still piecing all the missing blanks from the last five seasons together and some are simply saying she's hacked into 'the real' Gossip Girl's account.
Though that doesn't seem to be what Josh Safran was insinuating. He told Entertainment Weekly he plans to take viewers behind the curtain on how Gossip Girl gets her tips.
He said: 'You're now invited into a process that for years you haven't seen. Seeing just how Gossip Girl gets her tips and what she does to get her tips is really fun and a new thing.
'Georgina will set her sights on everybody. Maximum damage makes her laugh.'
Safran was coy though when asked if Georgina has been Gossip Girl the entire time, he replied: 'Georgina has this role now.'
Is this the Gossip Girl you were expecting? Are you surprised? Disappointed? Confused? Tell us your thoughts in the comments box below...
Celebrity news, beauty, fashion advice, and fascinating features, delivered straight to your inbox!