Marie Claire is supported by its audience. When you purchase through links on our site, we may earn commission on some of the items you choose to buy.
Seeing double? You're not alone
After what felt like years of waiting, the Gilmore Girls revival has finally landed on Netflix and, if you're like us, we bet you binge-watched the whole thing over the weekend.
However, there's one thing in particular that's got many a fan's tongue wagging. One of the show's longest-standing regular character's appeared in not just one, but two different roles during the revival.
Didn't spot it? Allow us to enlighten you.
Actress Rose Abdoo, who plays Gipsy on the show, also appeared as a new character, Berta. Crazy, right?
When fans clocked where they'd seen Berta's face before, it blew their minds a little.
We doubt that the show's producers thought that they'd be able to slip it past die-hard Gilmore Girls fans. They're far too eagle-eyed for that.
On 22nd September, we wrote…
If, like us, you can't wait for season eight of the Gilmore Girls to land into our Netflix new arrivals category, then you aren't alone. We're also super excited for the new release.
A brand new teaser trailer ahead of Friday's launch has just dropped, featuring some new scenes from the revival to make you even more excited than you already were. With it now being a matter of days until Gilmore Girls is back in our lives, we couldn't be more excited.
The *official* Gilmore Girls Revival trailer
The trailer has *finally* dropped ahead of the new four-part extravaganza launching on 25th November, and it's all kinds of amazing. Words can't do enough justice, so you can watch for yourselves below. You're welcome.
And, if that's not enough, take a look back at the series with this exclusive clip, featuring memorable scenes from the show and cast interviews that prove that yes, they really are as lols in real life as they are in the show. Enjoy…
Whether you're a dedicated GG fan, or series newbie, catch up on the complete Gilmore Girls series from 1-7 before the November 25th new release…
The Gilmore Girls revival posters have been released
With only one month (yes, one month!) to go until the Gilmore Girls revival hits Netflix, the official posters showing every season in Stars Hollow have been released – and they are great.
Here are Lorelai and Rory enjoying the Autumn leaves…
And the Winter snow…
Things are warming up now we're moving into Spring…
And finally it's all smiles for Summer… 
As well as releasing brand new posters, Netflix have also treated us to even more new photos that give us a glimpse of what we can expect in the Gilmore Girls revival – including our first sneak peak of Jess Mariano's return. Make sure you scroll through our gallery below to see these latest releases.
Milo Ventimiglia (AKA Jess Mariano) talks about his Gilmore Girls revival 
Milo Ventimiglia has recently spoken out about how he feels about  the highly anticipated Gilmore Girls revival and picking up the role of Jess Mariano once more.
'I've stayed close to Dan and Amy (the writers), over the years since I left the show, and I've always said to them that whenever they call me for anything they need, I'll be there, which is funny 'cause that's the opening lyrics of the song. So, she called and said they were doing it, and I said, 'Great! I don't know where I'm going to be, but let me know and we'll work it out. Of course, I'll be there." He told Collider.
If you thought getting back into the role of Stars Hallows resident bad boy would have been a struggle for the actor, who hasn't portrayed Jess for 10 years now (yes, it has been that long), then think again.
'It was all very much on the page,' Milo explained.  'I didn't have to dream too far about who he was. I definitely went back and looked at the last three episodes that Jess was in, just to see where his head was at when he last left and to understand the dynamic between Rory and Luke and just his own journey in life.'
Sadly the 39-year-old actor remained very closed lip about what the November revival has in store for Jess, but what he did reveal has us counting down the days until the new series airs.
'I was surprised about where he was,' Milo revealed. 'And then where he is when we pick back up with him.'
'I'd never really dreamed about where he would go or what he'd be up to or the shenanigans he'd be imposing on anyone else, but I was happy with where they placed him, in relation to everyone else. Jess' purpose to being in these new four episodes, I was really happy about.'
Whilst fans of Team Jess will be itching to know if this means Jess and Rory have reunited once more, it seems as though we're going to have to wait until November 25th to find out.
However, we do know that Jess is back for all four episodes and shenanigans are most definitely in store. And we wouldn't want it any other way.
Make sure you scroll through our gallery below to see the first glimpse of Milo reprising the role of Jess once more.
The Gilmore Girls revival script has just landed
Gilmore Girls writer and show creator, Amy Sherman-Palladino has released the first page of the script – and it's just as amazing as you'd expect.
Lauren Graham, who plays Lorelai, explains that she was so nervous she struggled to read the script for ages after it was sent over.
'I didn't read the last episode for the longest time because I was scared," she says. "I loved how everything was teed up in the first three and I, carrying the burden of everybody in my mind, was like, 'Oh God, what's going to happen?' And to me, it was deeply satisfying — and also it answered questions I didn't even think of. I thought, 'Oh how perfect, wow. I wouldn't even have wondered that.'
'I read the first three in one sitting," Alexis Bledel adds. 'I was on page seven or eight when I remembered: Of course, this is that inviting town where everything is so familiar. And I felt like I was enveloped back into that time and place; wherever it exists in people's imaginations, I was reminded of where it was in mine. It was so easy to just jump back in and get to work. Which is lucky — because I had to the next day.'
You can read the first page below (and don't worry – there aren't any spoilers!):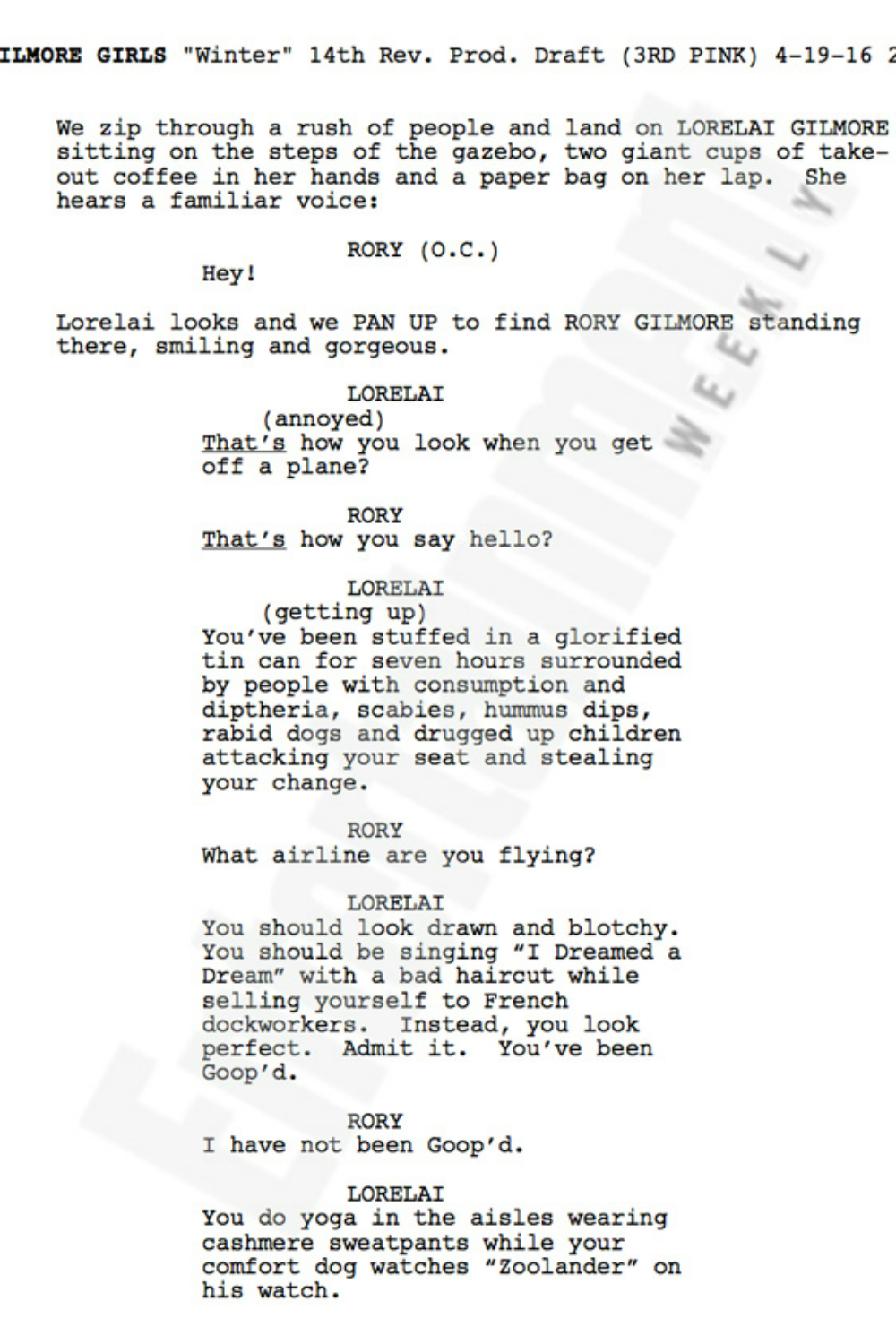 There's going to be a Gilmore Girls revial on Netflix


Did you absolutely love Gilmore Girls and find yourself unreasonably devastated when the show ended in 2007? Then you'll be delighted to hear Netflix have confirmed that there will be a reunion at last. But will Melissa McCarthy be in it?
Just after Lauren Graham – AKA Lorelai – confirmed that the Netflix reunion is indeed happening, Melissa took to Twitter to say she hadn't been invited on the show.
'Thanks for the invite, but sadly no one asked me or Sookie to come back to Stars Hollow,' she wrote. 'Wish them all the best!'
However, it's apparently not because they don't want her on the show. Creator Amy Sherman-Palladino told TVLine: 'She's really fucking busy. The thing I have said [to her team] is, "Look, if Melissa is available and has an afternoon free, I'll write her a scene." Melissa was one of us. If she has a spare moment to run over – even if for just a cameo – we would be totally game. And if it's a last-minute thing, I would write her in and we would figure it out. That's the way we left it.
'It simply would've been impossible,' she added, saying that Melissa is not in any of the episodes. 'Planning around her crazypants schedule and her movies and her this and her that and Ghostbusters. I would just be sobbing in a corner for six months. That would be my whole life. But if her people called me up and said she's free on these particular days or would love to drop by and just be in one scene, we would put her right in.'
Please find an afternoon free, Melissa?
The streaming service are creating four 90 minute instalments of the show, picking up where the last season left off.
Sherman-Palladino oversaw the first six seasons of the show, exiting for the seventh after a contract dispute with the studio. We're betting she'll be pretty happy to be able to put her mark back on the show in this Netflix series.
The show has been performing excellently for Netflix so we're not surprised they want to bring Lorelai and Rory back into our lives.
And it's not just Lorelai and Rory who'll be making a comeback – apparently, everyone from Kelly Bishop as Emily and Scott Patterson as Luke will all be part of the new show.
Sadly, Edward Herrmann, who played Lorelai's father Richard, has passed away, so it remains to be seen whether the loss will be written into the script.
The good news is that we'll finally be given a suitable ending to one of our favourite TV shows – and that deserves a chopstick high five, don't you think?
What do you think of the news? Let us know @marieclaireuk and make sure you scroll through the gallery below to see all the exclusive pictures from the Gilmore Girls revival as they're released.
The proof we've all been waiting for. Jess Mariano is officially back in Gilmore Girls. Is it just us or does this conversation look serious?
sub-buzz-15292-1476815922-3
Three guesses Taylor had something to do with the reason Luke, Lorelai and Rory are looking so sombre.
sub-buzz-15870-1476816083-1
We're glad to see Emily is still keeping up the tradition of Friday night dinners.
And it looks as though Emily is also just as pleased.
It's almost as though time hasn't changed.
It appears Emily is still keeping up the tradition of Friday night drinks in Richard's memory.
We wonder if this means Rory has followed in Richard's footsteps and taken up lecturing at Yale?
Look at the Chinese takeaway. Look at the ice cream. We're glad to see the Gilmore Girls still have the same appetite.
This is an image
10
of
12
Oh how we've missed the weekly Stars Hollow town meetings.
This is an image
11
of
12
Look, Luke and Lorelai are holding hands. We can only assume this means they're still together? Right?
This is an image
12
of
12
We aren't entirely sure what's going on here, but it's look like the kind of fun you'd expect to find in Star Hallows.