FIRST LOOK! Inside the Harry Potter press conference
The Deathly Hallows stars descended on London yesterday – and we had a front row seat!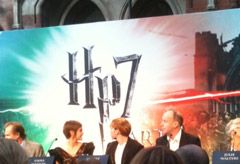 (Image credit: Eleanor Young)
The Deathly Hallows stars descended on London yesterday – and we had a front row seat!
With Harry Potter and Deathly Hallows: Part 2 set to premiere in London tonight, the star-studded cast descended on the swanky St Pancras hotel yesterday for a final photo call and press conference – and Mc.co.uk had a front row seat!
Aside from the lovely Daniel Radcliffe - who was performing on Broadway in New York – everyone from Emma Watson and Rupert Grint, to Ralph Fiennes, Robbie Coltrane, Tom Felton and Evanna Lynch was in attendance, sitting up on a giant, Harry Potter-themed stage at the front of the room.
Questions for the cast came thick and fast, with the 20 actors, plus director David Yeates and producers David Heyman and David Barron, talking on everything from their favourite Harry Potter moment, to who played the most practical jokes on set, and whether they would consider more Harry Potter movies in the future.
BFFs Emma Watson and Rupert Grint giggled their way through Daniel Radcliffe's recorded video message, and excitedly whispered to each other when they weren't answering questions, while Matt Lewis had a true Neville Longbottom moment when he interrupted proceedings to dash to the loo.
Poor Emma was asked to compare kissing Daniel and Rupert ('they were both complete gentlemen, but it was awkward), but garnered laughs from the audience when she concluded her 12-year-old self would have to preferred to smooch Tom Felton. (He blushed!)
Robbie Coltrane told us his favourite accessory from the movies was Hagrid's pink umbrella, Ralph Fiennes revealed he sometimes gets mistaken for a villain in real life and Tom Felton said he's relieved to have finished dying his hair blonde.
And Rupert Grint's favourite line from the film? 'That's my girlfriend you numpty!' he laughed of a scene during which Draco Malfoy turns on Hermione.
Everyone expressed their sadness at finishing the films – Emma deemed it 'the end of an era,' but in his video message, Daniel Radcliffe said the bond between himself and his two co-stars was 'unbreakable.' 'I think the bond between me, Rupert and Emma will be pretty unbreakable because I don't think anyone knows what it's like to go through all this craziness,' he said.
'Myself, Rupert and Emma have spent ten years of our lives with each other and it's been an amazing privilege to watch them both grow up and change and develop so much as actors.' Sob!
WATCH yesterday's highlights here…
After the press conference, it was off to drinks with the cast, where we spied Bonnie Wright sipping red wine while chatting on the phone, and Matt Lewis receiving rather a lot of admiring female attention.
And this afternoon we're off to the Deathly Hallows premiere, where we'll be bringing you the latest updates, pictures and interviews LIVE from the red carpet. Stay tuned!
HARRY POTTER STARS: THEN AND NOW!
Celebrity news, beauty, fashion advice, and fascinating features, delivered straight to your inbox!