Emma Watson opens up on Harry Potter kiss
The star has told all on the steamy Deathly Hallows scene, revealing she had to 'grit her teeth' and get on with the moment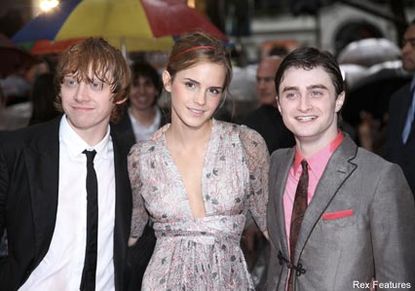 (Image credit: Rex Features)
The star has told all on the steamy Deathly Hallows scene, revealing she had to 'grit her teeth' and get on with the moment
Harry Potter star Emma Watson has told all on the steamy Deathly Hallows kissing scenes, revealing she had to 'grit her teeth' when locking lips with fellow stars Daniel Radcliffe and Rupert Grint in the final two movies.
SEE ALL THE LATEST DEATHLY HALLOWS PICS HERE!
The steamy smooches feature next two installment of theHarry Potter and the Deathly Hallows movies, the first of which hits screens in November, with the second following next July. But far from an enjoyable experience, Miss Watson said she had to 'grit her teeth' for the cringe worthy kiss, and forget it was one of her friends in front of her.
'Getting into character to kiss Dan and Rupert was tough,' she revealed to SFX magazine. 'Forgetting all of our history, and our relationship.'
'Putting all that aside and being in character was pretty bloody hard, it really was. That required a huge amount of professionalism. 'I really had to grit my teeth and be like, 'I am Hermione, this is Harry - stop thinking that it's Emma kissing Dan. It's not. It's all good.'
But unfortunately we won't get to see the first flick's steamy smooch in three dimensional glory.
Just last week it was announced a 3D version of the first movie had been scrapped, after producers revealed they would be unable to convert the film in time for its planed release.
'Despite everyone's best efforts, we were unable to convert the film in its entirety and meet the highest standards of quality,' Warner Bros Studios told fans in a statement.
Harry Potter and the Deathly Hallows part one premieres in London on November 11, and hits screens on November 19. Part two will arrive on July 15 next year.
Will you be first in line to see Harry Potter and the Deathly Hallows? Let us know your thoughts in the comments box below.
HARRY POTTERS STARS: THEN AND NOW
Celebrity news, beauty, fashion advice, and fascinating features, delivered straight to your inbox!