Amy Winehouse's death is a 'lesson to the world' says Lady Gaga
The outlandish singer urged fans not to 'kill the superstar' during a radio interview yesterday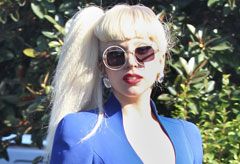 (Image credit: Rex Features)
The outlandish singer urged fans not to 'kill the superstar' during a radio interview yesterday
Lady Gaga has spoken out about the tragic death of singer Amy Winehouse, saying society must learn a lesson from the incident - not to 'kill the superstar.'
During a radio interview, the sad singer said she never had the chance to meet Amy, but loved her 'so much.'
Pleading for lessons to be learnt from the musician's death, she said: 'It's a lesson to the world. Don't kill the superstar, take care of her soul.'
Gaga also spoke of how she was often mistaken for Amy when she first became famous, which helped her feel she 'wasn't alone.'
'I was nobody when she was first coming out. I would be on the street and people would go "Amy",' she revealed.
'I just remember feeling like I wasn't alone because she was so different.'
The Lady also joined the ranks of stars paying tribute to the late singer on Twitter.
'Amy changed pop music forever,' she wrote. 'I remember knowing there was hope, and feeling not alone because of her. She lived jazz, she lived the blues.'
Yesterday friends and family of Amy, who died at home on Saturday, flocked to the Edgeware Cemetery to pay their last respects at her funeral.
It's thought around 200 of the late singer's close friends and family attended the 45-minute Jewish service led by a Rabbi.
The service is was to be followed by a cremation, and gathering at a local synagogue in Golders Green.
Celebrity news, beauty, fashion advice, and fascinating features, delivered straight to your inbox!