Dannii Minogue: I thought illness would kill me
Dannii says she thought she was going to die before emergency surgery last year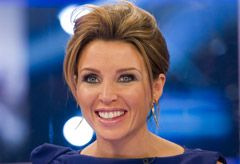 (Image credit: Rex Features)
Dannii says she thought she was going to die before emergency surgery last year
Dannii Minogue has revealed she thought she was going to die after battling illness for a year.
The former X Factor judge was struck down with a thyroid condition that left her unable to climb the stairs, followed by a burst appendix that resulted in emergency surgery.
At a charity lunch in Melbourne, Dannii revealed to Australia's Herald Sun Newspaper how she begged her doctor to admit her to the hospital: 'It was Easter weekend in London and I was scrunched up in a tiny ball because of the agony,' she said.
'I rang the GP and said, 'If you don't do something I will die. The pain was beyond anything – worse than giving birth to my son Ethan.'
Dannii Minogue has admitted that the birth of her first child Ethan was 'like nothing (she'd) ever experienced.'
'I had a difficult labour because Ethan was in a difficult position - he was posterior, so for 20 hours I was in labour' she said.
It was after childbirth that Dannii developed her thyroid problem: 'I was holding Ethan in my arms and thinking, 'Why can't I walk up the stairs?' she said.
'Everything felt so hard and I was losing more and more and more weight.
'It happens to a lot of women after they have a baby, I'm told. It's a lot of pressure on your body. It's like half a year where you don't feel like you are in your own body. But I'm feeling good now and I'm just starting to feel normal again.'
DANNII'S STYLE HISTORY
Celebrity news, beauty, fashion advice, and fascinating features, delivered straight to your inbox!