Cara Delevingne: I'm Ready To Prove I'm More Than A Model
As she gets ready to make her TV debut, Cara reveals why acting is all she wants to do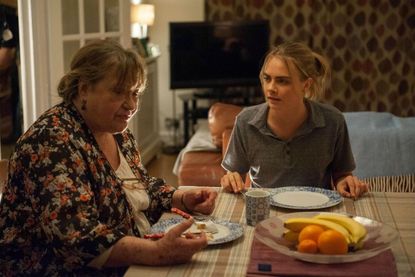 As she gets ready to make her TV debut, Cara reveals why acting is all she wants to do
We're used to seeing Cara Delevingne take the starring role in the pages of magazines, and steal the limelight on the runway, but now the model is about to make her mark on our TV screens, too.
The 21-year-old appears in a one off TV movie as part of Sky Arts' lauded Playhouse Presents series, the first episode of which aired last night.
In Timeless, which will be broadcast on 19 June, Cara stars opposite Sylvia Syms as Chloe; a young woman left to look after her great grandmother, while trying not to worry about the welfare of her boyfriend who is fighting in Afghanistan. Safe to say this character, with her airtex shirts and job in a cafe, is a tad less glamorous than the one Cara usually embodies on the catwalk.
But despite the success modelling has brought her, it is acting that has always been Cara's number one career choice.
'Acting is what I've always wanted to do,' Cara told us after a screening of her show. 'Being able to do this is living the dream.'
'Modelling is where I started and I'm never going to turn my back on it. I thank it for everything I've done now, without it I wouldn't be here. But it's not what I love. This is what I love. This is it for me.'
Even if Cara decides not to continue with her modelling career, her time on the catwalk has certainly armed her with one crucial skill: how to deal with rejection.
'Rejection's a huge thing you have to get over in acting,' Cara continued. 'That was actually the worst for me because I started auditioning for movies before I started modelling and I could not deal with the rejection. When I got turned down for something I loved, it took me weeks to get over it.'
Luckily, the scripts are pouring in these days, and it looks like Hollywood has already come a-knocking – Cara confirmed to the audience that she has a part in the upcoming Peter Pan film, directed by Joe Wright (who also gave Cara a cameo in Anna Karenina).
But that doesn't mean everyone automatically has Cara down as an actress – the modelling tag is still firmly around her neck. And that means so are the preconceptions that come with it.
'Sylvia would say to things to me and I knew she was testing me,' Cara said. 'Things like "I once worked with a man called Noel Coward," and I said "I know who Noel Coward is". But I get that, I see people do that and I'm totally fine with it because I'm ready to prove to them I'm more than a model.'
With her TV debut firmly in the bag, a role in Kids In Love which is out in August, followed by her part in the Amanda Knox movie, we think Cara will more than have proved herself by the time the year's out.
Got a tablet? Download our FREE sampler to try out our NEW LOOK Marie
Claire, or get the May issue for ONLY £1.49 - available on iPad, Kindle (just search the store for 'marie claire magazine'), Nook or Google Nexus.
Celebrity news, beauty, fashion advice, and fascinating features, delivered straight to your inbox!