Sali Hughes on ageing, confidence and her new results driven, affordable skincare line
Beauty editor to beauty editor - Sali Hughes fills Lisa Oxenham in on her new skincare range and her views on the beauty industry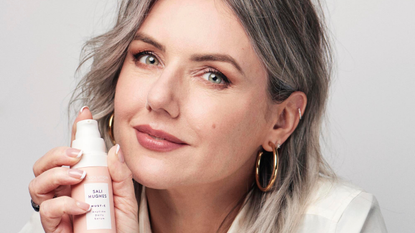 (Image credit: Sali Hughes X Revolution)
Beauty editor to beauty editor - Sali Hughes fills Lisa Oxenham in on her new skincare range and her views on the beauty industry
When beauty journalist Sali Hughes first had the idea of launching a beauty range, she began with a simple question: 'how can I make skincare for my friends who are busy - they've got kids, big jobs, partners, they look after their bodies. It's not that they can't get it - it's that they have to get on with their bloody lives. How can I make it all easier for them?'
As Beauty Editor of The Guardian, a role she took up in 2011, and founder of the award-winning Sali Hughes Beauty, Hughes found that many were struggling to satisfy consumers. 'Everything I thought about creating a new range was completely against the market. My entire idea and instinct was not fashionable but one that I really cared about. Beauty is confusing and has left lots of enthusiasts behind. There's too much info flying around,' she says.
Hughes talks about the disconnect she noticed between companies and consumers, which she puts down to the beauty industry being in a bubble. She launched her own range with beauty brand Revolution because people were becoming increasingly frustrated with the saturated market and they no longer wanted to be told by a brand what they should be doing with their skin; they wanted to see what worked for their friends. This is how Hughes sees herself as - a trusted, straight-talking pal to her huge audience.
Why did you start Sali Hughes skincare?
"I wanted to be the nerd for people. Friends and followers with lots or no money all send texts asking what to put on their faces as they have no idea what's going on anymore. Marketing data said super high actives and single ingredients - and it's not what I saw in reality. The hundreds of questions I get in my inbox on my social accounts on a daily basis are all the same: Can I use this with this? And this over this? How much do I need to use? The questions are really involved so I get back to them with a voice note. We confuse an interest with knowledge and understanding of skincare and we live in this bubble where people think - oh everyone is so obsessed with skincare, but do you know what? They're not. Skincare does not make the world turn."
Would you start an educational platform?
"Probably not. My approach has always been a strict best friend - and I always want it to be friendly and warm. There is a place for a platform underpinned by dermatologists as there's so much information but I'm your pal."
It's commendable that you've made the products less than £15 each. Why is a low price point so important to you?
"I don't think it's bad for anyone to be reminded on the daily that lots of people don't have money. I was adamant that I didn't want to do a luxury range. It was so challenging making these products for under £15 - because it's hard to make things affordable in the UK. You can make a beautiful cream if you don't give a damn how much it costs. Single ingredient products like hyaluronic acid - are so tone deaf - we are in a cost of living crisis, we are at the backend of a pandemic, people have lost their jobs - I don't have the balls to ask someone for loads of money for a bottle of hyaluronic. It's important to me that it's democratic instead of people who have more money have the best formula and people that have less have to mix up separate products - which is also so bad for the environment. I've always found it slightly annoying in my industry, you need to do a reality check. I wanted something for my friends who don't get jiffy bags sent to their homes every day.
£15 is what my son earns for babysitting - so when I was making the serum I thought about it representing an evening of childcare. Even if it's too expensive you always make sure there's something more affordable. I would hate for anyone to sacrifice anything."
What's your philosophy on ageing?
"I love being the age I am, I think it's a privilege - I have had too many people go too early at a young age. There are a few things that I prefer five years ago - there's not much I can do but always look after my skin. I get botox every six months. I do not understand people being angry with injectables. Look at our society that leads people into not wanting wrinkles. I'm learning so much from older women - like my family, but also female brand founders."
How do you find confidence?
"There's a wisdom and confidence that comes with ageing. It's not arrogance. Part of it is having children and you're not prepared to take any nonsense and you become a tigress about things. I've had incredibly long friendships and that also gives me confidence - because I know that I am loved and understood and there's a loyalty there and that makes me a stronger person. It's still a work in progress."
Who do you look up to and learn from?
"Some industry figures - Marcia (Kilgore) is so inspiring - she has really good ideas and is open to new things. She's a really nice person and has done everything without being ruthless. It's people that work hard without being mean to people. In my personal life I'm hugely inspired by my friends. I'm in such a close friendship group and we speak multiple times a day - they want me to make things better. They also directly inspire me - all different circumstances and good, kind people who are still hilariously funny - Caitlin (Moran), Lauren (Laverne) and Sharmadean (Reid). Another group that I used to work with at the Gap in the 90s and we go on holiday together. Both groups really love each other. There's nothing they don't know. I've also considered my skincare line for them - it doesn't contain silicone - because Lauren is allergic to silicone."
You have a huge following as a journalist - to what do you attribute your success?
"I am a very curious person. If you have a journalist sensibility - you are on the outside of the room listening in. That's a journalistic personality - I like to work people out and I'm very sensitive to temperament in the room and always thinking how is this person feeling. It's also about being adaptable to the future. When the digital stuff happened - so many people in the industry were pissed off as they thought they were 'glossy editors'."
You are also one of the most recognisable and authoritative names in the industry. Do you feel a sense of pressure that comes with that?
"I find e-mail incredibly stressful - I was with a PR recently who was saying a journalist didn't get back to her. And I said I don't know this person - but it doesn't mean she's rude - we get 6000 emails a week! I can not guarantee I will reply to it, I have to give myself a break. There are only so many hours in a day and I care about my kids more than I care about your moisturiser."
Can you tell me about Sali Hughes skincare's sustainability creds?
"You do what you can when you are at the less expensive side of the market. Everything is recyclable but one of the products has a pump which is impossible to recycle. The jars and tubs are made out of 50% post consumer plastic. It's more sustainable to have a formula rather than single ingredients. We manufacture in the UK so the products don't have to travel far and we are supporting local infrastructure. I was adamant that I wanted it made here."
Finally - what's your favourite product from the range?
"I have super-dry skin - so Cream Drench is for me."
Shop the Revolution Skincare X Sali Hughes range:
Revolution Skincare X Sali Hughes Clean Sheet Morning Cleanser, £10
This gel to milk cleanser is as good at a morning cleanse than it is a second cleanse at night. The gentle product combines classic hydrators, hyaluronic and glycerin, and pineapple extract to give your skin a brightening clean.
Revolution Skincare X Sali Hughes Cream Drench Rich Anytime Moisturiser, £14
You heard it here first - this is Sali's personal favourite from the range. This moisturiser is perfect to reapply throughout the day if you're feeling extra dry or it will tide you over from morning to night. This multitasker can be used all over the face, including the eye area, a bonus.
Revolution Skincare X Sali Hughes Butterclean Makeup Meltdown Butter Balm, £15
Believe it or not, this is one of the most expensive products in the range. If you're more of a balm cleanser lover, this will hit the spot without breaking the bank. Squalane and and safflower seed oil work together to create a luxurious formula that still feels light.
Revolution Skincare X Sali Hughes Placid 5-Acid Daily Exfoliant, £14
There's no need to stack up acids in your beauty draw, this wonder product gives your skin all of the famous ones in one pump. From salicylic to lactic and malic acids, this product is designed to target exfoliation from all angles. Feel a tingle? Don't worry, that's the product doing the leg work.
Revolution Skincare X Sali Hughes Must C Anytime Daily Vitamin C Serum, £15
Vitamin C is the step (just after toner, before SPF) that you can't afford to skip. This product, which combines the all important C with master moisturisers like hyaluronic and proanediol hydrates and evens skin. Did I mention, the entire range is cruelty free too?
Revolution Skincare X Sali Hughes Gel Quench Light Anytime Moisturiser, £14
COMING SOON Just when you thought Sali had covered all bases, she's set to release another super efficacious product that fits in everyone's routine. Made for those of us with more oily skin, this light moisturiser will balance your skin without clogging pores. My advice, sign up for the waitlist now.
Celebrity news, beauty, fashion advice, and fascinating features, delivered straight to your inbox!
An award-winning health and beauty writer, stylist and creative director, Lisa Oxenham is one of the UK's top beauty editors and the Beauty and Style Director at Marie Claire UK. With 20 years of editorial experience Lisa is a brand partnership expert, and a popular speaker, panelist and interviewer on a range of topics from sustainability to the future of beauty in the digital world. She recently spoke at Cognition X and Beauty Tech Live and is on the Advisory Board for the British Beauty Council's Sustainable Beauty Coalition.
A well-respected creative director she works on celebrity, model and influencer shoots with the highest calibre of photographers, filmmakers, make-up artists and hairstylists to create timeless images, attention-grabbing videos, digital events and masterclasses. Most recently Lisa has directed covers such as Lily Cole and Jameela Jamil, films such as Save The Arts featuring Francesca Hayward and sustainable fashion shoots such as Be The Change. Supporting the beauty industry over the pandemic has been a top focus, directing the British Beauty Council's six inspirational short biographical films for their Bring Back Beauty campaign.
Lisa is a wellbeing and beauty influencer with a focus on mental health and a large and engaged audience on Instagram, Facebook and Twitter.