Here's how you can help end #SunPoverty this summer
Sunscreen is being donated to children across the UK for families that can't afford it. Spearheaded by beauty powerhouse Caroline Hirons and our very own Lisa Oxenham, here's how you can help...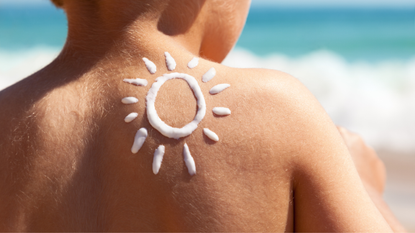 (Image credit: BrianAJackson via Getty Images)
Sunscreen is being donated to children across the UK for families that can't afford it. Spearheaded by beauty powerhouse Caroline Hirons and our very own Lisa Oxenham, here's how you can help...
The #SunPoverty campaign is back and better than ever. Escentual's latest campaign aims to get skin cancer cancelled by putting an end to sun poverty.
Escentual's campaign gives suncare to the children who cannot afford it, while at the same time educating them on the dangers of UV rays.
Did you know? Skin cancer is the fastest growing cancer in the UK. In 2019, 224,092 cases were recorded, a rise of 26%. Research shows that just one blistering sunburn in childhood more than doubles the chances of developing melanoma later in life.
Despite this, many children are going without sun protection because their parents simply can't afford it.
However, 86% of melanoma cases are preventable with the help of the best sun cream.
"#SunPoverty is such an important campaign. While it's easy for us to preach about the importance of SPF, it's also easy to forget that it comes at an extra cost, one that not everyone can afford as it isn't cheap," says our Beauty and Style Director Lisa Oxenham. "Escentual have made their own SPF50+ which comes with a keyring attached to easily hang on a school bag and are donating to children eligible for free school meals. Please show your support."
The not-for-profit teaches children good sun habits to establish during youth, while providing them the means to do so by giving the Escentual 50ml 50+ SPF to children eligible for free school meals.
Last year, they donated 20,000 and this year the #SunPoverty campaign will up this by giving 30,000 lotions to the children who need it the most.
Escentual.com CEO and Founder Rakesh Aggarwal, organised the campaign, she says: "We believe that all children should have access to high factor sunscreen. It's vital for their health that they're protected from the sun, and with the summer coming up, children will want to get out and enjoy their holidays. They should be able to do so without the fear of getting sunburn which can seriously increase their chances of getting skin cancer in later life."
Cardiff-based beauty e-tailer Escentual is also calling on the Government to abolish VAT on children's sunscreen, as it's not an optional product but a necessary one.
But, to make this campaign a success, Escentual need your help. In addition to the 30,000 lotions already donated to under 12's, they will donate one Escentual SPF50+ sunscreen for every one bought. As well as for every Clarins, Bioderma or Eucerin sunscreen bought on their website. So, next time you need sunscreen, make a difference by purchasing at Escentual.com.
Best-selling beauty author, Caroline Hirons said: "This is a genius idea from Escentual.com, and they are trying to get the government to cut VAT on SPF. The suncream is designed for children and it's got a little latch key on it so you can stick in on their rucksack put their name on the front and it's under £9."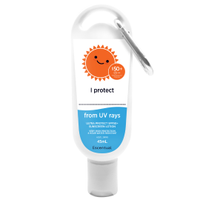 Escentual Sunscreen SPF50+, £8.95 | Escentual
The SunPoverty lotion is a 50ml 50+ SPF with broad spectrum UV protection. A handy squeezable bottle which the child can write their name on and a clip for safe keeping. For every one brought, one is donated, making a difference to another child's life.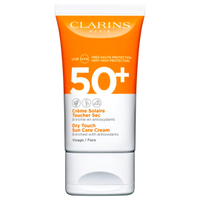 Clarins Dry Touch Sun Care Cream for Face SPF50+, £17.60 | Escentual
Achieve high sun protection and dedicate to a good cause. This Clarins broad spectrum sun cream is included in the #SunPoverty campaign. Buy one, change a life.

Celebrity news, beauty, fashion advice, and fascinating features, delivered straight to your inbox!
Torey Cassidy is the Beauty Producer and Junior Beauty Writer at Marie Claire UK. Whether it's organising a cover shoot or writing about the latest beauty products, no one day in the role is the same, and she loves the chaos of it all.
Hailing from Dublin, she spent much of her childhood in the Irish countryside but craved the hustle and bustle of city life, so, packed her bags and moved to London in 2017 to study Fashion Journalism at the University of the Arts London. Throughout this time, she interned everywhere she could, from magazines to assisting stylists on set, probably spreading herself a little too thin but lapping up every opportunity.
Finishing her degree as a Covid graduate in 2020, she then took on the bold life of a freelancer. From producing shoots for John Lewis & Partners to assisting stylists with music videos and campaigns before landing her dream role at Marie Claire, almost a year later.
When not navigating a career, Torey can be found at the pub with friends debating the quality of a pint of Guinness, flogging her vintage finds on Depop or most likely on TikTok. She is obsessed with TikTok.