The most bonkers beauty trends to know about from the stars of Instagram and Youtube
Social media is thriving with these out-there beauty trends - but could you, would you, SHOULD you?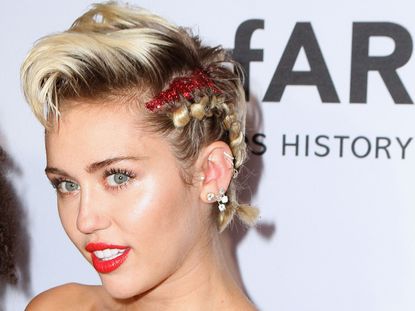 Social media is thriving with these out-there beauty trends - but could you, would you, SHOULD you?
Beauty trends fuelled by social media are coming at us thick and fast, so we've rounded up the most bat-poop-crazy ones to help you find some beauty inspiration, a little out of the box this summer.
Polish Mountain
Back in June, nail artist Cristine posted a video to her YouTube channel titled "100+ Coats of Nail Polish" with the hashtag #polishmountain. Since then, it's been viewed by over 13 million people and Polish Mountain has officially become a thing. Practical? Probably not. Fun? Errr... yeah!
Thermal Highlighting
http://storify.com/nlukaitis/thermal-highlighting
It's no secret that highlighting your face is having a moment, but we never thought there'd be a trend for creating a look you'd only see if you were looking through night vision goggles. But there is, and it's called Thermal Highlighting.
To be fair, it looks hot.
Stencil Art Hair
http://storify.com/nlukaitis/hair-stencilling
This might actually be the prettiest hair colour trend we've ever seen and has the advantage of being easily washed out. So yeah, we might give this one a try.
Bubble eyeliner
http://storify.com/nlukaitis/bubble-eyeliner
If you've never quite mastered the perfect cat-eye flick of eyeliner, this trend will be right up your alley.
Makeup artist and beauty YouTuber, Jenny Gonzalez, is paving the way with her tutorial online where she cleverly uses a circular eyeliner lid as a template for the perfect bubble.
Glitter tears
http://storify.com/nlukaitis/glitter-tears
It's a look that has graced the Burberry catwalk, the face of Suki Waterhouse and Elle Fanning and is quickly becoming one of the most hash tagged beauty trends on Instagram ever.
Owning a unicorn is impossible, but at least you can still cry glitter.
Sand art hair
http://storify.com/nlukaitis/sand-art-hair
If you were a 90s kid, you'd recall filling glass bottles with layers of coloured sand to create some psychedelic gift - normally saved for Mother's Day. This trend takes that premise and applies it your hair, using a paintbrush to coat your strands with every shade on the colourwheel, instead of traditional root to tip ombre.
In short: Yeah baby, yeah!
Bubble nails
http://storify.com/nlukaitis/bubble-nails
This trend is crazy AF! You start with a ball of acrylic in the middle of the nail to create a hump and then thin out the edges to get a killer curve. Not sure we'll be attempting this one TBH, but each to their own.
Rainbow freckles
http://storify.com/nlukaitis/rainbow-freckles
As if freckles weren't cute enough, vlogger Dominique of Batalash Beauty went and made them the beauty equivalent of Boo the dog. Using a mix of coloured lip liners, ladies (and gents) went crazy for this trend, with effects ranging from super sweet to down right fierce. A music festival essential? We think so.
Glitter roots
http://storify.com/nlukaitis/glitter-roots
Perhaps one of the most genius ways of covering your roots, this trend caused a flurry of girls to ditch their local hair salon and hit up hobby craft. Step one, spray your roots with hair spray. Step two, sprinkle glitter on top. Does it get an easier?
Clown contouring
http://storify.com/nlukaitis/clown-contouring
You may have seen people drawing poo emojis on their forehead and thought, WT actual F (a completely normal reaction). Thing is, it's supposedly a great way to contour, if you're into that kind of thing. YouTuber BellaDeLune shot to fame after posting her online tutorial, strategically placing colour correctors, brighteners and dark contours until she resembled a clown. Hence the name.
Multi colour correcting
http://storify.com/nlukaitis/multi-colour-correct
Much like the aforementioned, this entails using colour correcting creams and liquids to perk up your face, define your contours and even out your skin tone. This started with YouTubers TianaCosmtics and Nicol Concilio who collaborated on a tutorial using NYX Colour Correcting Concealer and ended with both looking noticeably more spritely.
Celebrity news, beauty, fashion advice, and fascinating features, delivered straight to your inbox!