This is how much your favourite beauty vloggers actually earn…
Guess how much Zoella earns in a month…!?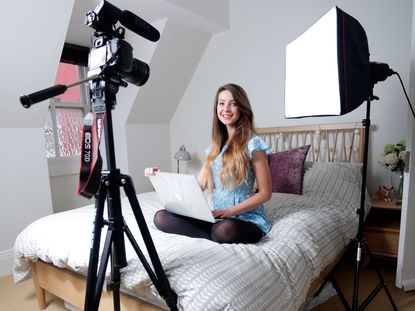 (Image credit: Rex)
Guess how much Zoella earns in a month…!?
Ever wondered how much Zoella and Tanya Burr are worth? Well, we're about to shed some light on that very subject.
We all know that blogging about beauty is a lovely, lovely career that we often sit and dream about – just think of all the free samples, for starters. But who knew it was quite as lucrative as this?
Well, it turns out that your favourite beauty vloggers make a whole lot of money for what they do. We're talking as much as your annual salary, if not more. Just imagine.
As The Sunday Times reveals how much Zoella makes in a month (clue, shit loads) we're taking a look at how much our favourite bloggers and vloggers really earn. Storming ahead in first place is indeed, Zoella, closely followed by Tanya Burr. The list also features Michelle Phan, Mariand "Yuya" Castejon and Rachel "Bunny" Meyer, who also earn themselves a pretty hefty annual income.
Scroll through our round up of the UK's five highest earning beauty vloggers, and try not to turn green with envy in the process...
Zoella, £50,000 per month
Tanya Burr, £20,000 per month
Michelle Phan, £2.1million per year
Mariand "Yuya" Castejon, $41,000 per month
Rachel "Bunny" Meyer, $45,000 per month
One thing's for sure, we wouldn't mind earning as much as these blogging beauties.
Ah, if only...
Celebrity news, beauty, fashion advice, and fascinating features, delivered straight to your inbox!