April Cover Star Amy Adams Talks Breasts, Couture And Her Stint At Hooters
From Hooters to the Oscars – AMY ADAMS' journey to the top deserves its own screenplay. She may profess to be 'boring' but serious talent, goofball charm and a badass wit have cemented her status as one of Hollywood's most-loved leading ladies...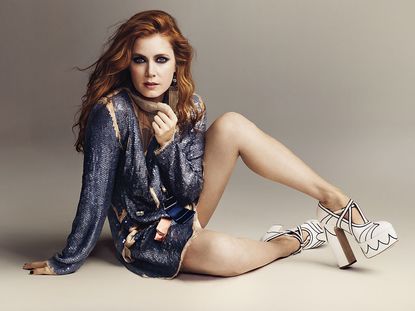 From Hooters to the Oscars – AMY ADAMS' journey to the top deserves its own screenplay. She may profess to be 'boring' but serious talent, goofball charm and a badass wit have cemented her status as one of Hollywood's most-loved leading ladies...
It's raining in Los Angeles and Amy Adams is curled up on a sofa talking about breasts. More specifically, a perky pair belonging to one of her co-stars. Adams is something of an expert on the topic: her own décolletage having been on perilous display in American Hustle (for which she won her first Golden Globe in 2014). But the breasts she's describing now are straight-up distracting. The 41-year-old laughs as she tries to explain the mood on set whenever they came out. 'In between shots it was like, "Put on a robe please, and make everyone feel less bad about themselves!"'
Disclaimer: the chest we've spent the last five minutes discussing doesn't belong to a pneumatic, young ingenue but rather to Henry Cavill, the 32-year-old British man-brioche who stars as a yoked, hirsute Superman opposite Adams' crackling Lois Lane in this month's Batman v Superman: Dawn Of Justice – a follow-up to 2013's Man Of Steel. 'I objectified poor Henry,' she smiles. 'I had to apologise to him at one point. I'm like, "I promise I'm not that pervy." He's just so good to look at. My husband likes to look at him, our [five-year-old] daughter likes to look at him… we're just a creepy family.'
Adams and I are sat in a cosy lounge at the Chateau Marmont, the iconic Hollywood hotel where Jim Morrison lived, John Belushi died and Lindsay Lohan was (temporarily) banned. It's an unlikely place to meet an understated actress like Adams – a woman with five Oscar nominations and zero scandals to her name. The closest she's come to going viral was during the filming of Batman v Superman, when she quietly relinquished her first-class airline seat to an American soldier; a small act of kindness that was tweeted and re-tweeted. That classy move feels like peak Adams: she's the quiet, unassuming but seriously gorgeous girl next door; someone you'd meet at a party and immediately want to tell all your secrets to.
We fell hard for her in Enchanted (2007), Catch Me If You Can (2002) and the Sundance hit Junebug (2005), three films in which she played wide-eyed, naive dreamers – roles she was born to play. With her saucer blue eyes and button nose, it seemed like she'd been drawn by a Disney cartoonist and put on this earth to remind us to believe in hope, and call our parents more often, which made her second act so surprising. She has boldly evolved into one of our most gifted storytellers – an actress capable of illuminating what it means to be loved, to be understood, to be human.
In Doubt (2008) she played a timid nun opposite Meryl Streep, and while hidden behind a habit, the character's turmoil played out entirely in her eyes. Could that really be the same woman seducing Bradley Cooper on the dance floor in American Hustle? Or pulling Philip Seymour Hoffman's strings as a Machiavellian zealot in The Master (2012)? So if you're wondering why a star who's captivated auteurs like Spike Jonze, David O. Russell and Paul Thomas Anderson would want to strap on Lois Lane's high heels and run from aliens – even if it meant staring at Cavill's hulking chest all day – I'm with you. But we'll get to that.
Dressed in slim trousers and a cable-knit turtleneck from Autumn Cashmere (the working mother's chic camouflage), Adams will profess to being 'boring' more than once today. I can assure you, she's anything but. Firstly, she has a backstory straight out of a teen novel. The fourth of seven children, she was an army brat who was born in Italy and raised in The Church of Jesus Christ of Latter-day Saints. When Adams was eight, her parents settled in Boulder, Colorado, where her mother competed in bodybuilding competitions. 'We would sit in the back of the gym and order Little Caesar's pizza,' she recalls. 'Mom got married at 19 – she had seven kids before she was my age.'
It was a morally firm upbringing that appears to have formed the bedrock of her world view. When I ask what she did last night, she tells me she watched The Bachelor for the first time, with a metaphorical hand over her eyes for the entire two-hour premiere. 'I don't understand how you can find love with anybody when you're making out with everybody?' she ponders. If I squint I can still see a teenage Amy, the freckle-faced girl whose first job was working as a perky greeter at Gap.
A short stint at Hooters – the beer-and-breasts chain –followed, before a steady gig in 'dinner theatre' (a cheesy US tradition where patrons inhale a meal before their servers put on a production of, say, Guys & Dolls.) 'Once we had to clean a baked potato off the stage during the opening number,' she shudders. By her late twenties she had mustered up the courage to move to LA, where she dyed her hair red and was fired from two TV pilots: first because she was too young, then because a more famous actress became available – a true Hollywood learning experience. 'I'd gone to the [initial] table read. The producers were like, "See you tomorrow!" Then they called to say I'd been let go. It was devastating. This was the first time I realised that people would lie to my face.'
She may have quit the business entirely had 2005's Junebug not come along. Two years later, the musical Enchanted cemented her status as one of Hollywood's most promising talents, and Adams (then 30) found herself singing live at the Oscars, a show beamed to about a billion homes worldwide. 'I've had anxiety attacks on stage my whole career,' she recalls. 'At the Oscars I was like, "Who talked me into this?"' What does she know now that she wishes she knew then? 'That that was the fastest my metabolism was ever going to be,' she laughs. 'So enjoy it!' Such is the demand for Adams in Hollywood now, she got married last year (after a prolonged, seven-year engagement to artist Darren Le Gallo) because she 'finally had a window in my schedule.' They almost tied the knot a few months earlier in Las Vegas on a trip to a Justin Timberlake concert. 'We wanted to find a chaplain, go to the desert and get married at sunset,' she explains. 'But to be quite honest, we got too drunk. Then it was just not going to happen.' Instead they married in a small, private ceremony on a ranch outside LA. Like most brides, Adams made a Pinterest page for her design ideas but all she really cared about was having the ceremony under a tree – inspired by a scene from, yes, Forrest Gump. 'The idea came from Jenny and Forrest,' she confirms. 'That was just always my thing.'
If admitting your wedding was inspired by a corny 90s movie isn't the coolest thing for an A-lister to do, then neither is telling me that the last time she worked out with a personal trainer, the session ended early when she threw up. 'I came out of the bathroom,' she recalls, 'and I said, "Do I get a T-shirt for that?"' But perhaps that's what makes her so badass. Henry Cavill echoes my own thoughts: 'Amy surprises me every day. You'll see her go from someone very serious and doing the actor-y thing to all of a sudden being a complete goofball. And she does it with such charm.' Married life for Adams sounds utterly, brilliantly, normal. After telling me about what first attracted her to Le Gallo – 'He has these beautiful hands. I just wanted him to hold me' – she admits they bicker like mad. If Adams is running late (which is rare), he'll set the home alarm, hoping the 30-second beep, beep, beep warning will get her out the door, which sounds like a scene from Modern Family. When I ask if marriage has changed anything, she just laughs. 'I definitely feel like I can't make empty threats. Before, I could be like, "I'm just going to go down and get a hotel room, and I'm going to think this through!"' She checks herself: 'I'm making myself sound horrible to this poor, awesome guy. Relationships are hard. I think what I learned is, you just have to make a choice. Marriage is a choice.'
Maybe it's turning 40, maybe it's having a child in these turbulent times, but she's in a contemplative mood these days. On 15 December, all LA schools were closed due to a terror threat. 'That was tricky,' Adams admits, 'because I wasn't with [my daughter, Aviana]. My husband had driven her that morning. They got to school. She was like, "What's going on?"' Adams forces a smile at the sad absurdity of the situation. 'Aviana calls them bandits,' she says, imitating her daughter's sweet voice. "You mean, bandits wanted to do harm?" But she's not laughing: 'I have a weight in my chest about it.'
At the moment Adams is reading The Happiness Project –Gretchen Rubin's self-help empowerment bible. I wonder if she's contemplating a second child. 'I think I'm good right now. I'm "of an age," as they say.' Though she acknowledges it's not too late. 'I just feel like I need to decide. You know what I mean?' She's nothing if not practical, explaining that she'd need to build time for a second pregnancy into her already packed schedule, which includes upcoming films with Tom Ford (who told her to stop straightening her hair and to wear it down), a planned Janis Joplin biopic and the third Superman film, Justice League, which is shooting in London soon. Having a child, she says, 'has started to change my decision-making process. It's hard.' And not just for the reasons you'd expect. 'It's hard to let certain projects go.'
This brings us back to Batman v Superman and Lois Lane. Adams laughs about going to Comic-Con, the annual nerd convention in San Diego, where she paraded around with Ben Affleck and Henry Cavill. Standing between Batman and Superman, she recalls, 'I felt very petite. And I don't always feel petite in this town. It was nice.' Not that Lois Lane is exactly a damsel in distress; she's been reimagined as a war reporter, proudly quipping in Man Of Steel, 'I get writer's block if I'm not wearing a flak jacket.' Supporting characters, she concludes, definitely get to have most of the fun.
But there's more to it than that. Batman v Superman may be a massive global blockbuster whose box-office performance –not to mention toy sales – have the power to affect the studio's bottom line, but Adams' motivations are refreshingly intimate and personal. Lois Lane is the beating heart of the franchise, but also the character closest to Adams' heart. And in taking this role, she's simply being true to her sometimes silly, always sincere self. 'Before Superman came along,' she says, 'Lois operated as if everybody had an agenda. She was jaded. Clark changed that. Now that she needs somebody – or something – she's vulnerable.'
Batman v Superman: Dawn Of Justice is in cinemas on 25 March.
Celebrity news, beauty, fashion advice, and fascinating features, delivered straight to your inbox!
The leading destination for fashion, beauty, shopping and finger-on-the-pulse views on the latest issues. Marie Claire's travel content helps you delight in discovering new destinations around the globe, offering a unique – and sometimes unchartered – travel experience. From new hotel openings to the destinations tipped to take over our travel calendars, this iconic name has it covered.