Alexandria Ocasio-Cortez and other democrats have been arrested in an abortion rights protest
They marched chanting "our bodies, our choice" and "we won't go back."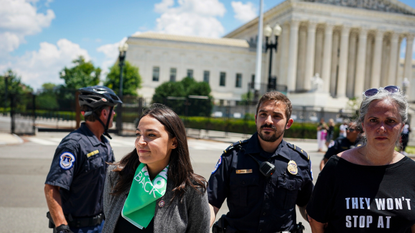 They marched chanting "our bodies, our choice" and "we won't go back."
US politician Alexandria Ocasio-Cortez and other prominent Democratic members of Congress have been arrested outside the Supreme Court during a protest in support of abortion rights.
In response to the overturning of Roe v Wade last month, the group of politicians are reported by The Guardian to have gathered in front of the US Capitol before marching to the Supreme Court, chanting "our bodies, our choice" and "we won't go back."
The news publication says that prominent progressives Ilhan Omar, Rashida Tlaib and Cori Bush joined Ocasio-Cortez in protesting.
They report that the group were arrested after an act of peaceful civil disobedience, as they sat in the middle of the street opposite the court building.
Police officers are said to have gathered round, arresting and handcuffing them after broadcasting a pre-recorded message announcing imminent arrest for blocking the street.
Footage shared on Twitter shows the moments in which the lawmakers were arrested.
Protest have swept America since the Supreme Court overturned Roe v Wade almost a month ago. The overturning of the 1973 landmark law that gives women the right to abortion care, is expected to strip over half of US women of their right to choose.
Now that Roe v Wade has been overturned, it will be up to each state to determine the legality of abortion. It is expected that twenty-six states will ban or restrict abortion.
Ocasio-Cortez has previously spoken openly about her views on abortion bans. She's stated that abortion bans are about "owning women."
According to Business Insider, at a previous abortion-rights rally, the American politician and activist shared how grateful she was to have had the choice of an abortion after being raped when she was younger.
She shared the personal story with a crowd in New York last month, saying:
In the end, the pregnancy test came back negative, but Ocasio-Cortez added: "It doesn't matter and that this is for all of us. This is not a women's rights issue. This is an issue for all of us."
Celebrity news, beauty, fashion advice, and fascinating features, delivered straight to your inbox!
Amy Sedghi is a freelance journalist, specialising in health and fitness, travel, beauty, sustainability and cycling.
Having started her career in The Guardian newsroom working with an award-winning team, Amy's proud to have reported on a variety of topics, speaking to a range of voices and travelling far and wide to do so. From interviews on ski lifts to writing up breaking stories outside courtrooms, Amy is used to reporting from a range of locations (she's even been known to type up a story in a tent).
She also loves being active, spending time outdoors and travelling - with some of her favourite features she's worked on combining all three. Cycling and eating her way round the Isle of Man, learning to sail on the Côte d'Azur and traversing the Caminito del Rey path in Spain are just some of her highlights.
Covering a diverse range of subjects appeals to Amy. One minute she may be writing about her online styling session with Katie Holmes' stylist and the next she's transporting readers to the basketball courts of Haringey where she joined a group trying to lower knife crime in the capital.
While at university, Amy was awarded The Media Society bursary. Following her stint at the Guardian, Amy worked at Google and as well as writing for Marie Claire, she regularly contributes interviews, features and articles to National Geographic Traveller, The Guardian, The Independent, The Telegraph, Stylist, Refinery29, Glorious Sport, Cycling Weekly and Rouleur.
When she's not writing, Amy can be found trying to get through her towering stack of books-to-read, cycling down at Herne Hill Velodrome or looking for the next place to eat and drink with friends.