5 wedding traditions it's a-okay to skip
Just because your gran, your mum and your sister all did these things at their weddings, doesn't mean you have to...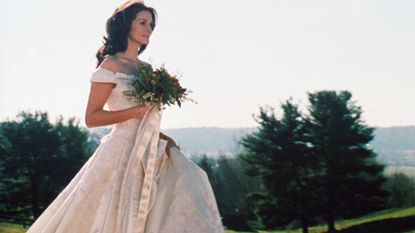 (Image credit: Rex Features (Shutterstock))
Just because your gran, your mum and your sister all did these things at their weddings, doesn't mean you have to...
Most wedding traditions are traditions for a reason. The gorgeous dress, the first kiss, the once-in-a-lifetime party... They're all things that no bride would want to miss out on.
But weddings are not a one-size-fits-all occasion - and some traditions just may not fit with your personality or the overall feel of your day. Despite what your more conventional relatives may say, you have every right to cater your wedding to suit your taste. And if that means ditching a few of the more tired wedding traditions, then go right ahead.
We asked a few experienced wedding planners, as well as some newly hitched brides, to weigh in on the wedding traditions that it's okay to skip.
1. The bride and groom send-off
For many couples, their wedding is the one day in their lives when everyone they love is together at once. So why would they want to leave early and miss out on the fun? 'We didn't do the traditional bride and groom 'going away' as we wanted to enjoy the end of the wedding,' says 30-year-old Charis from London. 'Also, we had people stay over at the wedding venue, and we wanted to be with them to gossip the next morning at breakfast. I'm so glad we did that, as it was one of the best parts of our weekend.'
Try this instead: Instead of jetting off with pomp and circumstance to enjoy your 'first night together as a couple' (because, let's be honest...), why not try having a mini send-off before you switch into full-on party mode? Wedding planner Liz Taylor of the Taylor Lynn Corporation suggests using the bouquet toss as a fun way to mark the transition. 'We often see it done just before the brides heads off to change outfits for the evening,' she says. 'It brings the formal part of the wedding to a close, before the party begins.'
2. Traditional wedding invitations
Sending proper invitations on fancy stationery can be a beautiful, classic way to start your wedding off on a formal note. But they can also be a fast way to dip into a huge chunk of your budget - and they can also feel a bit stodgy if you're planning a more relaxed affair. 'It's perfectly okay for brides to ditch the formality of traditional stationery to ensure that the invitations are completely personal to the couple and reflect the tone and theme of the wedding,' says Sabrina McGill, Head of Marketing for Country House Wedding Venues.
Try this instead: Use the invitations as your chance to show your creativity, like 28-year-old Maudie from London did. 'We opted out of traditional wedding stationery and sent our guests quirky tea towels to tie in with our vintage afternoon tea party,' she says. The tea towels doubled as wedding favours and are still in use by our friends and family even now. The average wedding invitation would have long since been placed in the bin.'
3. The first dance
If you're a bit self-conscious about your dance moves - or simply uncomfortable in the spotlight - you may want to reconsider the first dance. After all, there's nothing worse than feeling apprehensive or anxious on your big day. 'We abandoned the idea of a traditional first dance, having battled for over a decade with my husband's total lack of rhythm and two left feet,' says 28-year-old Olivia from London. 'Our actual first dance was much more lively, surrounded by family and friends and was so much fun. We don't feel as though we missed out at all.'
Try this instead: If you don't want to miss that romantic moment, you can still choose your first dance song. But instead of having all eyes on you and your hubby, ask for all other married couples to join you on the dance floor. 4. Matching bridesmaids dresses
The days of tacky bridesmaids dresses are over. Modern brides are choosing chic designs that are actually stylish - and that doesn't always mean identical styles for each girl. 'Brides have come to realise that dressing them in something that suits, rather than matching designs, works best,' Liz says. 'They look and feel stylish rather than uncomfortable and frumpy!'
Try this instead: To keep a consistent style with your bridal party, you can select a variety of styles for your ladies to choose from. Or just pick a colour and let your maids choose their own dresses (with your approval, of course). Or ditch the matching trend altogether and just let them wear whatever they like.
5. The receiving line
Traditionally, the bride and groom would stand at the door after the ceremony and personally greet each guest as they pass by - but this is becoming less and less common. 'A receiving line can be time consuming and tedious, and doing a formal meet and greet with your friends does have a certain "cringe factor,"' says Sabrina.
Try this instead: If you do ditch the receiving line, be sure to make time for each of your guests at other points during the day. You don't have to stress about spending ages at each table, but you should make an effort to at least say hello to that aunt you barely know and your mum's boring work mates. Then you can spend the rest of the time having fun with your friends - and your handsome new hubby.
How to plan a wedding: a 12-month guide
Celebrity news, beauty, fashion advice, and fascinating features, delivered straight to your inbox!
Ali Gray is an award-winning content director and digital strategist. Most recently she was the Director of Branded Content at Hearst, and helped to bridge the gap between the editorial and commercial worlds working across all Hearst brands, including ELLE, Cosmopolitan, Esquire and Harper's Bazaar. Prior to that she worked as an editor contributing to several brands such as The Telegraph, iVillage UK.