Wellness holiday, but make it ultra-luxe: inside The Ritz-Carlton, Maldives Fari Islands
… think spiritual approach to wellness set to a backdrop of a spa, pristine beaches, azure waters, with sustainability at the core. Hello paradise…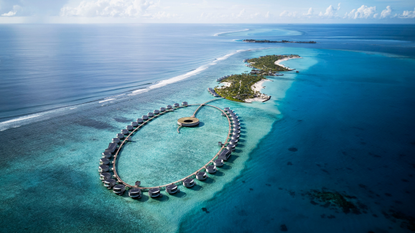 (Image credit: Ritz-Calton Maldives, Fari Islands)
With eco-holidays soaring in popularity, Marie Claire's commitment to championing sustainability has never been more on trend. Our Beauty and Style Director, Lisa Oxenham, went to check out one of the most eagerly-awaited wellness destinations from renowned brand The Ritz-Calton and met their ocean ambassador Jean-Michel Cousteau to hear about their inspiring partnership and his eco-efforts in the Fari Islands.
LOCATION
The Ritz-Carlton, Maldives opened in 2021 and was the second resort to sit on the four-island man-made archipelago in the northeast rim of North Male Atoll. Arrival to the island is a swift 10 minutes by seaplane or a 45-minute scenic boat ride from the capital Male and Velana International Airport, which to be honest is an experience in and of itself; we were welcomed by a pod of over 50 dolphins swimming and somersaulting alongside our yacht. Three independent resorts connect across the lagoon - the first resort, Patina Maldives, opened a few weeks prior to The Ritz-Carlton, and the Capella Maldives will complete the trilogy this year. Guests can move freely between each resort, with over 30 restaurants to choose from between them.
ICONIC DESIGN
The startling circular wellness centre that hovers over the Indian Ocean, has been talked about and photographed an awful lot thanks to the innovative design. The resort was the last project of the late, highly-acclaimed Australian architect Kerry Hill, who was responsible for some of the most legendary hotels in the last quarter-century. It comes with his trademark talent of setting his architecture harmoniously within their surroundings so that the natural beauty of this fragile ecosystem takes centre stage.
Inspired by the sun and sea, The Ritz-Carlton Maldives' is built with a minimalist spherical design symbolising the circle of island life and the representation of infinite protection, as well as the circular motion of the wind and sea. Exteriors are built using as much reclaimed wood as possible, which arrived on the island pre-fabricated to lessen the environmental impact. The resort runs long and thin along the island, with the dive centre at one end, restaurants in the middle, and rooms and spa at the other end.
THE ROOMS
The island is dotted with 100 beachfront and overwater villas, each positioned to maximise the famous Maldivian sunsets and sunrises. Interiors are designed in a minimalist style, bringing the wilderness in through massive, panoramic floor-to-ceiling windows that sit opposite king-size beds with indulging creature comforts (down pillows, rattan headboards, Bamford toiletries, filtered water and healthy, high-end snacks in the mini bar). The advantage of staying in an overwater villa is the oasis-like solitude - and the views; private decks with jacuzzis are built to make the most of the surrounding landscape, while the beachfront villas are charming with their own mini private pools on the balcony, indoor and outdoor showers, and close proximity to the white sand beaches.
WELLNESS SPA
It would be hard not to feel well and rested on the Fari Islands thanks to the blue sky, white sands, rainbow reefs, and calming fragrance of sun-warmed tropical flowers - but the spa adds to it, representing a new sustainable approach to wellbeing with holistic-inspired treatments that reach deeper, linking to spirituality and mental balance.
Spas, in the past, have all too often been an afterthought, but architecturally speaking, this sanctuary of relaxation is a masterpiece by the Kerry Hill Studios team: a floating, low-rise timber-clad ring, with an open-air sunny corridor above a turquoise lagoon.
Inside the ring are nine treatment rooms with Bamford products, a boutique, and a hair/beauty salon. The spa treatment menu covers facials, massages, and alternative therapies from full body massages to exfoliation which use Himalayan salts laced with eucalyptus essential oil to smooth dry skin and kickstart a sluggish system (I had this when I landed on the island and it was the most divine start to the trip after a long flight).
The Bamford philosophy is that beauty is holistic, which really chimes with my views. It works very well in practise - during my facial, for example, the therapist also massaged my tummy to help with digestion and all the organs. Bamford products carry the Positive Luxury and Soil Association logos, too.
I was lucky enough to experience The Essence of Balance stay package – a signature island experience that embraces the circle of island life. With a minimum stay of four nights in any Villa category, the package includes over 450 minutes of exquisite Bamford treatments from healing Japanese Shiatsu and Swedish techniques with motions to release tension and balance meridians, Gua Sha facials and yoga flows hosted in breath-taking venues around the island. Plus, there is also the discovery of indigenous ingredients and techniques with cooking classes and the attention of an Aris Meeha (personal host), that completes the immersive Maldivian experience.
FOR FAMILIES
A key pillar of parenting, which most of us struggle with (I certainly do), is switching off, but the resort offers opportunities to get some downtime thanks to the Ritz Kids club of dreams, which by the way was the most outstanding kids club I have ever experienced, with myriad activities like cooking classes, sand sculpture competitions, tennis and marine talks, with a kiddie pool with slide outside and a giant climbing frame inside. I felt really happy to leave my daughter, Eliza there with staff who were so genuine, positive, and kind - it's infectious and incredible to be around. They have a program aimed at inspiring wonder and discovery in children, and the team instilled confidence in Eliza, in just a few days.
If you're travelling as a family, the two or three-bedroom beachfront villas are perfect choices. Due to safety concerns, the age restriction for overwater villa stays is 13 and up, though parents or guardians can sign a waiver upon booking.
ECO EFFORT
When it comes to sustainability, yes, you can have cold showers and camp in a forest if that's your thing, but equally you can have designer beachfront villas powered by solar with high-speed wi-fi and offering self-guided yoga, mindfulness and pampering retreats. Luxury and protecting the planet can be synonymous.
The villas are mainly run on solar power, and the resort is single plastic-free. Still and sparkling water comes from an in-house purification plant. The resort tapped Jean-Michel Cousteau's Ambassadors of the Environment to lead their marine education and exploration program, and is a cut above other Maldives resorts for edu-oceanic activities.
Cousteau is the founder of Ocean Futures Society and has made over 70 films highlighting the importance and beauty of ocean life and The Ritz Carlton, Maldives has partnered with him to deliver the Ambassadors of the Environment programme which is dedicated to protecting the Maldivian ecosystem and educating guests so we go home with the inspiration and motivation to live more sustainably.
I loved that children are offered complimentary marine biology classes to kick start their passion for the ocean early, teaching them the importance of conservation and respect for marine environments. This was the most inspiring element for me thanks to Cousteau's believing that "educating kids about the ocean is the best investment we can make; I beg and thank the parents - to do everything they can to connect with their kids and share information - it's fascinating, kids love it - but we have to make it available to them to observe it and experience it."
Additionally, all trees have been replanted from other places where they would have normally been cut down, the resort has a commendable recycling programme, and energy efficient systems like solar panels are installed throughout with a no single plastics policy.
THINGS TO DO
If you need some activity, the beaches are quiet and great for light water sports like windsurfing or kayaking, but just a short boat away are several beautiful protected reefs for snorkelling which include swimming with dolphins and turtles. Because of the reef that surrounds most of the island, the water is calm so ideal for swimming and snorkelling straight from the shore. As well as enjoying the water teeming with marine life, I also recommend getting to the Eau Bar during early sunset to catch a awe-inspiring ceremony of bodu beru drummers walking the edge of a circular infinity pool, torch-lighting a fire ring backed by the setting sun blazing across the water. In addition to curated fitness retreats and boat trips, the resort also features a comprehensive tennis programme with coaching.
FOOD AND DRINK
Eating healthily and sustainably is easy with fresh tropical fruit and veg, and there are seven restaurants and bars to choose from.
Restaurants and bars are divided between three zones: Culinary Island, Grand Sunset Beach, and a satellite base at the Fari Marina Village, a 10-minute boat ride from the main resort. La Locanda is the main hub for buffet and à la carte breakfast service and becomes Italian cuisine for later mealtimes. Breakfast has to be seen to be believed. Stretching across two or three rooms, a buffet with everything you could possibly want is on offer from baked pastries to every kind of milk to exotic fruits.
Alongside La Locanda is Summer Pavilion, a Cantonese restaurant. Standout dining experiences include Middle East and North Indian, sushi and teppanyaki at Iwau, and Eau Bar specifically for the melt-in-mouth lobster is not to be missed. There is even a street food truck, Tum Tum, for take-away bao buns.
ACCESSIBILITY
The main resort is mainly step-free access, and all villas can be modified for wheelchair accessibility with ramps put in place of steps where applicable.
How to book your tropical trip?
Given the Maldives is an expensive destination, villas here are competitively priced. Villas from 1,675 USD per night. Breakfast included. Free Wi-Fi.
Fari Islands North Malé Atoll Male, 20013, Maldives.
00 960 400 0999
Celebrity news, beauty, fashion advice, and fascinating features, delivered straight to your inbox!
An award-winning health and beauty writer, stylist and creative director, Lisa Oxenham is one of the UK's top beauty editors and the Beauty and Style Director at Marie Claire UK. With 20 years of editorial experience Lisa is a brand partnership expert, and a popular speaker, panelist and interviewer on a range of topics from sustainability to the future of beauty in the digital world. She recently spoke at Cognition X and Beauty Tech Live and is on the Advisory Board for the British Beauty Council's Sustainable Beauty Coalition.
A well-respected creative director she works on celebrity, model and influencer shoots with the highest calibre of photographers, filmmakers, make-up artists and hairstylists to create timeless images, attention-grabbing videos, digital events and masterclasses. Most recently Lisa has directed covers such as Lily Cole and Jameela Jamil, films such as Save The Arts featuring Francesca Hayward and sustainable fashion shoots such as Be The Change. Supporting the beauty industry over the pandemic has been a top focus, directing the British Beauty Council's six inspirational short biographical films for their Bring Back Beauty campaign.
Lisa is a wellbeing and beauty influencer with a focus on mental health and a large and engaged audience on Instagram, Facebook and Twitter.