This is what it's really like to live in a sustainable community
'I'm fairly certain that my friends think I live on a Captain Fantastic-esque commune'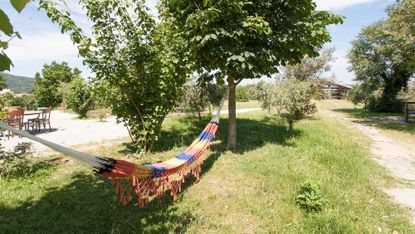 'I'm fairly certain that my friends think I live on a Captain Fantastic-esque commune'
Words by Fiona Barrows
I live and work on a sustainable farm and community, up a mountain in Umbria, Italy. I wish I could say that I came here out of a deep-seated desire to save the planet and change the world, but that wouldn't really be the truth. My reason for living here is actually far more selfish than that: I like it.
I'm a volunteer at Tribewanted Monestevole, and have been since the beginning of March. I first came here as a guest back in November, for our month-long immersion programme, and when I found out they were looking for volunteers I quickly put my hand up. I'd left the UK, and my 9-5 job working at a literary agency, a couple of years before; first to travel solo around Asia and then to settle in Bali and build my freelance copywriting business (which I still do on the side).
Tribewanted Monestevole welcomes paying guests, and my role is to get them involved in activities on the farm. We hope that by doing so we are encouraging people to live more sustainably once they return home. I spend my days planting and harvesting vegetables, feeding the animals, building mud walls, making home-made tagliatelle, and hiking in the surrounding mountains.
I'm fairly certain that my friends think I live on a Captain Fantastic-esque commune, and I think they find it hard to match this version of me with the one they used to eat burgers, and drink one-too-many cocktails in fancy London bars, with. I sometimes do as well to be honest, as I'm now vegetarian, never wear make-up, and am almost always covered in mud.
Sustainability and the future of our planet wasn't something I really gave that much thought to when I was living in London. I grudgingly recycled, but that was about it. I'd take a fresh paper cup for my flat white every morning, buy a new top or dress every time I panicked I had nothing to wear (usually right before a first date), and would get on a plane without any thought to my carbon footprint. I was aware of climate change, but I think I thought that it was never going to directly affect me, that there was nothing I could do anyway, and that the 'grown-ups' and eco-warriors would sort it out.
To me, living sustainably meant making sacrifices. I didn't think there was anything to gain by it. Yet when I was living and working in London I was suffering from quite bad anxiety, and having frequent, debilitating, panic attacks. Since leaving, and especially since coming here, this has gotten so much better. I now understand that sustainability simply means not taking more than you give. Yes, it is sometimes a bit of a pain, and requires extra energy - such as having to light a stove every day in the winter in order to have a hot shower the next - but it can also be the source of a great deal of joy and satisfaction. Life here is simple and slow, but that is precisely why I love it so much.
Back in November Filippo, the owner and founder of Tribewanted, said something to me that has really stuck: that he doesn't do this for the planet. The planet, give it another few thousand years, will be fine. It is humanity that he cares, and worries, about. Climate change, and the other effects of our rapid and thoughtless industrialisation and consumerism, are already affecting people all around the world, and it's only going to get worse. Due to over-intense farming the world only has on average 60 more harvests left in its soil. Earth Overshoot Day, the day past which we are consuming more from nature than our planet will be able to renew in a whole year, fell on August 2nd in 2017. For the UK it was May 4th. And 2016 was the third year in a row to set a new record for global surface temperatures. I was very wrong in thinking that it was never going to affect me. It will. It will affect everyone.
I'll be coming back to the UK at the end of year, and Tribewanted Monestevole is changing as well. Filippo is looking for co-owners, people to partner with, in order to create a more stable, less transient community here.
Yet having spent a year thinking and talking about these issues, and experiencing this lifestyle I don't think I could ever go back to my old ways of consuming. Nor do I want to. I might have once thought of sustainability as about making sacrifices, but this year I've gained far more than I've given up.
Celebrity news, beauty, fashion advice, and fascinating features, delivered straight to your inbox!