Here's how to find your solo space and feel comfortable travelling in your own company
No matter how many friends, family, kids or partners you have in your life, spending time alone is not just a decadent luxury – it's essential for well-being and personal growth. Time to put yourself first, says Anna Hart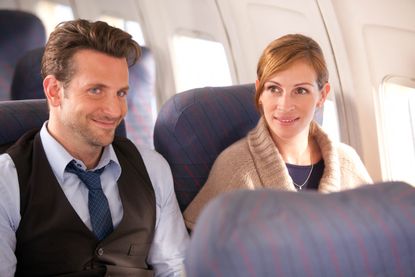 (Image credit: ©Warner Brothers Intl Television)
No matter how many friends, family, kids or partners you have in your life, spending time alone is not just a decadent luxury – it's essential for well-being and personal growth. Time to put yourself first, says Anna Hart
'All you need to know about paddle boarding is: keep your eyes fixed on the horizon and avoid looking at your feet or you'll fall in.' It was armed with this advice from a fellow hotel guest that I experienced one of those rare moments we travel many miles for, and spend thousands trying to create. Alone on an Austrian lake, doing something I'd never done before, I drank in a beautifully balanced cocktail of excitement and contentment, intermingling with pride and pleasure. I felt my shoulders slacken, my brow unfurrow and a weight lift from my soul.
You know all those annoying people who urge us to be 'in the moment'? I finally knew what they meant. This shock of joy was particularly precious, because two weeks prior, the thought of being 'present', let alone feeling pleasure, was unthinkable.
In the run-up to a deadline for completing my book, I'd worked 14-hour days and barely slept, and all my usual self-care rituals that keep me sane – yoga, running, eating well – had gone out the window. They felt alien, like they would never belong to me again; I felt like a brittle husk of my former self, with no glow to my skin, no conversation to contribute, no spring in my step. My suspension was shot, and I was rattled by every little bump in the road of life.
Over my years as an international reporter, however, I've learned how to fix myself when I'm broken. I escape alone. It's not just me – many women, regardless of their responsibilities in life, are 'prescribing' themselves solo trips, too. A close friend of mine, new mum to an 11-month-old baby, just spent her birthday alone in a posh hotel – she and her husband agreed that what she needed most was a date night with a minibar, Netflix and a bed to herself. Another friend, who runs her own company with 15 employees, goes to a beach hotel in Turkey every spring when the new financial year kicks in, where she sunbathes, swims and takes a few hours each day to map out where she wants her business to go in the year ahead.
There are still some people out there who believe solo travel is a sort of consolation prize, a plucky effort at travel made by people without friends, family or a life partner they want to spend every single second with. But a 2018 Travelzoo survey revealed that over three quarters of Brits have either travelled by themselves or are considering doing so in the future, while 60 per cent of those travelling alone were either in a relationship or married. So, we're not just open to travelling on our own, we're doing so out of choice.
Of course, I love spending time with my boyfriend, friends and family, but time alone is to be cherished. And sometimes, I don't feel like ringing around everyone I know to see who is up for a yoga weekender – comparing busy schedules, working out who can afford what, and possibly giving up on the whole idea because we couldn't get it off the ground. Life is too short to wait for other people to make their minds up; sometimes, when our souls crave an adventure – big or small – it pays to seize the moment.
Solo travel is a holiday in the old-fashioned sense of the word; a respite from responsibilities. Whether it's one night alone in a city hotel or a week-long safari you've wanted to do ever since you first watched Out Of Africa, going alone feels more luxurious than trips where we have to take other people's needs into account, and this gives the experience a lot more bang for its buck when it comes to a quality recharge.
'Many women feel responsible for everything in their lives and others around them,' says psychologist Dr Jessamy Hibberd, author of The Imposter Cure. 'Travel becomes a vital break from this, and a chance to let go and see that the world keeps turning without you being there to do everything. It reconnects you with yourself, who you may have been at earlier stages in your life, and puts your own needs first.'
'There are still some people out there who believe solo travel is a sort of consolation prize'
As a busy writer and confirmed people-pleaser, a few days away with nobody to answer to but myself is the most decadent of delights. Packing for such a trip – comfy clothes, a book I've been meaning to read for ages, my yoga mat – is one of my most cherished rituals, as I look forward to a few days dedicated entirely to myself. It's the most whimsical form of travel and, if that means sinking into a pile of pillows in a hotel room and ordering room service while flicking through TV channels, then that's what I'm going to do.
Of course, there's safety to consider when travelling alone. While abroad, it's worth investing in a personal alarm (studies show you have a 97 per cent higher chance of warding off an attack with one – Safe-Girl.co.uk comes highly recommended) and always share your ETA and travel details with somebody at home, as well as keeping cash and credit cards separate. Try Chaperhome, an app designed by Sarah Murphy after she was the victim of an attempted kidnapping in London. You can 'check in' with friends when on the move – if you miss checking in as agreed, your contacts are informed. SheTravel (shetravel.co.uk) also offers advice on staying safe and culturally aware while abroad through its unique female-focused forum, where women can ask questions and share information.
But you needn't go far to get the benefits of solo travel. It can be visiting your favourite restaurant on your own with a good book, or treating yourself to a trip to an art-house cinema at the other side of town while your partner takes the kids on a Saturday afternoon – without a hint of guilt. 'Time alone removes you from the usual triggers and stresses in everyday life, but it also gets you out of your comfort zone, which is so important for women,' says Dr Hibberd. 'New experiences, new hobbies and challenging yourself on a regular basis are massively important for maintaining good mental health, personal growth and improving self-esteem. It's only when you venture outside familiar territory that you discover what you're made of and how much you can really achieve.'
Yes, solo travel feels like a luxury, but, as more women are finding out, it also qualifies as a necessity.
Departures: A Guide To Letting Go, One Adventure At A Time by Anna Hart (£9.99, Little, Brown) is out now
Go it alone
Five of the best solo adventures
Kayak in Scotland
Discover the Hebrides on a two-day kayak expedition for solo travellers. The trip starts and finishes in Oban and you're guaranteed to spot wildlife such as seals, otters, basking sharks and sea eagles along the way. £180; seakayakoban.com
Surf in Bali
Learn to surf, and enjoy unlimited spa treatments and daily yoga sessions at this luxury women-only sanctuary in the Balinese rainforest. From £1,955 per week; blisssanctuaryforwomen.com
Swim with seals on Lundy
Spend a day getting up close with the seals, dolphins and puffins in this marine nature reserve. This small island near North Devon has gained a reputation as the UK's Galápagos. It is home to over 40 dive sites, and perfect for both novice and expert divers. From £75; wildfrontiercharters.co.uk
Sail in Croatia
Want to travel alone but not solo? Sail the Croatian coastline while sharing a cabin with a fellow female traveller. You'll hop on and off the superb yacht, discovering local villages and partaking in paddle boarding, stargazing and paragliding. From £603 per week; medsailors.com
Walk the Lake District
Hike the stunning plains of England's largest national park while making new friends. On this three-day women-only trip, you'll visit forests, mountains, waterfalls and even go on a traditional steamboat. £320; girlsontravel.co.uk
Celebrity news, beauty, fashion advice, and fascinating features, delivered straight to your inbox!
The leading destination for fashion, beauty, shopping and finger-on-the-pulse views on the latest issues. Marie Claire's travel content helps you delight in discovering new destinations around the globe, offering a unique – and sometimes unchartered – travel experience. From new hotel openings to the destinations tipped to take over our travel calendars, this iconic name has it covered.