Sani Resort Review — experience complete, guilt-free, wonderful indulgence with the family in Halkidiki, Greece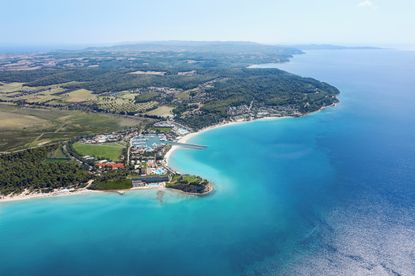 (Image credit: Sani Resort)
What you want from a holiday shifts after you have kids — suddenly all-inclusive resorts become inexplicably appealing. But the easy access to food and the full roster of activities — that make the experience so joyful — also comes with a large helping of guilt. Guilt about wastage and the environmental cost of such indulgence. But there is a way to satisfy your heart's travel desires with minimal impact on our ecosystem, you just need to know where to go… Kalimera, Sani Resort.
Why Go?
If you're after a luxury holiday with ALL the treats but don't want the planet to pay the price for your pampering, then Sani Resort is for you. Sustainability is a primary focus here — they use 100% renewable energy, single-use plastic is banned, they support various local biodiversity projects and organisations, and by 2024 they plan to be zero waste. This isn't greenwashing either — they've won many travel industry awards for their innovative and market-leading approach to sustainability, including a Marie Claire Sustainability Award in 2022.
If all they excelled at was being "green" though, they wouldn't be anywhere near as popular as they are. And Sani Resort is popular. It's often fully booked for the whole season before it's even opened, and for good reason — its reputation precedes it. Return guests come again and again for the tasty food, breathtaking views, cracking facilities and often flawless service.
The Location
Sani Resort is located on the beautiful Kassandra Peninsula in Halkidiki, a verdant part of mainland Greece. Just under an hour's drive from Thessaloniki International Airport, it's set within a 1,000-acre ecological reserve, surrounded by fragrant pine forests and pristine sandy beaches, and it has a killer view of the Aegean Sea and Mount Olympus. The grand scale of the place means you're spoilt for choice when it comes to picking a gorgeous spot to lounge in — choose from meandering lagoon pools to buzzing marina-side restaurants, or beach bars perfectly positioned to soak up the golden light as the sun dips below the horizon.
Nature enthusiasts, grab your trainers and explore the nearby Sani Wetlands, a protected bird sanctuary, offering a tranquil escape into the marvellous panoramic landscapes. Or, if you're looking for adventure, the mountain bike trails that hug the coastline are guaranteed to get your pulse racing.
Everything you need is on-site — including fashion and jewellery boutiques for spur-of-the-moment treats — but if you do want to explore the region you're not far from Afytos, a pretty hilltop village of stone houses and cobbled streets with spectacular views of the Toroneos Gulf.
In fact, there's no shortage of charming villages on the cape, each with cute souvenir shops and local tavernas (though you'll be hard-pressed to beat Sani Resort's food). History and culture buffs, could take a mooch around Nea Potidea, a town built on the ruins of the Byzantine city of Kassandria, or a jaunt to Thessaloniki, a bustling port city with everything from ancient archaeological sites to contemporary art exhibitions. Cards on the table though: guests don't tend to leave the resort. There's too much to do, and too much great food.
The Vibe
In a nutshell, what you're getting is an elegant resort offering the freedom of choice that comes with staying in a charming town, with the ultra convenience of being in a plush hotel.
Sani encompasses five hotels and excellent wellness facilities along 7 kilometres of beautiful blue flag coastline, and guests can move freely between each, either on foot, buggy or complimentary electric car. You might sleep at one, enjoy a yoga class at another, sunbathe with one of the best books of 2023 and a cocktail at a third, have a spa treatment and dinner at a fourth and finish in a bar at the fifth. And while each hotel is distinct, they harmonise with chic nautical inspired colour palettes, consistently excellent service and an unrelenting pursuit of perfection for guests — they proudly admit that the only thing they can't control here is the weather. Thankfully, they don't often need to (so pack your best sun cream).
This place is a well-oiled machine, yet all the work that must go into maintaining the highly efficient yet unobtrusive service, incredible food and pristine grounds is almost invisible. They make delivering wonderful holiday experiences look effortless, and perhaps this is because they've been doing it for so long. Sani first opened in the '70s, and since then the resort has slowly expanded to its current brobdingnagian size. After fifty or so years you might expect it to be looking and feeling a little tired, but on the contrary thanks to regular refurbishments, it's as fresh-faced and as enthusiastic as ever.
The staff are knowledgeable and happy too — one lifeguard shared that they loved their job because many families return annually and it's a joy to see the same kids grow and change over the years. And being in such positive, experienced hands with a team that can anticipate your wishes before you can, sets a very relaxing tone for guests. Speaking of which, families make up the majority of bookings at Sani, but you'll still find couples and groups of friends chilling poolside and talking animatedly over a delicious dinner, so don't be put off if you are child-free.
The Rooms
With almost 1,000 rooms across five different hotels, there's a configuration for everyone. They range in size and facilities, from your entry-level one-bedroom apartment to your sumptuous three-bed suite complete with private pool. While they vary in scale, what they all have in common is a chic, beachy aesthetic and a muted colour palette lifted straight from the azure waters of the neighbouring Aegean Sea. And whether you opt for the basic or a boujee room, you'll still get marble floors, very fine beds and perfectly crisp white bedlinen, plus high-spec gadgets (like fancy espresso machines and music docks). Every room also has an abundance of mood lighting which might take you a few days to riddle out, but when you finally do you'll get that same smug feeling as when you've completed a Sunday crossword.
Before you decide what size room you want, you'll need to pick a hotel. Each has a slightly different vibe and things going for it. If you want all singing, all dancing and action-packed days then opt for Sani Beach. For easy access to buzzy restaurants and sports facilities —but with somewhere low-key to retire to — then Porto Sani is a great option. For peace and quiet and to be immersed in nature go to Sani Club. If a boutique hotel experience on the waterfront is more your bag, book Asterias, and finally, for glamour and to be surrounded by mainly grown-up guests go to Dunes.
Food & Drink
Come for the glorious Greek weather and stay for the glorious gourmand experience, because the food is absolutely fantastic. You'll need to either exercise a lot of self-restraint, actually exercise — or just be prepared to put on a few pounds — because every meal will be a joy. Even the "bad" meals here are actually very, very good. Seriously, if Sani Resort made a cookbook we would buy it immediately (please make a cookbook, Sani).
Throughout the resort, there are a handful of very civilised buffets offering high-quality food, but it's the a la carte restaurants that really stood out for us. Between the 27 eateries you can find everything from traditional Greek cuisine to Peruvian fare, and Italian cooking to Asian dishes, with each catering for children too. Getting allergy advice was a breeze, the portions are generous, and the menus in some establishments have even been devised by Michelin-starred chefs.
Speaking of Michelin Starred chefs, if you visit this July or August, Sani's culinary festival, Sani Gourmet, will be running. Expect gastronomic experiences from famous chefs from around the world. And, for the first time ever, in 2023 it will coincide with the 31st Sani Festival, a celebration of music, where outdoor performances are set against the resort's Byzantine Tower, which overlooks the ocean.
Outside of the festival there's still plenty of entertainment in the many bars scattered around the resort. If you want to take it up a notch from lounge singers, there's Sani's "White Night", which takes place every Wednesday evening at Bousoulas Beach Bar. As the name suggests, guests wear white to dance away the hours with a resident DJ and live musicians.
With small people in tow, our evening plans mainly consisted of family-friendly dinners. Feeling a little overwhelmed by the food choice, we asked the concierge to make all of our restaurant reservations for us (including for breakfast). They happily obliged and we were really pleased with their recommendations (and how easy it was to communicate with them via Whatsapp). Our personal favourites were Pines, El Puerto, Lima and Beach House — though we loved eating around the marina too.
Many of the restaurants are very popular, so it's worth booking in advance of arrival if there are some you definitely want to visit. You can download the app before departure to do this or contact the concierge. If you have young children, we also recommend taking some colouring pads and pencils for them — all the restaurants are very welcoming to little ones, but no activity sheets are offered to keep them busy during leisurely meals. And you will want to luxuriate in food this nice.
The Facilities
It's not an exaggeration to say that Sani's sports facilities are state-of-the-art. There is the Rafael Nadal tennis centre, which the ace player does actually visit (most recently in May), a Chelsea football academy (warning: this will convert your kids into massive Blues fans regardless of family protests), a Bear Grylls academy in the pine forest, a watersports and diving centre, mountain bike trails, a very fun pump track, treetop adventure courses, and a busy timetable of wellness classes including HIIT, yoga, pilates.
If swimming is more your thing, you can do a few lengths in one of the many (heated out of season) pools including the largest outdoor heated pool in Greece, and even try your hand at things like synchronised swimming (which one of our testers raved about). Between us we tried a good range of activities and found them to be enjoyable and inclusive — yes, you'll rub shoulders with talented sportspeople (especially on the tennis courts), but you're warmly welcomed and encouraged by staff regardless of your skill or ability.
If you prefer to get your glow from a spa rather than sports, then good news — Sani has five of them (one in each hotel). All of the spas use Anne Semonin products (a French skincare brand loved by Francophiles and beauty obsessives alike) and are softly lit havens that smell incredible. The most exclusive spas (the smallest) are at Sani Dunes and Sani Asterias, but the other three have several treatment rooms and thermal areas for guests, plus Porto Sani and Sani Beach also have indoor pools.
On the treatment menu, you'll find all the usual massages, facials etc, plus an intriguing list of signature Sani treatments that are customisable to your fragrance preferences. We found the beauticians with their breathy, whispery way of talking to be very reassuring and after a massage, our exceedingly knotty muscles felt ready to slide off our bones.
For those holidaying with small people there's a complimentary "Babewatch" service at the beach so you can enjoy a swim happily in the knowledge your kids are safe while you paddle. There are playgrounds, splash parks and also a free kids club for children aged 4 and up — though like the restaurants you're advised to book this in advance of your stay. It's very popular and you don't tend to get cancellations because kids are generally having a blast and require no begging to attend. If anything, they'll be begging you to go again. And we can't blame them — Sani Resort is utterly wonderful.
The Details
Price: ££££
Prices at Sani Beach in a Double Room start from €149 per night, on a half-board basis.
Prices at Sani Club in a Double Room start from €178 per night, on a half-board basis.
Prices at Sani Dunes in a Double Room with Private Garden start from €220 on a half-board basis.
Prices at Sani Asterias in a Junior Suite start from €213 on a half-board basis.
Prices at Porto Sani in a Junior Suite Private Garden start from €275 per night, on a half-board basis.
How to book:
For more information and to book visit https://sani-resort.com/
The FAQ's
Is Sani Resort all-inclusive?
It's not — and that's part of the reason it's got such good sustainability credentials. All-Inclusive experiences generate a lot of waste. Here you still have frequent, easy access to food but by choosing between half or full board instead. You mainly order off menu, and clever AI tech in the kitchen helps keep the amount of waste to a minimum (especially as the quality of the food means you don't really want to leave any).
Are drinks included at Sani Resort?
Not typically, no. At breakfast they are, but at lunch and dinner, you can expect to pay for all beverages, including water. The prices reflect the environment too, so be aware your drinks bill can quickly rack up.
How many restaurants are there at Sani?
There are currently 27 restaurants at the resort. For the full list, see below:
Alexis at the marina — Traditional Greek
Ammos* at Sani Beach — Mediterranean
Artemis at Port Sani — International
Asian at the marina — Thai fusion
Beach House at Sani Dunes — Beach dining
Bousoulas Beach at Sani Beach — Beach Dining
Cabana* at Sani Club — Mediterranean
Club Lounge* at Sani Club — Beach Dining
Elia*at Port Sani — Modern Greek
El Puerto*at Port Sani — Spanish
Ergon Deli* at the marina — Traditional Greek
Fresco — Italian
Grill By The Pool* at Sani Beach — International
Lima at Port Sani — Peruvian
Katsu at the marina — Japanese
Macaroni* at the marina — Italian
Olympus at Sani Club — International
Ouzerie at Sani Club — Traditional Greek
Over Water at Asterias — French and Mediterranean
Pines* at Sani Club — Farm to Table
Poseidon at Sani Beach — International
Psaroyannos* at the marina — Traditional Greek
The Market* at Port Sani — Farm to Table
The Veranda at Sani Club — International
Tomata at the marina — Modern Greek
Vosporos Grill House* at the marina — Traditional Greek
Water at Asterias — Mediterranean
*Restaurants that participate in the resort's Dine Around scheme, which means that full board guests can eat there from a set menu at no additional charge. Half board guests can eat at the participating restaurants within their hotel. Note that outside of peak season not all restaurants are open.
Celebrity news, beauty, fashion advice, and fascinating features, delivered straight to your inbox!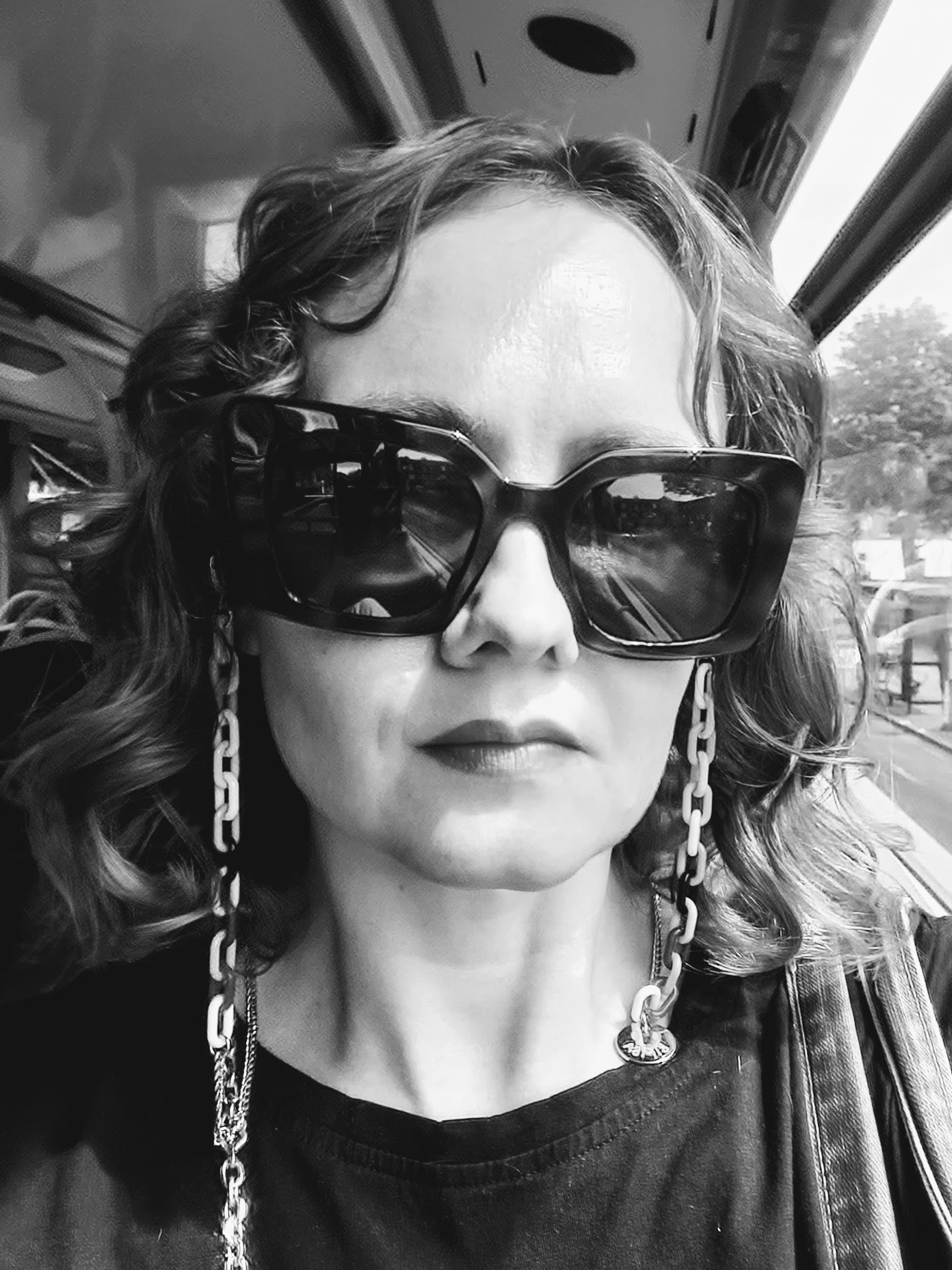 Kelly is a digital journalist, editor and content strategist with more than 15 years experience in the women's lifestyle sector. For six years she was Digital Global Editor of woman&home, but she has also worked for Stylist Group, The Guardian, Time Inc and ASOS. In 2013 she was nominated for New Section Editor of the year at the PPA awards, and in 2020 she was nominated for Digital Editor of the year at the AOP awards. In the past, she had provided expert advice and comment for the BBC and Channel 4 about fashion and feminism. Kelly also occasionally guest lectures at the London College of Fashion and Goldsmiths about digital media. These days she is living the freelance life, mainly taking on commissions and projects about parenting, feminism, travel and life, while also writing a memoir about female rage. Kelly is represented by Literary Agent Anna Pallai at AMP Literary, and can be found lurking on Twitter and Instagram.