The Big Trip: Copenhagen
Ten years after Noma opened, the Danish capital is still a rewarding place for a foodie break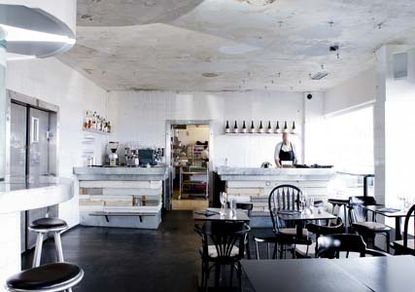 (Image credit: Mads Eneqvist)
Ten years after Noma opened, the Danish capital is still a rewarding place for a foodie break
Ten years after Noma opened, the Danish capital is still a rewarding place for a foodie break
'All I can remember is the dripping was fantastic,' says a friend who was fortunate enough to visit Noma in its early days. 'If I'd known it was going to be voted World's Best Restaurant three years in a row I'd have paid more attention, but we were just a bunch of girls wanting to talk, talk, talk.'
Set in a converted 19th century warehouse beside the harbour in Christianshavn, René Redzepi's hymn to Nordic ingredients and the joy of foraging will celebrate its 10th birthday in November - and securing a table still remains nigh on impossible. If you do get lucky, be prepared to eat your way through a tasting menu comprising 20 dishes, including anything from sea-urchin toast to beech leaves, and costing £168 a head...
Fortunately, many of Redzepi's staff have since gone on to open their own eateries that are a lot easier to reserve a table at, and this small city now boasts a whopping 15 Michelin stars. As well as offering great and invariably unusual dishes, they have little time for the folderol associated with fine dining: gone are the days of Bible-like wine lists and jacket-and-tie pomp.
Fish and hipsters: Kødbyens Fiskebar is devoted to good things that come out of the sea
Kødbyens Fiskebar, which was set up by ex-Noma sommelier Anders Selmer in the city's up-and-coming meat-packing district, is a good example. Close to the main railway station, this area still has tarts, sex shops and dark corners that make you think of The Killing, but, in amongst the catering equipment stores and heaps of pork belly now sit art galleries and clubs. Fun places to stay have popped up, too, like the cheerfully decorated Andersen Boutique Hotel, which allows you to book a room for 24 hours, starting from the time you check in.
Kødbyens Fiskebar is an industrial space devoted to serving the city's best fish and seafood. Its pared-back look with peeling paintwork has been a hit with diners, and the plain black tables, jazzy sounds and T-shirt-clad waiters only add to the informal feel. The menu appears to have been printed on an old typewriter, and you can order organic wines with no added sulphites. Here, it's the food that really matters − snow crab from Greenland, Baltic Sea fish and chips, and porridge loaded with mushrooms, seaweed and chives.
There's a similar, fuss-free mood at Pony, where our waiter announces each dish as though we're dining somewhere haute; in fact, this is a small restaurant in working-class Vesterbro. 'Here is the brill with smoked mayo, dill and horseradish cream. That's the steamed cod with Jerusalem artichokes and mussel sauce.' And it's all terrific.
Danish tasty: open sandwiches become artworks at Aamanns
It's not just restaurants that are offering fresh gourmet delights, though. Head to Torvehallerne, a smart street market in Israels Plads, and you'll find more than 100 stalls selling foodie treats. Even smørrebrød, the famous Danish open sandwich, has had a makeover. At Aamanns Deli & Take Away in Østerbro you can tuck into divine rectangles piled so high with yummy ingredients they look like little fantasy gardens. 'What did you do for lunch?' 'Oh, I just had an exquisite slice of rye bread with duck breast braised in honey, plums and balsamic apple vinegar, then another with organic blue cheese and hazelnut praline...' The place has proved so successful that a second branch was launched in New York, with Crown Prince Frederik and Princess Mary in attendance. Oh yes, only Danish royals would be happy to open a sandwich shop.
The sarnies are equally engaging at the Royal Smushi Cafe in Amagertorv, where the owners had the smart idea of marrying smørrebrød with sushi, so customers could enjoy more tastes without feeling full − a formula that has now led to a spin-off in Tokyo. Looking at the smart ladies lunching here on bijou morsels of herring with curry, mango and celery served on Royal Copenhagen porcelain, with glossy carrier bags from Georg Jensen at their side, it's easy to see why Danes were declared the happiest people in the world in a recent report published by the UN (we came 18th, below Belgium).
It helps, of course, that their capital is small (similar in size to Glasgow), but Copenhagen is nevertheless an impressive example of city life, with its abundant parks and beaches, and highly efficient public transport. It takes just 15 minutes to travel from the airport to the city centre, and the metro runs 24 hours a day, despite the fact that 50 per cent of Copenhageners cycle to work. On top of that, Danes are blonde and beautiful, speak better English than us, enjoy serenely arranged homes and offices, and benefit from their government's generous financial support when a baby comes along. Plus, three-quarters of the food served in city institutions is organic.
Nordic nice: classic furnishings at Designmuseum Danmark
There's also a firm belief in the pleasure and importance of design. Visit Designmuseum Danmark in Bredgade and you can learn all about national heroes such as Kaare Klint, Poul Henningsen, Arne Jacobsen and Verner Panton. The best shopping in the city, likewise, revolves around treats for the home. Pay a visit to the temple-like showroom of Vipp, whose founder invented the pedal bin in 1939, and you may well end up lugging home a high-tech steel and rubber bread bin, or blowing £115 on the definitive salt and pepper set.
Presentation matters, as does lighting. I hate to think how many candles the Danes get through, because they are everywhere. Going down to breakfast at the friendly Ibsens Hotel in Nansensgade doesn't involve the customary cereal fights and toaster queues that you come to expect from hotels back home. Here, the fire is lit, the room is full of books and art, mellow sounds are playing, and there's a feast of organic treats to eat.
It's the same at many restaurants, where the interiors are invariably very considered, but without appearing so - some of us try to dress in a similar casually amazing way. Relæ, a Michelin-starred basement restaurant set up by Christian Puglisi (another Noma nomad), is a fine example of this. One of many hip foodie spots lining Jægersborggade, it's all bare walls and wood, with waiters sporting robust leather aprons, as though they're set to slaughter an ox rather than deliver celeriac tacos.
Bright nights: bedtime is fun at the Andersen Boutique Hotel
This is a great place to dine experimentally, and while the staff will happily talk to you for ten minutes about turnips they won't hang up your coat. You'll also have to fish your cutlery out of a little drawer, while the menu is printed on a scrap of brown paper. 'Squid, mussels and seaweed,' it says, with fanatical minimalism. One plus is that there's a dedicated four-course menu for vegetarians, who often miss out on these gastro-fireworks, and it's always worth splashing out on the wine pairings at such meals. But be prepared for hits and misses: a mushy dish of Jerusalem artichokes, quinoa and coffee is just too darn weird, while goat's milk ice cream with parsley coulis and granita turns out to be an enjoyable mix − like having your cheese and dessert courses simultaneously.
Looking around at our fellow diners mulling over their smoked yellow beets and swirling glasses of Cour-Cheverny 2010, it's interesting to see so many cool couples gathered in one place. Whether you're dating, rekindling or just bobbing along, the Danish mix of liberal thinking, arty food and low-lit designer spaces is clearly proving a winner for devotees of the romantic city break.
So yes, there it is: Copenhagen doesn't only have interesting grub, fantastic shopping, stimulating design and envy-inducing public transport − it's also good for your love life. Bon appetit.
Book now
easyJet (easyjet.com) flies to Copenhagen from five UK airports, from £60 return including taxes based on two travelling. Two good, mid-range hotels are the 118-room, three-star Ibsens Hotel (arthurhotels.dk), doubles from £90, and the 73-room Andersen Boutique Hotel (andersen-hotel.dk), from £126.
Most restaurants open for online bookings at least two months in advance, including Kødbyens Fiskebar (fiskebaren.dk), Noma (noma.dk), Pony (ponykbh.dk) and Relæ (restaurant-relae.dk). Also visit Aamanns Deli & Take Away (aamanns.dk), Royal Smushi Cafe and Torvehallerne KBH (torvehallernekbh.dk).
The Copenhagen Card (cphcard.com), from £35, makes sightseeing easy with free public transport and entry to many top attractions. Marco Polo Copenhagen (£5.99, Mairdumont) is a handy guide, or visit wonderfulcopenhagen.com and visitdenmark.com for further details.
Celebrity news, beauty, fashion advice, and fascinating features, delivered straight to your inbox!