Spa Date: Espa Life at The Corinthia Hotel
Jess Lacey sees what it's like to take a man into the most female environment possible, the day spa.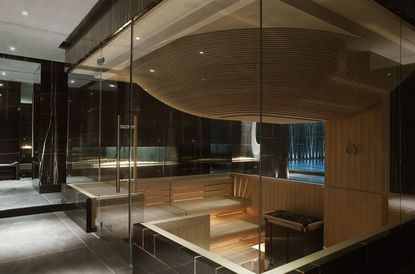 Jess Lacey sees what it's like to take a man into the most female environment possible, the day spa.
I wasn't a fan of couples' pampering days, that was purely girl territory for me but out of morbid curiosity I though I might just try it. My husband is traditional English gent, he enjoys a good brogue and owns more than one beard comb. If I am beauty, then he is grooming and where the twain definitely don't meet, is spas. For me a spa is somewhere to opt out of reality and drift around in waffle robes, wondering why you don't drink cucumber water at home. For him it is a minefield of blurred etiquette lines and inappropriate touching, somewhat akin to an office Christmas party.
We arrive at The Corinthia Hotel which is nothing short of awe-inspiring and are quickly swept open-mouthed into the Espa Life spa where we are shown our private quarters. Its like having our own two bedroom apartment complete with central Rasul room where our experience will begin. We are shown the hair, skin and body muds which we are to apply and then enter the steam chamber to let them soak in. After heavily debating whether beard falls under the hair or skin category, we're in and it's lovely. There's nothing romantic about being head to toe green and flaking by the second but even better it's fun and we're giggling. Just when we've had enough the showers come on and it's massage time.
We're not a same-room-couples-massage pair so are thrilled when our therapists take us to treatment rooms at opposite ends of the apartment. Sinead is mine, and she is perfect. She really listens to what I want out of my Personalised Massage and runs through what she's planning on doing. Never have I had such a relaxing 50 minutes and it's all I can do not to fall asleep. I feel worked on but not pummelled and everything's lovely and loose thanks to a variety of massage techniques including Swedish and Balinese to tailor the treatment to what my body needed. I meet Mr Lacey in the corridor and he looks just as spaced out as me. He smiles and looks like a sleepy child, clearly Louise was just as good.
Before we leave we decide to take a spin in the pools and thermal suites so head down into the depths of the spa. Towering black marble, stainless steel and flickering fires, it's the underground lair of a Bond villain. With more male visitors than female, this spa had been tailored to unisex decadence. Boasting the world's first glass sauna that inexplicably never steams up, a giant marble ice station, targeted water jet jacuzzi and dramatic onyx glossy pool, it's all rather sexy in a Russian oligarch type of way.
The worst part is tearing ourselves away and admitting we don't live there. De-robing in the vast changing room I come across a secluded sleep room and just catch the briefest of zeds. We are just making our way out when he turns to me and asks if men ever spa together? One step at a time dear I say.
What boys look for in spas courtesy of Mr Lacey
1. Smell - whereas we love the heady aromatherapy scents, it makes them cough.
2. Long robes - no man can relax when feeling there's even the slightest danger of exposure
3. Clear pronouncement - apparently the hushed tones of spa therapists are not relaxing in the slightest and there's no need to draw out the end of sentences.
4. Hotels are best - they'll always have a more even male/female split due to the businessman contingency and little chance of being surrounded by hen dos.
5. Underwear - disposable pants are unequivocally not an option. Ever.
To book into the Espa Life at The Corinthia Hotel visit www.espalifeatcorinthia.com
Celebrity news, beauty, fashion advice, and fascinating features, delivered straight to your inbox!