The Pope speaks out about social media
'Don't let yourselves be led astray by this false image of reality'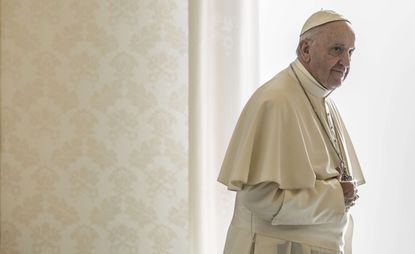 (Image credit: Galazka/SIPA/REX/Shutterstock)
'Don't let yourselves be led astray by this false image of reality'
The debate around the pros and cons of social media is endless. On the one hand, it makes the world accessible - but does it make it relatable?
The link between mental health and Instagram, Twitter and Facebook has seen a rise in anxiety and depression in the teenage generation growing up around it all.
So, it's no surprise that the Pope has spoken out against the dangers of living in a smartphone world during a video aimed at young people for World Youth Day (April 9).
'Many people say that young people are distracted and superficial,' he said. 'They are wrong! Still, we should acknowledge our need to reflect on our lives and direct them towards the future.'
'In the social media, we see faces of young people appearing in any number of pictures recounting more or less real events, but we don't know how much of all this is really 'history', an experience that can be communicated and endowed with purpose and meaning.
'To have a past is not the same as to have a history'
And according to Agence France-Presse, the pontiff also went on to say: 'Don't let yourselves be led astray by this false image of reality! Be the protagonists of your history; decide your own future.'
Celebrity news, beauty, fashion advice, and fascinating features, delivered straight to your inbox!