#SquadGoals: Here's how to harness the power of teamwork
It takes trust, intuition and selflessness to be a successful team player. But these qualities might be your key to personal success, too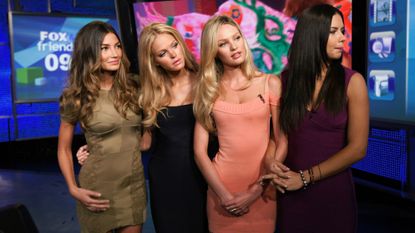 (Image credit: Getty Images)
It takes trust, intuition and selflessness to be a successful team player. But these qualities might be your key to personal success, too
Words by Alix O'Neill
It's been a year of two halves. Within six months, we went from a nation bitterly divided, to a cautiously optimistic one – and we largely have the Rio Olympics to thank for hauling us out of our post-Brexit funk. The phenomenal success of Team GB (in particular, the kick-ass performances in the women's hockey, rowing and cycling) served as a timely reminder of what can be achieved when we pull together.
Helen Keller called it when she said, 'Alone we can do so little; together we can do so much.' Not that Gen Y-ers need any convincing on the merits of collaboration. In a 2014 study*, nearly half of millennials surveyed said they would hire new employees based on teamwork skills if they were in charge. Our collective thirst for togetherness is the driving force behind the current sharing economy – bedding down in strangers' homes through Airbnb, hailing shared UberPools and seeking career collaborations in co-working hubs.
'Humans are natural collaborators', says Richard Gerver, author of Simple Thinking: How To Remove Complexity From Life And Work. 'We overcomplicate the primal things we do as children – kids aren't afraid to ask for help,' he says. 'But as adults, we're conditioned to think that's not OK. This generation is not afraid to reach out because they've been brought up in a more connected world. It's about knowing what you're good at and what you're bad at, and plugging the gaps.'
The narrative shift from 'me' to 'we' could be down to evolution, according to psychologist Emma Kenny. 'Primordial man was actually quite selfish,' she says. 'He'd look after his own, but anyone else was viewed as a threat. This made sense from a survival point of view, but now young people want to be part of something bigger. Connecting with people gives us a sense of common ground that makes us feel safer, as though we belong. It also means young people are more compassionate to other cultures.'
There is a power in that collective compassion too, as illustrated by social media movements – from #HeForShe to #EverydaySexism to Marie Claire's #CallOutRacism – that rely on likes, shares and retweets from the masses to start a global conversation for change. In direct contrast to society pitting women against one another, co-operation is now being heralded as stronger than competition and people are using social media to form support groups. I can vouch for that − I've been a member of a Facebook group for female freelance journalists for the past year and have benefited from invaluable career advice, comforting words and even the odd commission. Technically, we're rivals – we're all after the same jobs – but there's an unspoken understanding that when someone does you a favour, you pay it forward.'
This begs the question: are women innately better team players than men? In a study** of collective intelligence based on a group's performance in a range of tasks, the most successful groups were not the ones with the highest number of individually intelligent members, but the groups with the highest proportion of females. Women scored higher on emotional intelligence and were better at reading non-verbal cues from their teammates. 'It's not that women are biologically more empathetic than men, it's that we have been socialised to nurture others and value the importance of friendships, so it has become part of the female hardwire,' says Kenny. 'By the time we get to the workplace, women have simply developed better non-verbal communication skills.'
But as with any skill, it takes work to become a good team player, which could explain the recent trend for cool alternatives to corporate team-building days, such as The Crystal Maze and Mission: Breakout. According to sports psychologist Dr Andrea Furst, who helped Team GB's women's hockey team to prepare for Rio, teamwork also takes commitment. 'You need co-operation, empathy and trust,' she says. 'To become more in sync with the people around you, listen to them and observe their behaviour, so that you can maximise the strength of the network. It's also important to have a clear understanding of why you are working together and what the end goals are. Even athletes in individual sports – like Andy Murray – often credit a large part of their success to the support network around them.'
Self-awareness is integral to being a good team player, according to Dr Furst. 'There is huge value in an individual learning about themselves, so they can communicate with more confidence their own role in the team. It helps teams to respect one another; ultimately, a team player puts the needs of the team before their own.'
Trust is key, too. 'My job would be impossible to do without the surgeons, junior doctors, nurses, lab technicians and admin staff I work with,' says consultant dermatological surgeon Emma Craythorne, who specialises in removing skin cancers from the face and neck. 'Our main objective is to ensure that the treatment we give is effective and safe. If one member of the team isn't performing well it has a negative effect on this overall aim.'
The good news is, the more time you spend with your colleagues, friends or teammates, the more in sync you'll be. 'Studies show that people who work in the same environment but do not have to perform tasks together don't learn much about each other,' says Benjamin G. Voyer, a lecturer at the Department of Psychological and Behavioural Science at LSE. 'Conversely, those who spend a lot of time working in groups and pursuing common goals become more attuned to others.'
Real teamwork ultimately comes down to one thing: solidarity. 'Women who help other women get ahead are at the heart of the current zeitgeist,' says Kenny. 'And it makes sense. If one person at work climbs the ladder, see it as an opportunity for you to do the same and, crucially, then pass the baton on. In the long term, everyone wins.'
*Deloitte's Millennial Survey 2014
**By MIT, Carnegie Mellon and Union College
Celebrity news, beauty, fashion advice, and fascinating features, delivered straight to your inbox!
The leading destination for fashion, beauty, shopping and finger-on-the-pulse views on the latest issues. Marie Claire's travel content helps you delight in discovering new destinations around the globe, offering a unique – and sometimes unchartered – travel experience. From new hotel openings to the destinations tipped to take over our travel calendars, this iconic name has it covered.