People who send dirty texts are more satisfied with their sex life
U up?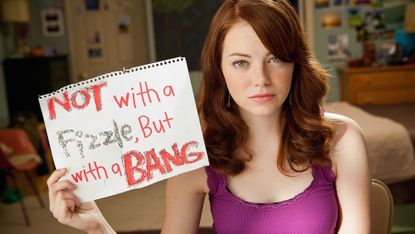 (Image credit: Snap Stills/REX/Shutterstock)
U up?
PSA: those who're familiar with the benefits of sexting get more out of life.
Yep, while some people turn to the best sex toys for a helping hand, and others watch porn, it turns out that dirty texts are the best way to kick things up a notch in the bedroom. In fact, according to a sexual health study, 61% of people who sext daily are more satisfied with their sex lives versus those who sent them less frequently.
DrEd.com, a health website, surveyed 1000 American and European people about their sexting routines. Those who were more likely to send a naughty photograph daily were the happiest sexually (61%) and from there, the less people sexted, the less likely they were to be satisfied. The number dropped to 42% for those who send risque messages weekly versus just 33% of those who sent them occasionally throughout the month.
One of the most surprising revelations was that men were more likely to send nudes across all age groups, with 33% men aged 18-24 admitting to it versus 31% of women. The trend continued across the board, with 29% men versus 24% women aged 25-34 and 24% men versus 20% women aged 35-44.
Can sexting help a relationship?
The results showed that it's not just the singletons sexting - people were most likely to send sexts to a long term partner. After that, men and women veered off in different directions as ladies were next most likely to send sexts to a spouse (24%), whereas boys chose casual partners (25%). Men were also more likely to send dirty messages to people they didn't know as well, being twice as more likely than women to sext a one night stand.
What kind of nudes are people sending?
For the most part, people played things safe and less than a quarter of people sent nudes with their face displayed. American men (29%) were most likely to hit you with a dick pic, while European men preferred to send photos of their bare chest (30%). Women across the countries on average were more likely to send photos of their breasts, with European women preferring to next include their face (21%) and Americans choosing to include either their face or butt in photos (17%).
What do people do with nudes?
After you receive a sext or nude, there's always that awkward moment where you're not sure what to do with it afterwards. Do you play with fire and save it? Or if you've sent it, do you ask the receiver to erase it from existence after they've had their fun?
Well, it turns out that nearly half of all men save the nudes they receive (49%) and a third of women follow suit. Women were more likely to ask that their messages be deleted (30%), whereas just 22% of men ask the same.
Sending sexts is always risky business, as there's a danger that they could end up being passed into unwanted hands. If you're sending something out, revenge porn is always a very real possibility and less than a fifth of Europeans had images shared without their consent. Surprisingly, European men were most likely to be victims to this (19%) with their female counterparts coming in at a slightly lower 15%. Across the pond, the gender gap was slightly closer with men at 8% and women at 7%.
Celebrity news, beauty, fashion advice, and fascinating features, delivered straight to your inbox!
Megan is a freelance journalist who covers entertainment and all things lifestyle, with a particular passion for fashion, beauty, travel and Keanu Reeves stories. She has previously worked on staff for titles including Marie Claire UK, CNN Style and The Evening Standard and has written for titles such as Bustle UK, Wallpaper*, Forbes and Hong Kong Tatler. She splits her time between London and her hometown Hong Kong, where she currently lives with the love of her life - an elderly dog named Poppy - and her husband.